On a scorching July afternoon, 10-year-old Levi McAbee dons a T-shirt with a familiar shade of Braswell red.
It's the middle of summer, but rather than spend his time in the pool or hanging out with friends, McAbee is preparing for an opportunity he never envisioned. After competing in the Gunslinger QB Challenge in Knoxville, Tennessee, McAbee was noticed by a scout from the Pro Football Hall of Fame.
That's when his parents received an unexpected email. It was so unexpected that at first they questioned if it was even real.
"My wife got the invite and forwarded it over to me, but she thought it was just some random email," Levi's father, Adam, said. "She didn't know it was an official invite. It came straight from the Hall of Fame."
The invitation, sent to 200 of the top youth athletes in the country, is for the Pro Football Hall of Fame Academy "Young Guns Session." From Friday to Sunday, Levi will participate in 22 hours of training in Canton, Ohio — home of the Pro Football Hall of Fame.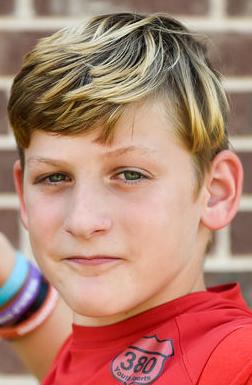 "It's really exciting," Levi said. "I feel like I can learn a lot. It's going to be a really fun experience."
Levi will be instructed by several former and current NFL coaches, as well as Rod Woodson, Super Bowl champion and Hall of Famer.
"You have no idea how excited we were," Adam McAbee said. "My first reaction was, 'Are you kidding me?' Growing up in a small town like Little Elm, you don't think about it much. But hard work pays off, and I'm a firm believer in that. [Levi] is definitely driven."
Along with classroom sessions that will include lessons on offensive schemes and how to read defenses, Levi will do a combine test. The soon-to-be fifth grader will be measured in the 40-yard dash, vertical jump and broad jump.
While he is eager to attend the event, Levi hopes the weekend training session will help him reach one of his long-term goals.
"If you ask him what he wants to do in life, the first thing he wants to do is be the starting quarterback for Braswell," Adam McAbee said.
For Levi, the dream of playing for the Bengals started around the time his father became the team's chaplain in 2017. Adam McAbee has developed a close relationship with Braswell coach Cody Moore, who said he is familiar with Levi.
"I've seen [Levi] at our camp the last couple years and out on our field. It's really cool," Moore said. "[Adam McAbee] started in our second year. He wanted to be involved, contacted me and we set up a meeting. He just wanted to serve. We talked and came up with the role that he's in now. We've gotten closer over the last few years with what he's done for our kids and our program. I think the world of the guy."
Entering the program's fourth year, Moore has seen firsthand the strides his team has made. Braswell went 3-7 in 2018, setting a new high for wins.
Moore said Levi's desire to one day play for the Bengals illustrates how support for the football program is trickling down to elementary and middle schools.
"[Levi] aspires to be a Braswell Bengal and play for us," Moore said. "That's really the way we want it with all of our elementary and middle school aged kids. To me, that's when you know you're building something special. I tell our coaching staff and our community I want as many little Bengals running around here as we can get."
As for Levi, he may still have four years before he can slip on a Braswell uniform, but that doesn't mean he isn't thinking about the future.
"Braswell is a high school that I've been watching for two or three years," Levi said. "I feel like the receivers that will be with me when I get to high school, and the teachers I'll have, I feel like we can at least get to the playoffs and win the state championship."