North Texas is quickly closing in on its 2020 season – assuming it goes off in the wake of the COVID-19 pandemic.
The Mean Green finished 4-8 last fall and will look to bounce back under Seth Littrell, beginning with its season-opener on Sept. 5 at Apogee Stadium against Houston Baptist.
A whole lot has happened since the end of last season, including the departure of record-setting quarterback Mason Fine and the arrival of a few key transfers.
That makes now as good a time for a bit of a reset and a look at the players UNT will depend on heading into the season.
This is not a straight list of UNT's top players. It's a look at the names UNT fans should know heading into the season:
1. Austin Aune
Sophomore QB / 6-foot-2, 216 pounds
2019 stats: 4-of-5 passing, 136 yards, 1 touchdown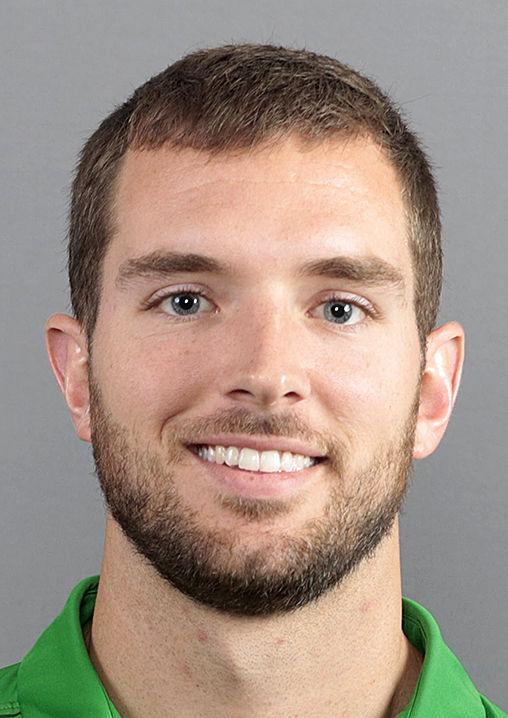 Breakdown: The biggest question UNT faces heading into the season is who will take over for Fine, the two-time Conference USA Offensive Player of the Year.
Aune is one of a handful of quarterbacks in the race for the starting job and is one of the more intriguing players on UNT's roster. The former Argyle standout and TCU signee gave up football after he was drafted in the second round of the Major League Baseball draft out of high school.
He spent six years playing in the New York Yankees system but never made much headway. He decided to play football again and landed at UNT.
Aune has barely seen any live action in football since he was a senior in 2011.
The Mean Green are hoping Aune can regain the form that made him one of the top quarterbacks in Texas his senior year.
2. Jason Bean
Sophomore QB / 6-foot-3, 189 pounds
2019 stats: 22-of-35 passing, 176 yards, 3 touchdowns; 13 carries for 80 yards
Breakdown: Bean served as Fine's primary backup last season and is competing with Aune to start this fall. He is one of the faster and more athletic quarterbacks UNT has. The question is if he can translate those physical skills to the field and cut down on mistakes. He threw three interceptions in 2019, when he also lost a fumble in a loss to Louisiana Tech.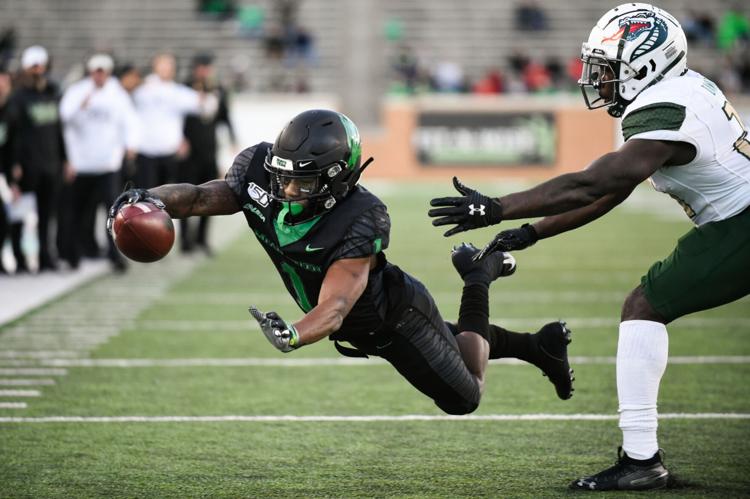 3. Jaelon Darden
Senior WR / 5-foot-9, 174 pounds
2019 stats: 76 catches, 736 yards, 12 touchdowns
Breakdown: Darden was UNT's lone first-team All-Conference USA selection last season when he led the Mean Green in all three major receiving categories. The senior excels at working the middle of the field and just makes plays. He enters his senior season with 156 catches for 1,592 yards and 19 touchdowns. Darden will be a vital security blanket for whoever takes over as UNT's quarterback.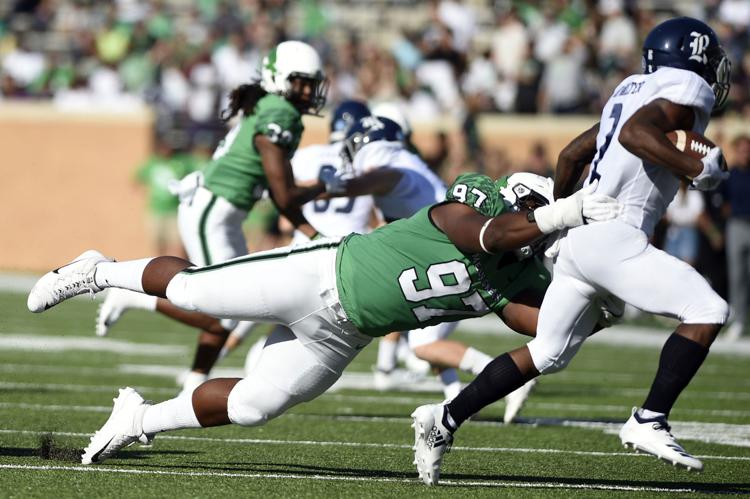 4. Dion Novil
Senior DT / 6-foot-4, 330 pounds
2019 stats: 61 tackles, 13 tackles for loss, 3.5 sacks
Breakdown: Novil might be the best overall player on UNT's roster. The senior is a load in the middle of the Mean Green's defensive front and is athletic enough to make plays behind the line of scrimmage. UNT is expected to employ a three-man front this fall under new coordinator Clint Bowen. The Mean Green desperately need to improve defensively after allowing 32.5 points per game last season. Novil will be a big part of UNT's plans to reach that goal.
5. Jyaire Shorter
Sophomore WR / 6-foot-2, 215 pounds
2019 stats: 24 catches, 473 yards, 9 touchdowns
Breakdown: Shorter emerged as one of UNT's top playmakers in 2019 when he caught nine touchdown passes as a redshirt freshman. The Killeen native has a rare combination of size and speed that make him a matchup nightmare. Fine found Shorter on deep passes repeatedly last season. The question heading into 2020 is if UNT will be able to find a quarterback who can get Shorter the ball.
6. Tre Siggers
Junior RB / 5-foot-8, 200 pounds
2019 stats: 152 carries for 853 yards and 6 touchdowns in 10 games
Breakdown: Siggers emerged as one of UNT's top players last season after moving to running back from safety. He rushed for 164 yards and a touchdown in a loss to SMU in his season debut in the second week of the season. Siggers went on to rush for at least 75 yards in seven games. The former Duncanville standout is a bruising runner and will be among a host of talented running backs UNT can lean on.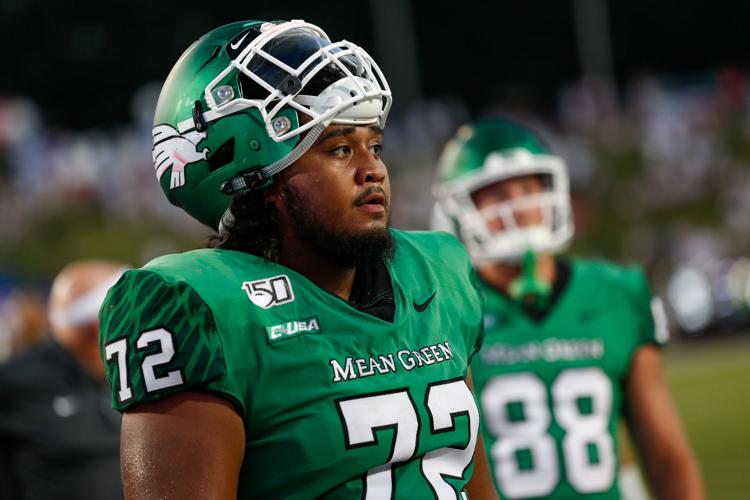 7. Manase Mose
Junior OL / 6-foot-1, 292 pounds
2019 stats: 12 starts at right guard
Breakdown: Mose has started all 25 games of his career at right guard and will be vitally important for UNT as it looks to rebuild its offensive line after losing four seniors following the 2019 season. The Mean Green have just two offensive linemen who started games last season returning in Mose and fellow junior Jacob Brammer. UNT will look to that duo for leadership up front. Mose is the Mean Green's best offensive lineman.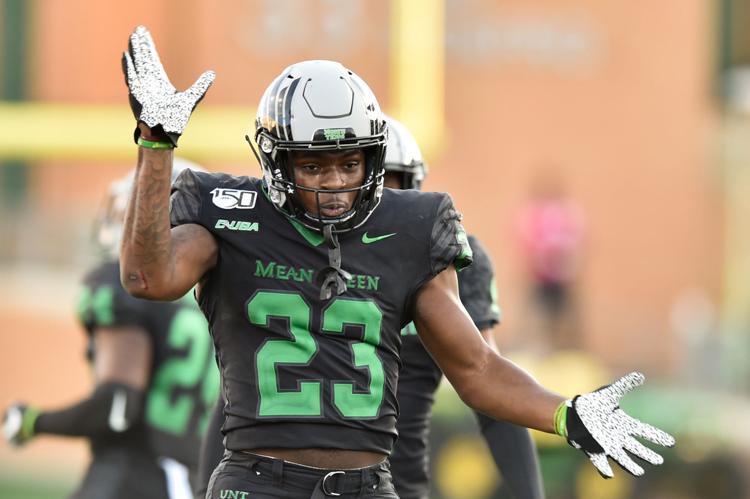 8. KD Davis
Junior LB / 5-foot-11, 229 pounds
2019 stats: 88 tackles, 7.0 tackles for loss, 3.5 sacks, 2 fumble recoveries
Breakdown: Davis led UNT in tackles as a sophomore and was a steady performer for a defense that struggled overall. The former Ennis standout came to UNT as a defensive back but has put on weight and grown into the linebacker role. He's listed at 229 pounds now, up 15 pounds from last season. UNT will look to Davis to help lead the way as it looks to improve on the 13 turnovers it forced last season.
9. Tyreke Davis
Senior LB / 5-foot-10, 220 pounds
2019 stats: 80 tackles, 14.0 tackles for loss, 4.5 sacks, 7 quarterback hurries
Breakdown: Davis was among UNT's best playmakers on defense in 2019, when he led the Mean Green with 14 tackles for loss. The former Ryan standout has put on 11 pounds since last season and should be better equipped to handle the rigors of the year. UNT will need Davis to continue making plays as it looks to improve its performance on defense.
10. DeAndre Torrey
Senior RB / 5-foot-7, 195 pounds
2019 stats: 73 carries for 380 yards and 2 touchdowns in 10 games, 491 kickoff return yards, 96 receiving yards
Breakdown: Torrey led UNT in all-purpose yards with 967 last season and has been a productive player in his two seasons with the Mean Green. He has rushed for 1,357 yards in his time at UNT. The Mean Green are arguably deeper at running back than any other position, but Torrey is the type of player UNT needs to get the ball to on a consistent basis.