It was a historic season for several Denton-area volleyball teams.
Guyer advanced to its first regional final in school history, Denton claimed back-to-back district championships and Ponder won a share of its first-ever league title.
As a result, 19 area athletes were honored with superlative awards on their respective all-district teams.
Guyer's Brooke Slusser was named Hitter of the Year in District 5-6A, leading the Lady Wildcats to a 35-9 record. Slusser put down 471 kills while dishing out 891 assists.
In District 8-5A, Denton's Taylor Thomas earned MVP honors, helping the Lady Broncos to their second consecutive undefeated league title. Thomas buried 514 kills and averaged 11.3 kills per game.
The junior has also already surpassed 1,000 career kills and digs.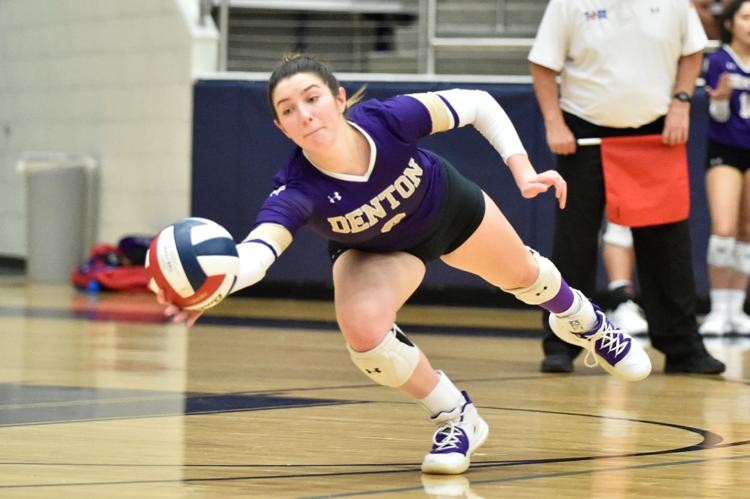 Also in 8-5A, Denton's Maria Martin and Ryan's Nicole Schroeder were named Co-Defensive Specialists of the Year. Lake Dallas' Ruthie Forson was named Setter of the Year after eclipsing 1,000 career assists. Braswell's Tytiana Johnson earned Blocker of the Year honors.
Denton's Cassie Headrick was named 8-5A Coach of the Year, guiding the Lady Broncos to a 36-10 record.
Argyle had several players earn superlative awards after going undefeated in District 8-4A en route to the league title.
Allie Jones was named Co-MVP, leading the Lady Eagles in kills with 359. Mariah Hesselgesser was the Blocker of the Year, while Kassidy Reeves was tabbed Setter of the Year. Both Hesselgesser and Reeves are committed to Arkansas State.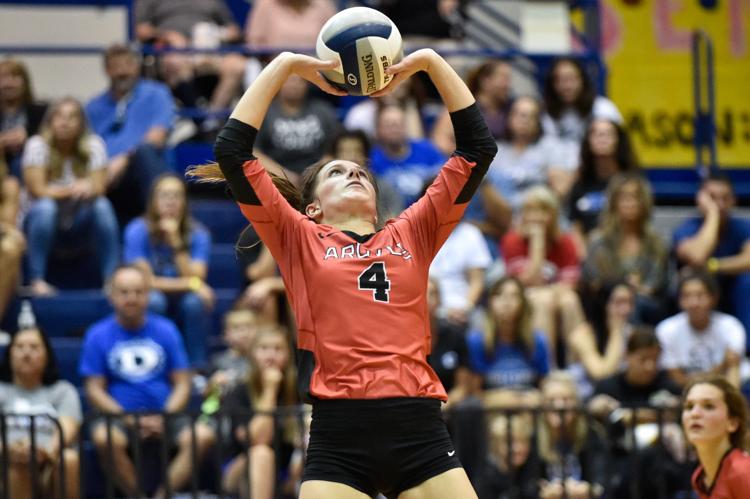 Argyle's Jada Price earned Libero of the Year honors after a stellar sophomore campaign, and Megan DeGroot was named 8-4A Coach of the Year.
DeGroot led the Lady Eagles to a 35-6 record that culminated in an appearance in the region semifinal.
Also in 8-4A, Krum's Reese Robinson was the Blocker of the Year. Robinson helped the Lady Bobcats reach the regional final for the first time since 2017. Krum's Payton Lucas was named Co-Hitter of the Year.
Sanger's Mya Afflerbauch was the District 11-4A Blocker of the Year, as the Lady Indians reached the third round of the playoffs for the third straight year.
Aubrey's Laney Roos was the Libero of the Year in 11-4A, while teammate Syndey Garrison was the Newcomer of the Year.
And in Ponder, after winning a share of their district title, the Lady Lions had three players take home District 9-3A individual superlatives.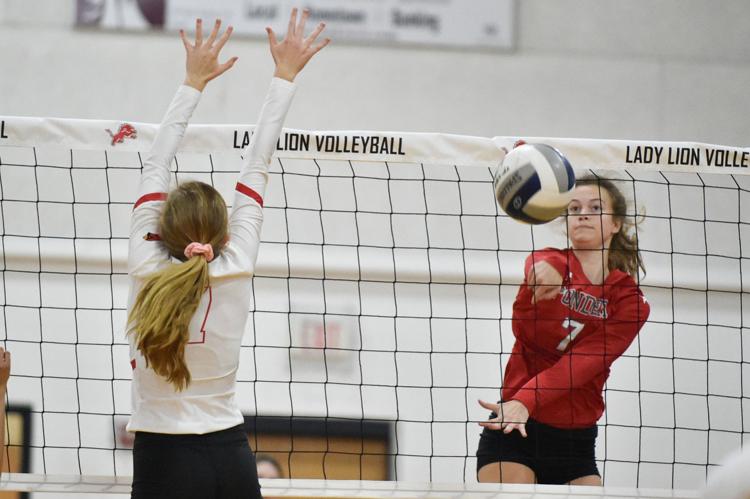 Harper Mulker was named Offensive Player of the Year, Kylee Anderson earned Libero of the Year honors and Gracie Perryman was the Newcomer of the Year.
Ponder coach Stormi Snider was the 9-3A Coach of the Year, as the Lady Lions ended the season 32-15 overall with bi-district and area titles.
High School Volleyball All-District Teams District 5-6A
MVP: Paige Flickinger, Trophy Club Nelson
Hitter of the Year: Brooke Slusser, Guyer
Blocker of the Year: Annabelle Smith, Southlake Carroll
Defensive Player of the Year: Kalani Whitlock, Keller
Setter of the Year: Payton Chamberlain, Trophy Club Nelson
Newcomer of the Year: Leah Ford, Keller
Kyndal Stowers, Guyer; Jordyn Williams, Guyer; Maggie Walsh, Guyer; Charitie Luper, Trophy Club Nelson; Giselle Santini, Trophy Club Nelson; Skyler McKinnion, Trophy Club Nelson; Natalie Glenn, Southlake Carroll; Keagan Polk, Southlake Carroll; Kate Lang, Keller; Jayden Nembhard, Keller; Caleigh Enax, Haslet Eaton; Kyndal Payne, Haslet Eaton; Halle Sherlock, Keller Timber Creek; Abby Wells, Keller Central; Isla Olivas, Keller Fossil Ridge
Hailey Schneider, Guyer; Nina Petersen, Trophy Club Nelson; Adeline Miller, Trophy Club Nelson; Grave Ver Meer, Trophy Club Nelson; Madelyn Grunza, Southlake Carroll; Laura Brambilla, Southlake Carroll; Mabyn Thomas, Southlake Carroll; Haylee Maxey, Keller; Kennedi Sutter, Keller; Adeline Ortman, Haslet Eaton; Lindsey Harris, Haslet Eaton; Sydney Sherlock, Keller Timber Creek; Karly Wells, Keller Central; Nakayla Abelard, Keller Fossil Ridge
MVP: Taylor Thomas, Denton
Offensive MVP: Makenna Miller, Justin Northwest
Co-Defensive Specialists of the Year: Maria Martin, Denton; Nicole Schroeder, Ryan
Setter of the Year: Ruthie Forson, Lake Dallas
Blocker of the Year: Tytiana Johnson, Braswell
Utility Player of the Year: Jayda Coleman, The Colony
Newcomer of the Year: Kacie Rangel, The Colony
Coach of the Year: Cassie Headrick, Denton
Sydney Soto, Denton; Abby Folsom, Denton; Leah Stolfus, Denton; Candace Collier, Lake Dallas; Caelyn Gunn, Lake Dallas; Lanie Schantz, Lake Dallas; Daylee Doggett, Justin Northwest; Morgan Andress, Justin Northwest; Ashley Procious, The Colony; Lydia Gentry, The Colony; Hannah McCreight, Justin Northwest; Lexi Long, Justin Northwest; Lilly Quionones, The Colony
Campbell Sweeten, Denton; Emma Sawko, Denton; Maci Banks, Lake Dallas; Sloan Griffin, Lake Dallas; Halie Mitchell, Ryan; Darla Crow, Ryan; Kaeden Robinson, Braswell; Najah Harris, Braswell; Yaznym Walker, The Colony; Natalie Hawkins, The Colony; Kennadi Harris, Little Elm; Jordan Johnson, Little Elm; Sophie Chambers, Justin Northwest
Co-MVPs: Allie Jones, Argyle; Zoe Hall, Bridgeport
Co-Hitters of the Year: Mariah Hesselgesser, Argyle; Payton Lucas, Krum
Setter of the Year: Kassidy Reeves, Argyle
Blocker of the Year: Reese Robinson, Krum
Libero of the Year: Jada Price, Argyle
Server of the Year: Trinity Vinzant, Decatur
Newcomer of the Year: Ella Payne, Argyle
Coach of the Year: Megan DeGroot, Argyle
Kiley Lavelle, Argyle; Jessie Moore, Argyle; Miranda Guffy, Krum; Madeline Guffy, Krum; Tori Hamilton, Krum; Madison Lowery, Decatur; Jentry Lamirand, Decatur; Tayte Helton, Decatur; Tiffany Wootton, Bridgeport; Riley Druxman, Springton
Andie Piel, Argyle; Ava Curran, Argyle; Sydney Martin, Krum; Paige Orsi, Krum; Makenna Gantt, Decatur; Bayli Miller, Decatur; Kota Hartman, Decatur; Kaylee Peterson, Decatur; Anna Strother, Bridgeport; Haley Barton, Bridgeport; Carli Haugen, Springtown; Rayleigh Farris, Springtown
MVP: Caroline Kasson, Melissa
Hitter of the Year: Heather Griffith, Celina
Blocker of the Year: Mya Afflerbauch, Sanger
Libero of the Year: Laney Roos, Aubrey
Setter of the Year: Megan Hodges, Celina
Server of the Year: Sage Murray, Celina
Newcomer of the Year: Sydney Garrison, Aubrey
Coaching Staff of the Year: Celina
Gracie Bell, Aubrey; Kaite Schmitz, Aubrey; Karli Stanley, Sanger; Bella Muir, Sanger; Chelsea George, Melissa; Ella Branson, Melissa; Alexis Stewart, Anna; Casey Thomas, Celina; Alyssa Radtke, Celina; Yasmine Peralta, Gainesville
Makayla Johnson, Aubrey; Morgan Place, Aubrey; Lindzi Thomas, Sanger; Kaela Wilkerson, Sanger; KG Matthews, Melissa; Brooklee Waltrip, Melissa; Rachel Goade, Anna; Kylee Meares, Celina; Kaitlynn Robinson, Celina; Allyiah Henry, Gainesville
MVP: Bethany Gilbreath, Gunter
Offensive Player of the Year: Harper Mulkey, Ponder
Defensive Player of the Year: Nyah Ingram, Gunter
Setter of the Year: Jacee Childers, Gunter
Libero of the Year: Kylee Anderson, Ponder
Newcomer of the Year: Gracie Perryman, Ponder
Coaching Staffs of the Year: Gunter and Ponder
Sterling Wilkinson, Ponder; Averee Tipton, Ponder; Alyssa David, Pilot Point; Shelby Malone, Pilot Point; Libby Langford, Whitesboro; Shae Pruitt, Gunter; Emma Sledge, Callisburg
Cate Moynagh, Ponder; Brooke Lane, Pilot Point; Maiah Morris, Pilot Point; Sasha Barletta, Callisburg; Hannah Hellinger, Pottsboro; Hadley Williams, Pottsboro, Rayanna Mauldin, Gunter; Chesney Wolf, Whitesboro
TAPPS Class 6A District 1
MVP: Madison Morrow, Liberty Christian
Defensive MVP: Parker Ford, Liberty Christian
Setter of the Year: Bailey Shiflet, Liberty Christian
Newcomer of the Year: Reagan Fifer, Liberty Christian
Madison Morrow, Liberty Christian; Bailey Shiflet, Liberty Christian; Reagan Fifer, Liberty Christian; Parker Ford, Liberty Christian
Kaley Janusek, Liberty Christian; Jadyn Fife, Liberty Christian; Ella Grace, Liberty Christian