PLANO — Corbin Deaton, a kinesiology senior at North Texas, is reminded each day that her road to a world championship has been a long, curvy trail with a couple of bumps.
A whiteboard with a message counting down to the Taekwondo International World Championships is changed each day at the Plano Sports Authority, where Deaton trains alongside fellow Team USA members to represent the country with 4,000 competitors from around the world at the Taekwondo International meet, scheduled for July 21 and 22 in Birmingham, England.
Deaton is an honors student set to graduate in December from UNT. She was recently awarded UNT's Kinesiology, Health Promotion and Recreation Elite Athlete Performance Award, which helps athletes as they compete on an international level.
"I remember when it said 150 days, and now I get more and more anxious as our instructors lower the number," Deaton said.
Deaton was introduced to martial arts when she was 10. She began with judo and jiujitsu for two years and karate for three years, and the last five she's spent performing the Korean art of taekwondo.
"I love the speed and the art," Deaton said. "There is an artistic side to it, and then you have the real-life fighting aspect of it. I can be artistic with the patterns and self expression, but I can also use it to defend myself."
The 23-year-old has never had to use martial arts in real life, because even though she is taught taekwondo, she is taught more to avoid using it outside of class.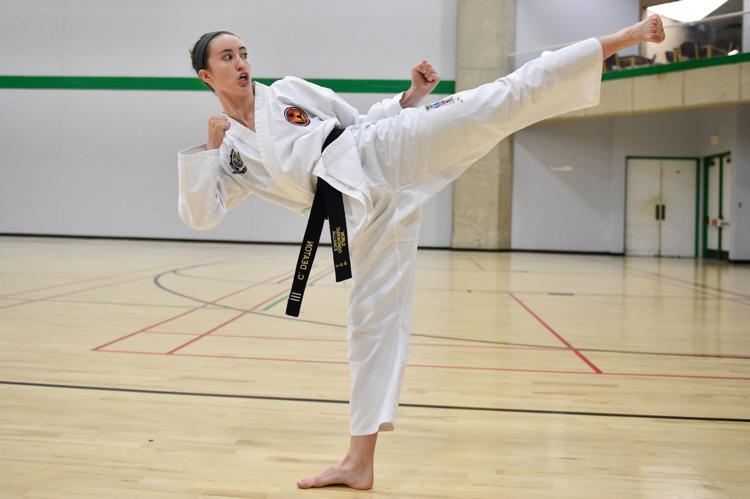 "Our first rule is to avoid it," Deaton said. "It's nice to know that I have the skills necessary to defend myself, but it's not smart to seek out trouble."
Deaton received confirmation of her third-degree black belt as she rehearsed movement patterns, struck blocks of wood and sparred with her classmates.
She moved with ease during the test, but she has not always been able to move as easily.
In 2015, four months before her first international competition in Italy, Deaton tore her anterior cruciate ligament for the second time. She was not able to spar in Italy but was able to complete patterns — a predetermined set of moves against an imaginary enemy.
"That was probably the most frustrating of the two tears because I was looking forward to my first international competition," Deaton said. "I was only able to do patterns, but I was happy to be there."
She tore her other ACL in 2013, so she was recovering from that surgery and now going through surgery on her opposite knee. Physically it took a toll, and mentally it was tough to put into words.
"I guess distraught would be the best way to describe my second ACL tear," Deaton said. "It didn't even hurt when I tore it, but the fact that I knew that I had another year to recover was devastating."
Now, three years from her last knee injury, Deaton will compete in her third international competition. Her most recent competition was the Intercontinental Goodwill Championships in Tampa, Florida. With two good knees, she walked away with bronze, silver and gold medals.
The only part of the competition she wishes she had prepared more for was the sparring. She said she was not aggressive enough.
"Now that I've been healthy for over a year and feel in the best shape of my life, I am looking forward to competing at worlds," Deaton said. "I always learn from each competition. Taekwondo can be different around the world because it is interpreted differently based on culture. There's a certain way others in a different culture spar, move and use rhythm with their strikes."