Sarah Fuller was four days removed from walking the red carpet at the ESPY Awards this summer when she helped a girl pull a pink tank top over her shirt at the North Texas women's soccer team's summer camp for kids.
The temperature soared near 100 degrees on the field, where Fuller was the main attraction as she sorted girls who barely stood as tall as her waist into teams.
UNT's new goalkeeper became the first woman to play in a Power Five conference football game last fall. Vanderbilt turned to one of the stars of its women's soccer team after its kickers were largely wiped out by a COVID-19 outbreak. Fuller kicked off in a game against Missouri and went on to connect on a pair of extra points in a game against Tennessee before transferring to UNT and returning to her soccer roots.
The Mean Green will open their season with a game against Southern on Friday night.
Playing at the top level of college football transformed Fuller into a national celebrity. She introduced Vice President Kamala Harris during President Joe Biden's inauguration, struck up a friendship with tennis legend Billie Jean King and was invited to ESPN's annual gala looking back at the year in sports.
Fuller was a long way from the trappings of her celebrity status at UNT's camp.
That was just fine with the Wylie native who is determined to capitalize on her newfound fame by inspiring a new generation of female athletes.
"It's important to me," Fuller said. "A lot of girls have told me that they tried out for a flag football team or started a club because of what they saw me do. That's so cool. It's really important for girls to play sports. It was such a valuable part of my childhood, learning how to communicate, work as a team and overcome obstacles and tough times. It helped me learn to be adaptable and goal-oriented."
Fuller, who describes herself as retired kicker when it comes to football, was planning to go into hospital administration after playing the final two seasons of her soccer career at UNT. She's chasing a new goal now after enrolling in UNT's MBA program in sports entertainment management.
Fuller hopes to promote women in sports while working on the business side of athletics after her soccer career is over. She is already preparing for a career in sports by capitalizing on business opportunities that arrived after the NCAA freed athletes to profit from their name, image and likeness over the summer.
Fuller has a clothing line, has appeared at multiple events and signed with Wasserman, an agency that also represents Alex Morgan of the U.S. women's national soccer team and Breanna Stewart, one of the WNBA's biggest stars.
One expert estimated last year that Fuller could make up to $160,000 per year through social media alone during her remaining time in college.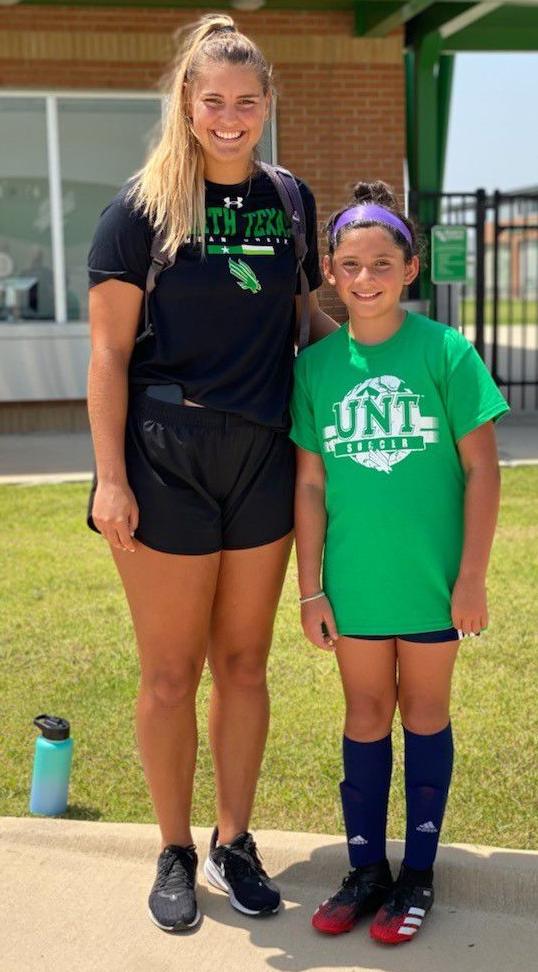 The chance to have his daughter learn from Fuller is the reason Ryan Ross brought his daughter, Isabella, to UNT's camp. He was among nearly a dozen parents in the stands.
"I'm trying to keep her interested in soccer," Ross said. "Bringing her around athletes of Sarah Fuller's caliber has been huge. We knew she was going to be here."
Fuller posed for a picture with Isabella Ross, one her father has saved in his phone.
Fuller has taken photos, signed autographs and made appearances since kicking for Vanderbilt. The demands on her time have been challenging. She's had to learn to say no and about the downfalls of social media.
Navigating those challenges has been worth it during a life-changing experience.
"I wasn't expecting any of this to happen, but it definitely turned into one of the coolest years of my life," Fuller said. "I'm really thankful for the opportunities that have come up. I've put in a lot of hard work. It was really cool to see everything that came about right at the end of my time at Vanderbilt."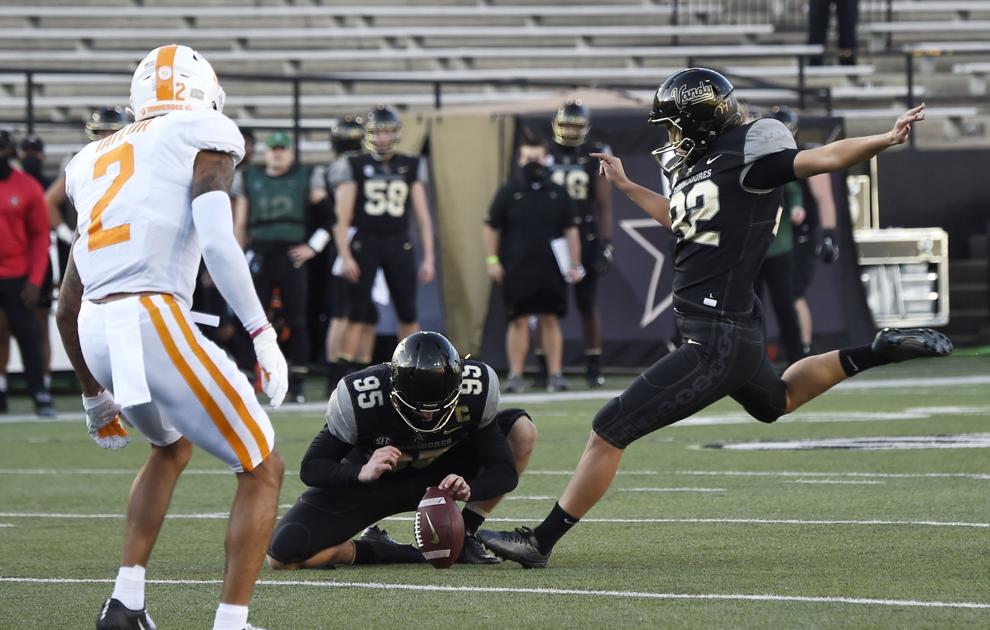 A journey into football
Fuller needed a minute or two to make the decision that changed her life.
Vanderbilt had just come out of nowhere to win the SEC soccer tournament as the No. 7 seed in late November when Fuller noticed she had missed a call from assistant coach Ken Masuhr. Fuller was packing for a trip home to Texas when she returned the call.
Vanderbilt football coach Derek Mason wanted to know if Fuller would be interested in kicking for his team.
"For a split second, I was like, 'I really want to see my dogs,'" Fuller said. "But he wanted a 'yes' or 'no.' I didn't really think anything of it. I was just willing to help another team on campus."
Fuller mentioned the conversation to her parents a short time later.
"They told me, 'OK, that will be interesting,'" Fuller said. "Later that night my dad called back and told me, 'I think this is going to be a big deal.' I told him, 'I'm kind of getting that vibe too.'"
She made her kicking debut when she sent a kickoff bounding down the field in a game against Missouri and went on to connect on two extra points against Tennessee. The phrase "Play like a girl" was inscribed on the back of her helmet.
Fuller garnered even more attention nationally when Vanderbilt's coaches and players acknowledged that she gave a passionate speech about the importance of supporting each other at halftime of the Missouri game.
Before long, Fuller was a national celebrity. She was recognized before a Tennessee Titans game and got a shoutout from LeBron James.
King, the tennis great Fuller has gotten to know over the last few months, is among the people who have offered advice on handling the trappings of fame, including managing requests for her time. Fuller has had to learn to say no.
Her go-to question has become, "Am I going to have fun and enjoy this?"
The question is one Fuller didn't have to ask when country musician Tenille Townes asked her to appear in the video for her song "Girl Who Didn't Care." Fuller and Townes first spoke on The Artist and The Athlete, a podcast hosted by Lindsay Czarniak.
North Texas soccer goalie Sarah Fuller appeared in country music star Tenille Townes video for Girl Who Didn't Care that was released this summer.https://t.co/3h0pAGGN1R

— Brett Vito (@brettvito) August 16, 2021
The video for Townes' song tells the tale of girls chasing their dreams, including being an astronaut, a fire chief and a kicker for a football team.
Fuller wants to do more than just deal with her fame. She's determined to capitalize on it by promoting women in sports and gender equity.
Fuller appeared in a virtual event with ESPN personality Laura Rutledge focusing on women in sports earlier this year. She also weighed in on the discrepancies between the way male and female athletes were treated during the NCAA basketball tournaments and the college world series in baseball and softball last school year. The issue became a national conversation over the last few months.
Fuller received backlash on Twitter for saying the NCAA needs to do a better job of supporting female athletes. She isn't backing down from that stance now.
"I have a platform where I can say, 'Hey, this is wrong.' And people will listen." Fuller said. "I want to walk in the NCAA office and say, 'Let me fix this real quick.' It shouldn't be that hard."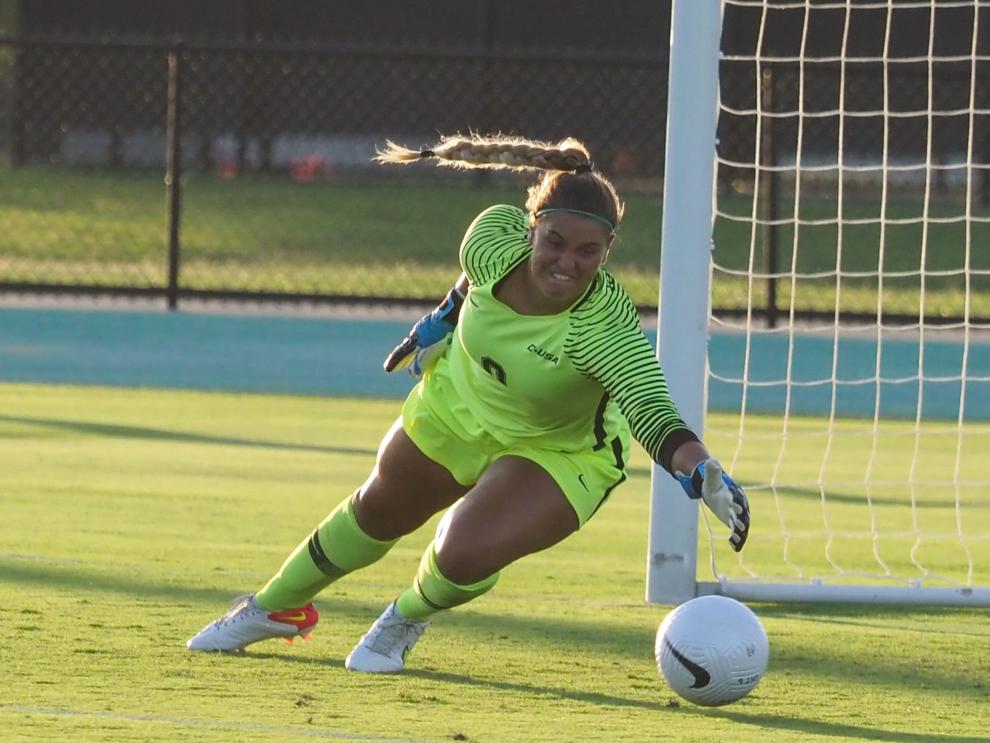 Fuller fitting in
With her national profile and outspoken nature, UNT's players weren't sure what to expect when Fuller joined the team over the summer.
UNT's soccer program has long been one of the best in the school's athletics department. The Mean Green have won eight Conference USA titles since joining the league in 2013.
Fuller was looking for a fresh start following four seasons at Vanderbilt and fit in right away while working UNT's summer camp with some of the team's veteran players.
"She doesn't pretend to be anyone other than herself," senior Brooke Lampe said. "That is one of the biggest things a lot of us have come to love about her. She doesn't think she's above anything or anyone."
Olivia Klein also worked at the camp and could tell Fuller would fit in.
"It was natural," Klein said. "Sarah's told us she likes the dynamics of our team and how connected we are.
"She's very encouraging and fun to be around."
UNT officials have been careful to not ask too much of Fuller in terms of making appearances as she adjusts to a new home. John Hedlund, UNT's longtime coach, pulled Fuller aside recently and talked to her for a half-hour about how she is feeling.
"She's probably the most popular kid on campus right now as far as the attention she is getting nationally, but she doesn't act like it," Hedlund said. "It's been a joy just to be around her."
Fuller has felt at home at UNT, where she expects to flourish as an athlete, student and advocate for women in sports.
The school isn't too far from her home in Wylie and some of the aspects of life in Texas she missed during her time at Vanderbilt. Fuller frequents Buc-ee's, the iconic convenience store, and eats at Chiloso Mexican Bistro, her favorite restaurant.
Fuller's family and friends will be able to attend games this year. Her father, Brandon Fuller, was in the crowd for UNT's exhibition opener against Texas A&M.
Fuller was the first player introduced and received special recognition.
"In goal, welcome to Denton, Sarah Fuller," the announcer said.
Fuller has become used to the added attention the last few months.
"I've had a lot of people tell me that it was one of the bright moments in that year when I played with the football team," Fuller said. "Some have told me they cried. I was like, 'Oh, my gosh, OK.' I'm just really thankful that I was able to positively impact so many people's lives."
Fuller hopes to continue providing a positive example for girls interested in sports and promoting equity for those already involved at all levels.
The opportunity to do so as a national figure is one Fuller couldn't have imagined before she joined the Vanderbilt football team.
"This experience has allowed me to meet so many amazing women who are announcers, work in broadcasting or are coaches," Fuller said. "I learned about all they had to go through to get to where they are now.
"I just hope there are more opportunities and it's possible for women to take advantage and step into those roles."