The Super Pit court the North Texas men's and women's basketball teams call home will have a new look next season.
The final design will be chosen by the school's fans.
UNT announced on Monday morning that it will resurface the Super Pit floor and allow its supporters to pick the design from a series of proposals.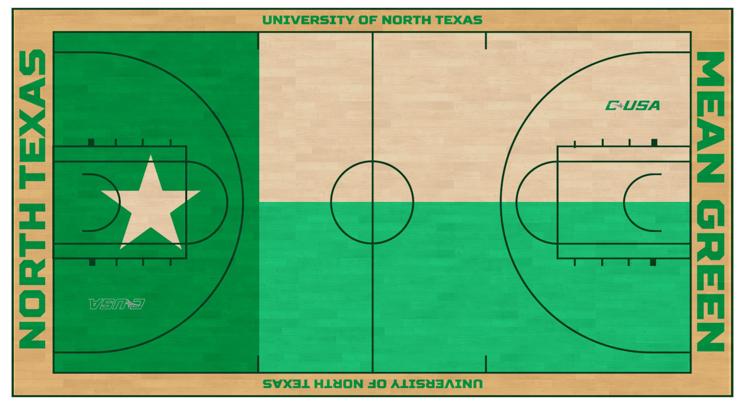 There are three designs total. UNT is conducting an online poll to choose a winner.
Voting will continue through Friday. The winning design will be announced at a later date.
One design mirrors a UNT flag covering the entire court. Another features McConnell Tower on one sideline with a beam of green light rising toward center court. The third includes a large eagle logo at center court with an outline of Texas under it.
UNT students gather at McConnell Tower following wins to see it illuminated in green light. The practice is one of UNT athletics' longstanding traditions.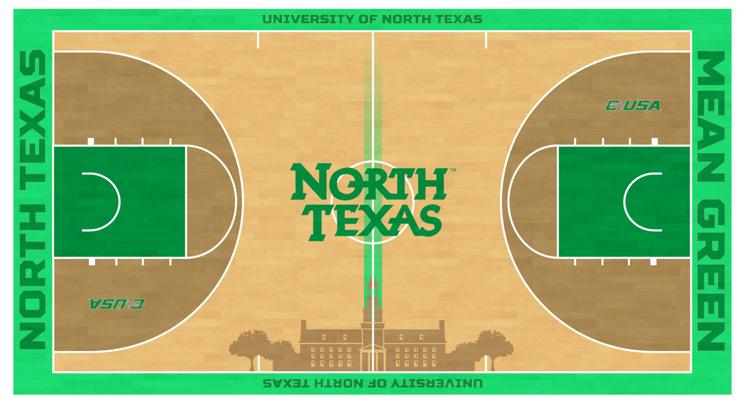 The design featuring the UNT logo over an outline of Texas closely mirrors the logo at the 50-yard line at Apogee Stadium.
The Apogee field design also shows that UNT is willing to go away from traditional designs for its venues. The end zones are a brighter color of green than the turf from goal line to goal line.
A host of colleges across the country have abandoned traditional court designs over the years in favor of unique looks that reflect school traditions or aspects of their universities.
Florida International, one of UNT's rivals in Conference USA, has a court painted with a beach theme. UTEP, another C-USA school, has mirroring pickaxes on its floor.
UNT athletic director Wren Baker spent part of his career at Memphis, which has a court that features the Memphis skyline and the iconic Hernando de Soto Bridge that stretches across Interstate 40 and the Mississippi River.
Memphis arrived at that design after the school allowed its fans to vote on four designs. UNT is giving its fans a similar opportunity to pick the court design.
The move comes at a time when both men's and women's basketball teams are improving and are looking to bolster their following. The UNT women advanced to the championship game of the Women's Basketball Invitational last season, while the UNT men are coming off back-to-back seasons with at least 20 wins. The Mean Green men won the College Basketball Invitational at the end of the 2017-18 season.