Ryan's TJ Walker and Stanley Nwosu would never say I told you so.
Actually, they would say it, and for everyone to hear.
It's not because they want to come across as loudmouthed or arrogant. They are simply confident in their abilities on the track while also having a deep appreciation for the journey — from their days at rival middle schools to becoming inseparable teammates who for the last few years have been politicking to finally bask in the limelight reserved for established stars.
"It was only a matter of time," said Walker, who along with Nwosu has playfully used names like Freshman Phenoms, Sophomore Sensations and Junior Jets to describe themselves. "We knew sophomore year that we had the talent. With hard work, and being a part of the winning culture here at Ryan, we knew it could only go up from there."
"I don't want to say I told you so, but …" Nwosu said with a laugh. "Here we are."
On Friday, Walker and Nwosu hope to put a medal where their mouth is when they lead a group of seven Ryan qualifiers into the UIL state track and field meet at Texas' Mike A. Myers Stadium. This is Walker and Nwosu's third straight trip together to state.
Walker, who recently announced he plans to run track at North Texas, will compete in the 100 meters alongside Braswell's Malik Williams after finishing second at the Class 5A Region I meet with a blistering time of 10.49.
Walker also will run on the Raiders' 400 and 800 relay teams. The 400 team of Tra Smith, Austin Jordan, Billy Bowman Jr. and Walker set a regional record with a time of 40.92. The 800 relay team of DJ Allen, Jordan, Nwosu and Walker also took gold with a time of 1:26.34.
Ryan's Zach Oyer will compete in the discus after qualifying as a wild card.
"All the times are so close," Walker said. "I think it's really anyone's race out there. We want to go out with a bang."
While Walker and Nwosu are making this journey together, their roads to this weekend's meet were quite different.
Walker is Ryan's first six-time state qualifier, as he qualified for state in one event as a sophomore, two as a junior and now three his senior year. But it's his first time to qualify in the 100, an event he typically owns through the regular-season, district and area meets. He finished third at regionals as a sophomore to barely miss the state cutoff, then finished fifth last year. He is Ryan's first qualifier in the 100 since Aaron Scott in 2010.
"I told coach [Janson] Head before the season, 'Coach, this is my last year. I have to go out with a bang,'" Walker said. "I worked hard, but it also shows how good of a coach he is to help me get here. It's kind of surreal to think about."
Nwosu, leaning toward continuing his track career at Wichita State, faced an even tougher road after partially tearing his meniscus and spraining his medial collateral ligament in Ryan's first football playoff game in November. He missed basketball season and wasn't cleared by doctors to run until around spring break.
"I wasn't sad or down after the injury. I just know that these are things athletes have to go through sometimes, and it was up to me to work hard and get back," Nwosu said. "With guys like [Walker] next to me, coach Head and being a part of a winning culture, it made things a lot easier to fight back."
Head said Walker, Nwosu and the rest of the Raiders have a very good shot at turning heads this weekend, but it will take running a clean race to outlast the competition.
"It's a tough field, but you never know," Head said. "TJ and Stanley have been very instrumental in our success over the last three years, and they are high-quality kids who work extremely hard. They have a character about them and they are confident in themselves, but I wouldn't classify them as cocky. They just want some of that limelight."
And a few medals for the trophy case.
Guyer's Brown, Stowers, Kirby in strong position
As Eli Stowers was finishing up the high jump competition at the Class 6A Region I meet in Arlington on April 27, Guyer coach JD Aaron was keeping an eye on results from regions across the state.
Stowers finished second to Keller's Nicholas Prentiss after a tiebreaker, as both athletes cleared 6 feet, 10 inches, but Aaron was surprised to see the numbers coming in from Regions IV and II.
Carter Bajoit (The Woodlands) cleared 6-11 and Jaelen Anderson (Plano) and Joshua Cephus (Spring DeKaney) cleared 6-10, making for a loaded field entering the 6A state meet this weekend.
"It was pretty surprising for all of us," Aaron said. "I think everybody pretty much had the same reaction, but Eli's was kind of like, 'Oh, wow. All right, let's go.' He feeds off that type of competition and I think he'll welcome it. All great competitors do — to be the best, you have to beat the best."
Stowers is the state's only high jumper to clear 7-0 this year after reaching the milestone at the District 5-6A meet April 3. He'll look to again reach that mark while trying to outjump a competitive field in Austin.
The 6A boys high jump will begin at 8 a.m. Saturday.
"We're all looking forward to a very competitive meet," Aaron said. "It makes for a better environment, big marks and big jumps out of everybody. Eli is the type of guy who is going to rise to the occasion. The preparation he puts in will definitely help him be right in the mix of things at the end of the day."
Stowers is one of three Guyer athletes competing at state. He'll be joined by sophomore Brynn Brown, who qualified in the mile and the two miles, and junior Christalee Kirby, who will compete in discus.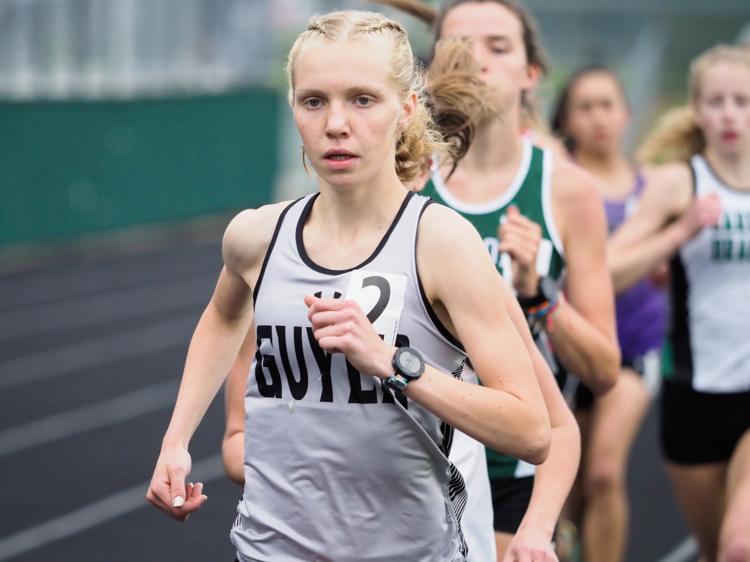 Brown is a heavy favorite in the two miles, which is also scheduled to begin at 8 a.m. Saturday. Her qualifying time of 10:19.08 is more than eight seconds faster than that of Flower Mound's Natalie Cook (10:27.70), who finished behind Brown at the district, area and regional meets.
In the mile, Brown enters with a qualifying time of 4:55.10, which ranks fourth in a tight field. Aubrey O'Connell (Prosper) is seeded first with a time of 4:54.17 but Klein's Emily Cole (4:54.56), Cook (4:54.86), Brown and Katy Cinco Ranch's Heidi Nielson (4:55.51) all finished with qualifying times within a second of each other.
Brown finished second in the mile at state last season with a 4:54.36.
"It's a very solid field across the board for that mile," Guyer coach Megan Hardesty said. "Brynn has a pretty solid plan, and she's had some time to think about it and get confident. It's going to be a fearless effort.
"She's first by quite a bit in the two mile and I want her to be able to enjoy that too and not just focus on the mile, but I know she's going to do great things in both."
Kirby is seeded fifth in the discus field after throwing 143-9 at regionals. Kirby placed sixth in the shot put as a sophomore but will look to build on that performance after qualifying in discus.
The 6A girls discus competition is scheduled for 4 p.m. Saturday.
"We expect them to go out and give their best," Hardesty said. "No matter how you're ranked going in, nothing is guaranteed. So they both just have to show up ready to compete and be prepared to be compared against the best in the state. They've risen to the occasion so far and they have one more opportunity to do that. I have no doubt that's what they're going to go down there and do."
15 additional area athletes to compete
An additional 15 Denton-area athletes will be competing in the state meet Friday and Saturday. Pilot Point, Ponder, Sanger and Argyle had athletes move on from the regional level.
Pilot Point's Adam Mendoza, a two-time defending state champion in the Class 3A 800, enters as the event's top-seeded runner after clocking a 1:57.13 at regionals. Teammate Sergio Portillo is seeded third with a 1:58.73.
Mendoza placed sixth at state as a freshman before taking first as a sophomore and junior. He'll look to make it three in a row in his final trip to Austin.
"He's peaking at the right time," Pilot Point coach Kyle Peacock said. "We trained him a little different this year, and he's gotten to where he finishes really well. I definitely see him competing for it again."
Argyle's Alexandra Johnson (second seed in the Class 4A girls 800) and Ponder's Reese Arterberry (third in 3A boys 300 hurdles) are among the area's athletes with a strong chance to finish on the podium. Pilot Point's Brisa Hernandez is seeded fourth in the 3A girls mile, and Argyle's Caleb Murdock is seeded in a tie for fifth in the 4A boys pole vault.
Other state qualifiers include Pilot Point's Connor Lynch (3A boys discus), Pilot Point's Savanna Hodnett (3A girls 100 hurdles), Sanger's Hank Lemons (4A boys long jump), Sanger's Rylan Smart (4A boys discus), Sanger's Payten Vidourek (4A boys 800) and the Argyle mile relay team of Adam Schleder, Brendan Simonin, Ward McCollum and Connor Kilgore.
Class 1A, 3A and 5A events will take place Friday. Class 2A, 4A and 6A events will be held Saturday. Stay tuned to the Denton Record-Chronicle throughout the weekend for updated results.