EDITOR'S NOTE: The Denton Record-Chronicle has taken a look back at some of the most memorable high school football games from 2019. This multiple-part series will include the top five games from last season with three honorable mention games. The series concludes today.
No. 1: Guyer vs. Cedar Hill, area round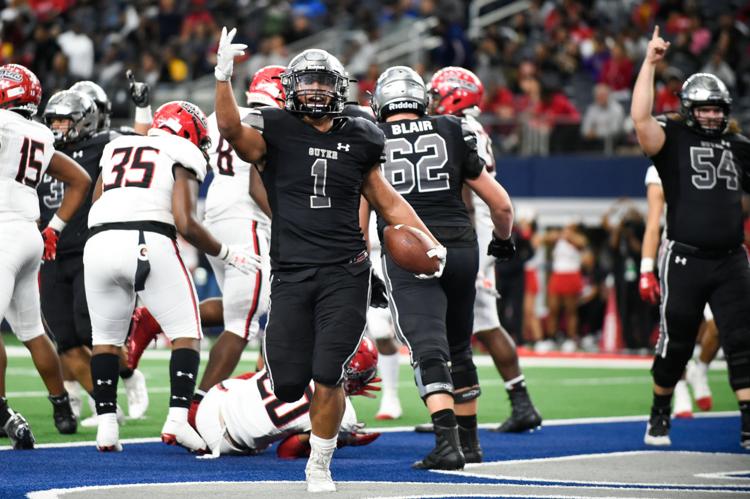 A game that will go down in Texas high school football lore produced one of the most magical comebacks in recent memory.
Trailing Cedar Hill 41-14 with 4:54 left in the third quarter of the Class 6A Division II Region I area round, Guyer's season looked to be all but over. The Wildcats had been torched up to that point by the Longhorns' dual-threat quarterback Kaidon Salter, who just moments earlier, looked to have provided the dagger with his fifth touchdown.
Guyer's 27-point deficit was the largest the Wildcats had faced all season. The situation looked grim, to say the least.
On the ensuing possession, Guyer answered with a quick touchdown to trim Cedar Hill's lead. And then, the Wildcats turned to an unlikely hero.
Senior offensive lineman Colby Strange came out to attempt an onside kick, which Guyer recovered. The Wildcats marched straight down the field and scored again, cutting the deficit to 41-28.
Suddenly, it was a game again.
But Guyer did not stray from its strategy of keeping the ball out of Salter's hands.
The Wildcats attempted four consecutive onside kicks, recovering three. In the final 16 minutes, Cedar Hill only had two possessions.
Quarterback Eli Stowers' 14-yard touchdown run put Guyer up 42-41 late, but even taking the lead did not stop the Wildcats from attempting another onside kick — which they recovered.
"That was easy," former Guyer coach John Walsh said of his decision to exclusively onside kick for the final 16 minutes. "If they were going to score, we needed them to score quick. We wanted to take the clock out of it.
"In the tunnel when we came out [after halftime], [momentum] was the only word I kept saying. We have to grab momentum, or this thing is over. The onside kicks got it for us."
Guyer then bled the clock inside of two minutes, and senior running back Kaedric Cobbs put the game on ice with his 2-yard run. To make matters even more interesting, the Wildcats went for the 2-point conversion in order to make it a nine-point, two-possession game — and were successful.
Almost as quickly as Guyer fell behind by 27 points, the Wildcats rattled off 36 unanswered points to stun Cedar Hill 50-41.
Guyer's comeback will go down as one of the most improbable the state has even seen, especially considering the stage it was on. With their season on the line, the Wildcats miraculously turned the game around and lived to fight another day.
"I just didn't want to go home today," Cobbs said in his postgame interview. "I didn't want to hang up my cleats. This team means too much to us. I really didn't want to let them down. I was just so happy that we could come back and move on to the next round."