Kristyn Archuleta needed a bit of advice a few months ago after reaching a key point in her time at North Texas.
Archuleta had fine-tuned the throwing motion that made her a standout with the UNT track and field team in the javelin. Workouts in the weight room didn't concern her.
Groceries were what had the junior a tad perplexed shortly after she moved off campus for the first time.
"I was starting to cook for myself," Archuleta said. "I didn't know what to do."
That's where Charles Ashford came in.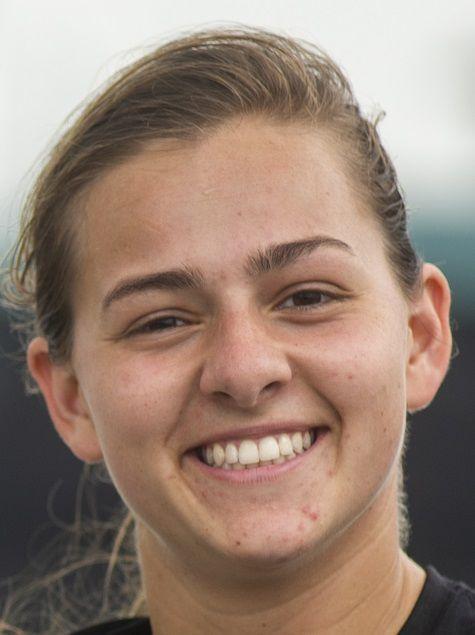 Ashford, one of the newer members of the UNT athletic department, gave Archuleta some advice on what to eat and when.
"I didn't used to eat vegetables very much," Archuleta said. "Now I eat them quite a bit. This year is my second off campus and has been a real eye-opener as to how important nutrition is."
There are a host of reasons UNT has seen its overall program trend upward since Wren Baker took over as athletic director in the summer of 2016. Baker, UNT's coaches and the Mean Green athletes attribute some of that success to Ashford, who became the school's first sports nutritionist in the summer of 2017.
Ashford advises athletes on what to eat, provides energy shakes specifically formulated to individuals' needs and works with Champs, which is UNT's dining hall for athletes. Tackling those tasks ensures the nutritional needs of the school's athletes are met.
"Charles has done a lot of great things for us," UNT quarterback Mason Fine said. "Guys now, if they need to gain weight, they gain weight. If they need to lose weight, they lose it.
"He has a lot of knowledge. If I have a question, I can go to him. I am where I am now because of him."
Fine came to UNT in 2016 as a scrawny 5-11, 170-pound quarterback. He enters his senior season at a solid 190 pounds and is just one example of an athlete who has benefited from working with Ashford.
Dion Novil packed on 30 pounds in the span of a few months to prepare for a move from defensive end to nose tackle this fall. Offensive lineman Jordan Redfearn has dropped 30 pounds.
UNT football coach Seth Littrell said defensive end LaDarius Hamilton looked like a different player this spring at a chiseled 240 pounds, thanks in part to Ashford.
Helping athletes make the right decisions on what to eat to facilitate those types of improvements is tougher than it sounds. It's the reason UNT brought on Ashford.
"Some college athletes know what to eat; some don't," Ashford said. "Some guys think they can get away with eating whatever they want when they are young. That can catch up to them. They see it when their teammates' bodies are changing.
"A good amount know what they should be doing. It's a matter of getting them to do it."
Filling a void in the program
Finding a nutritional expert to work with — and in some cases poke and prod — athletes on good eating habits was among the first goals Baker set after taking over UNT's program.
UNT was struggling across the board when Baker arrived. The Mean Green had posted just one winning season in four years in their three major sports — football, men's basketball and women's basketball.
Baker and his staff looked at ways to turn the tide and formulated an approach that helped bring Ashford to UNT.
"We poured our resources into how we help young people grow and develop," Baker said. "We put an emphasis on strength and conditioning. Nutrition was where we were the furthest behind. Outside of the limited knowledge of some of our strength and conditioning coaches, there was no department expert."
UNT found its expert in Ashford, who has a background that stands out among members of the school's athletics department.
Ashford didn't grow up as a Cowboys fan or Rangers fan. He didn't even grow up in the United States.
Ashford grew up in West London and followed Arsenal, a soccer power in the English Premier League. He played soccer at Brunel University, where Olympic sprinter Usain Bolt and the Jamaican soccer team have trained.
Ashford knew he wouldn't play professionally and was looking for a career path at Brunel. He majored in exercise science and physiology and was considering coaching before taking an interest in nutrition, thanks in part to a professor who conducted research in the field.
Ashford earned his degree and cast his eyes toward a move to the U.S. He spent time in America growing up while traveling with his father, who had business interests in the country.
"I spent a few weeks here in the summer of 2014 and decided this is where I wanted to be," Ashford said. "I applied for jobs I had no business even applying for."
Ashford didn't land any of those jobs but did hear from Dayna McCutchin, the director of sports nutrition at Texas Tech.
Sports nutrition was an emerging field with Division I athletic programs across the country at the time. McCutchin offered Ashford a yearlong internship. He ended up working at Tech for three years before leaving for UNT.
"Dayna built that program from scratch," Ashford said. "I saw how it grew and how she put her stamp on things. I thought that was really cool. To have the opportunity to go somewhere and do something similar myself was attractive."
Putting a foundation into place
Ashford's sales pitch to UNT's athletes is simple.
"Nutrition is a very small part of what our athletes do, but I tell them all the time that it is something they can control," Ashford said. "An athlete may train and watch film a few hundred times a year, but they eat 1,400 to 1,600 times a year. It's something they can use to their advantage for performance, health and recovery."
UNT's athletes receive Ashford's message in a variety of ways. He makes himself available at practices and in the cafeteria, where athletes often approach him with questions.
Ashford says that some of his most productive interactions with athletes come from those unscheduled encounters. He also meets privately with athletes who request a more in-depth discussion or are referred to him by their coaches.
Ashford distributes a monthly newsletter on nutrition to UNT's athletes and coaches.
"I read it, use it and post it for our athletes. I also make a copy for my son because it's such good information," said UNT tennis coach Sujay Lama, whose son plays tennis.
Ashford has the attention of not only Lama but also UNT's athletes because of the results they are seeing.
The progress some are enjoying isn't as dramatic as what Novil and Redfearn have experienced but contributes to the overall advancement of UNT's programs.
"Charles has helped us gain hundreds of pounds overall," Hamilton said of UNT's football team. "He helps us with food in the cafeteria and has food in the weight room so you can eat after workouts. We have better shakes, better everything. He has taken our nutrition to another level."
Part of what has made Ashford successful is that he fits with UNT's overall plan for player development. Head strength and conditioning coach Zack Womack and Jeff Smith, UNT's senior associate athletic director for sports medicine, also play key roles.
Ashford said he works well with Womack and Smith.
"Charles does a great job of taking care of our guys with what they eat before and after practice and with meals on the road," Womack said. "That makes a huge impact with our players in terms of their performance. They see the gains he helps them make."
Nutrition is one of several factors that have helped UNT's overall program make dramatic strides.
Each team in UNT's athletic department finished over .500 for the first time since 1977-78 in the school year that ended a few weeks ago. The cumulative winning percentage of those teams was .616, the top total since 1978-79.
UNT played in a bowl game for the third straight season, while its soccer team advanced to the NCAA tournament for the second straight year.
Archuleta competed in the NCAA West preliminaries in the javelin for the third straight season after taking Ashford's advice on nutrition to heart.
Littrell also credited his team's success partly to Ashford.
"Charles is doing a great job," Littrell said. "He works really well with coach Womack. We are seeing the benefits of it. We are bigger, stronger and faster. Some of that is getting guys, redshirting and developing them, but the nutritional end is a major reason we look like a different team."
Ashford said he feels like he has played a role in UNT's growth after a long journey from England. He wanted to build a nutritional program from the ground up after leaving Texas Tech and feels like he's making progress toward that goal at UNT.
"I've found a home," Ashford said. "Everything happens for a reason. I was facing some uncertainty when this position opened up. I didn't know if I was going to stay in the U.S. It's been a challenge starting from scratch. We have made a lot of progress in two years. Everything is not where we want it to be yet, but I have gotten great support from the administration, which has helped. It's been fun, and we have been winning."