ARLINGTON — In last year's Class 6A Region I semifinal, Guyer won the first two sets against Arlington Martin to take a commanding 2-0 lead.
The Lady Wildcats looked as though they had the match in hand, but the Lady Warriors came storming back, winning the third and fourth sets to force a decisive fifth frame. Guyer eventually regrouped to win the final set, hanging on to survive and advance.
As Guyer coach Heather Van Noy prepared her team for Tuesday night's rematch with Martin in the second round, she reminded the Lady Wildcats of Martin's tenacity.
This time around, Guyer did not want to even give the Lady Warriors a chance to stage an epic comeback.
And Kyndal Stowers made sure Martin never got that opportunity.
The sophomore buried a team-high 16 kills to go along with 13 digs, as Guyer (13-5) swept Martin 25-19, 25-17, 25-21 to claim the 6A Region I area title at Arlington ISD's Arts and Athletics Complex.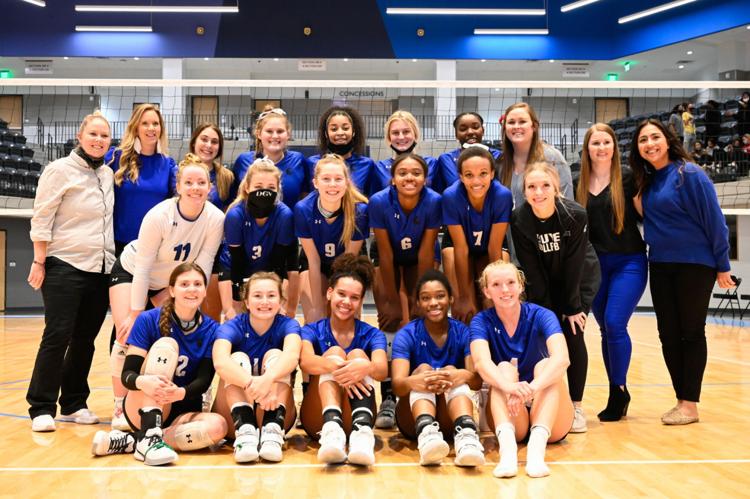 "We came into this game fired up to try and win," Stowers said. "We want to go really far this year, and we think we have a good chance. We've been working really hard compared to last year. We didn't want to go to five. We wanted it to end fast."
Stowers made sure of that.
The Lady Warriors had no answer for Stowers' offensive prowess all night, as the underclassman phenom routinely put down clutch kill after clutch kill.
Stowers landed at least five kills in the first set alone, including the set point to put Guyer up 1-0.
"You would never know by looking at her that she is a sophomore," Van Noy said. "She is so incredibly talented and dynamic. She literally helps us in every statistical category, except for setting. She is huge on the front row offensively, but back row, she's also an offensive threat.
"It makes it really hard to defend our front row, when you know you also have Kyndal, as dynamic as she is, that's also a weapon back there."
But Stowers was only one part of Guyer's big three, a trio that also includes Alabama signee Brooke Slusser and All-American Jordyn Williams.
Williams finished with six kills and nine blocks, altering several shots on the front row. In the second set, Williams kickstarted Guyer's early run with a rejection to give the Lady Wildcats a lead they never relinquished.
"She does a lot for us," said Stowers of Williams. "She's like the core of our front row. She fires us up with all of her big blocks, which get us going. We depend on them a lot. She really came out with that tonight, and we were just running off of it."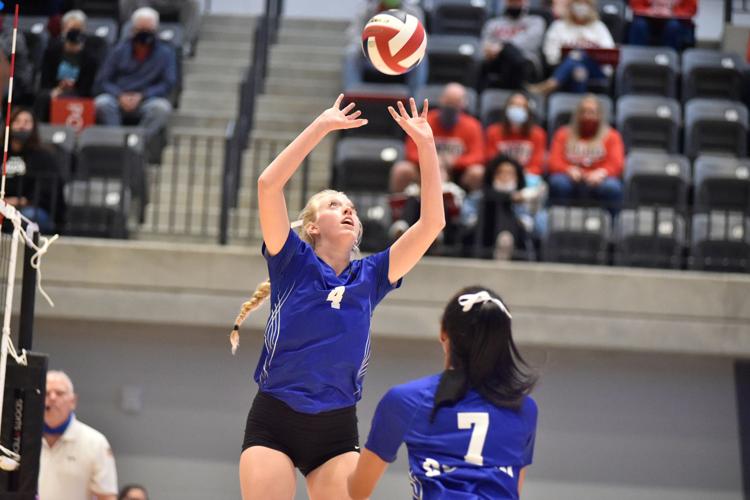 As for Slusser, the senior finished second to Stowers in kills with 15. She also dished out 13 assists and made 13 digs, finishing with a triple-double.
If that wasn't enough, Slusser also led Guyer's rally in the third set. After falling behind 9-4, the Lady Wildcats came back to tie frame at 11-11.
Williams then made one of her crucial blocks, and after Martin took an 18-14 lead, Slusser helped put the Lady Warriors away for good. She put down a kill and then another off the block to pull Guyer to within one at 19-18.
And, moments later, Williams teamed up for a block to send the Lady Wildcats home with the win.
"I thought all three of them played extremely well," Van Noy said of Stowers, Slusser and Williams. "But at this point in the season, they have to. And I think they know that. With Brooke and Jordyn being seniors, I think this season is extremely important to them. I think I'm going to get a fight from them every day from this point on."
With the win, Guyer advances to the 6A Region I quarterfinal. The Lady Wildcats will take on Plano West on Saturday. Time and location have yet to be decided.
"I am beyond proud of this team," Stowers said. "We've worked so hard to come to this point. The fact that we just won in three sets is amazing."