Eli Stowers still remembers the day he met his best friend, even though he was only 2 years old at the time.
Stowers and his family were living in Beaumont, where his father was the head football coach at Beaumont Central High School. Stowers didn't have any friends his age, but that was about to change.
One of his father's assistant coaches lived two houses down the street and had a son who was 4.
"I think we were just going to meet the neighbors," Stowers recalled. "We knocked on the door and realized they had a kid who was about my age. We met each other and have been friends ever since."
The kid Stowers met was Kaedric Cobbs, who also remembers the meeting that fostered a lifelong friendship.
"My first night there while we were moving stuff in, I actually slept at [Stowers'] house," Cobbs said. "He was the first person I met down there. We'd always go outside and hoop with some friends or play kickball. Him and I got along."
Nearly 14 years and several schools later, Stowers and Cobbs remain best friends. But if you ask the pair how close they really are, they consider themselves more like family than friends.
"To this day, we tell people we're cousins because we've known each other forever," Stowers said. "We tell people we're cousins because we've literally grown up together our whole lives. Our families have been friends forever.
"I definitely feel like when we grow up this will be something that we never forget, being able to play with each other in high school together."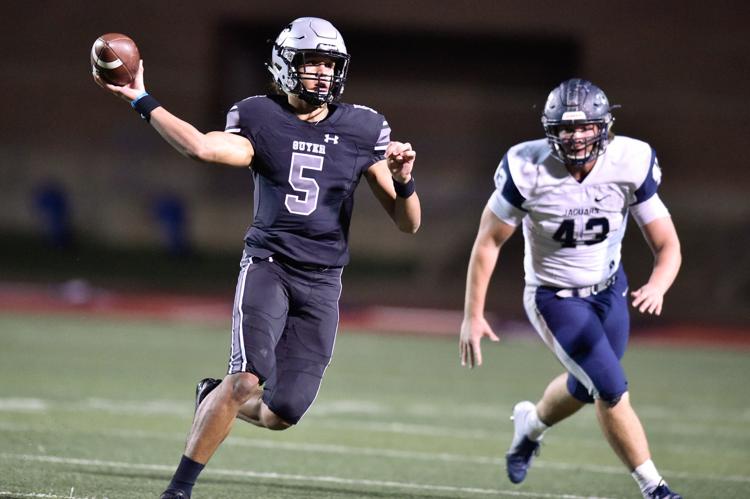 After dreaming of being on the same high school team growing up, Stowers and Cobbs' wish finally came true when Cobbs moved to Denton in 2017.
But it wasn't until last season that Stowers joined Cobbs in the backfield. When Stowers took over the starting quarterback job in 2018, the two immediately jelled, creating a formidable 1-2 punch.
"Those guys have known each other since elementary school," Guyer coach John Walsh said. "You can't pretend the continuity isn't there. They've been around each other for so long."
For the Wildcats, their chemistry has paid off.
In their first season together last fall, Stowers and Cobbs combined to account for 4,169 of Guyer's 4,902 yards and 40 of the team's 46 touchdowns. And the duo is equally impressive in the classroom.
Both are at the top of their classes, with Cobbs sporting a perfect 5.0 GPA. Walsh said there is no doubt that has transferred to success on the field.
"The best thing about it is, and I always joke because we're on a 5.0 scale here in Denton ISD, between the two of them it's a 10.0," Walsh said. "They're brilliant. They really are. Having that intelligence out there along with the physical attributes they bring to the game has been special."
Now entering his second year as the starter, Walsh said Stowers has grown exponentially over the summer and in the offseason. The Texas A&M commit is widely regarded as one of the top dual-threat quarterbacks in the state, but according to Cobbs, there is no debate about who reigns supreme.
"I believe that he is the best quarterback in the state," Cobbs said of Stowers. "He brings such a balance. Him and I can do damage in the run game, but you can't pay too much attention to that or he's going to read your coverage and pick you apart."
The experience and connection between Cobbs and Stowers should elevate Guyer's offense to one of the best in the state. Guyer already averaged 407.9 yards and 29.3 points per game last year.
With Air Force commit Seth Meador and the highly talented Deuce Harmon catching passes on the outside, Walsh knows the Wildcats' offense will be even tougher for defenses to handle this season.
"Last year, we were using Kaedric as a hammer to open everything else up. This year it's going to be the opposite," Walsh said. "We're going to use the rest of the offense to open him up. At first, they're going to load the box. And I see us throwing the ball quite a bit. But when they empty that box, it's not going to be good for them.
"Kaedric is a finisher and a closer. It's nasty. He makes safeties quit playing. Once he gets to the second level in the second half, they're done playing."
Entering the season as the No. 8-ranked team in Dave Campbell's Texas Football's Class 6A poll, expectations surrounding Guyer are high.
The offense is a major reason why, and Stowers and Cobbs are the motor behind it. With Cobbs slated to graduate, this season will be the last he gets to play with his best friend.
Cobbs intends to make the most of it.
"I think Eli and I's friendship will last a lifetime," Cobbs said. "There's a lot of trust. You trust his decision making. You trust when he hands you the ball it's a good read, or if he pulls the ball then you shouldn't have gotten it. It's just a really cool relationship."