Jimmy Avery has never been one for awards or accolades.
Over the past three-and-a-half decades, the Ponder girls basketball coach never bothered to even keep track of his own coaching record, which spans 11 different schools.
"I have never recorded anything," Avery admitted. "I couldn't care less. I just want to win my next one."
When he was at Tuscola Jim Ned, Avery said his wife surprised him when he won his 500th game. During that span, Avery also won the Class 2A state title at Jim Ned in 2008.
In 2012, with his daughter Ellyn on the court, Jimmy Avery guided the Lady Indians back to the state tournament before falling to Brock in the semifinal.
Fast forward eight years, and Ellyn Avery is once again sharing the bench with her father. Except this time, it's as his assistant rather than star player.
And, like many good assistants, Ellyn Avery started keeping tabs on stats and records. Before long, she realized her father was approaching rare air — 800 career victories.
She knew the win could come during the Whataburger Tournament at the end of December and began getting supplies to make T-shirts to commemorate the moment. Then, on Dec. 27, the Lady Lions knocked off Dodd City 58-48 for Jimmy Avery's 800th win.
T-shirts, signs and balloons flooded the court after the final whistle. Everyone was in on it — except him.
"We knew we were going to have to play great just to beat [Dodd City]," Jimmy Avery said. "And we did. We played well. Then out of the blue come these shirts. Everyone is putting on shirts and they've got 800 balloons. I'm like, 'What are y'all doing?' I wasn't expecting it."
Behind the scenes, Ellyn Avery had orchestrated it all.
"I loved it," Ellyn Avery said. "It was so special. He likes to be humble about it. He says that it just proves he's getting old. He doesn't take compliments very well."
But Ellyn Avery insists that's just the way her father is.
A perfectionist at heart, Jimmy Avery has devoted his time and energy over the past 35 years to helping his players grow both on and off the court. It was a trait Ellyn Avery experienced firsthand.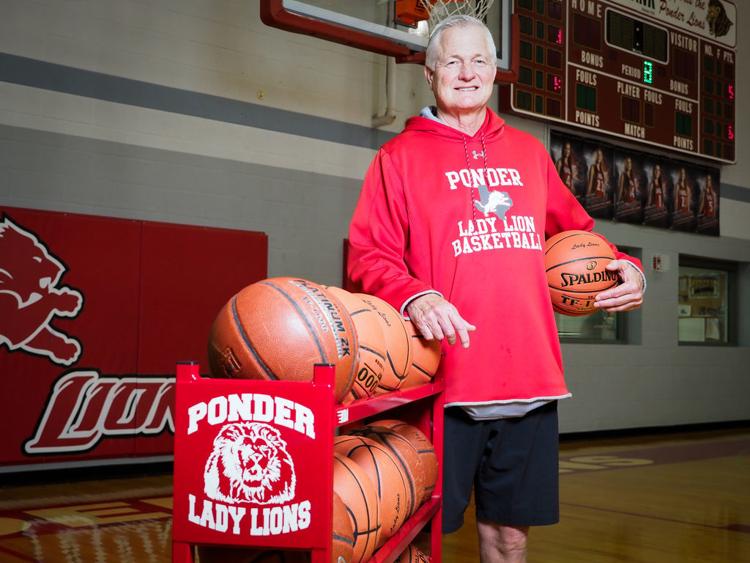 "Playing for him, I had a ton of pressure on me," Ellyn Avery said. "And it was him coaching me, being hard on me trying to make me tough. Now, I can see from his angle and his point of view what he's going through. He's teaching me how to coach, what to do in certain situations and what to do with certain types of players."
Jimmy Avery's current players echo that same sentiment. While he's tough in practice and during games, they know he cares for them beyond measure.
"He's tough on you, but in a good way," said Ponder senior Kelley Akins, who is averaging 10.9 points per game. "He loves all of us."
Jimmy Avery's love for the game and his players has transcended many generations, right down to his own daughter. In fact, Ellyn Avery was not even sure she wanted to be a coach.
But being around basketball, and particularly a coach like her father, quickly changed her mind during her final semester of college.
"I saw all the pain and all the bad stuff that came with it because I was at home with him," Ellyn Avery said. "But my last semester of college, I called him up and told him I couldn't think of doing anything not with basketball.
"It's been so special. I was talking to someone about it the other day, and I got a little choked up about it — especially since me and him are so close. So, it's been special for me, but I know it's been special for him, just to get a little more time with his daughter before everything changes. It's been a lot of fun to learn from him. I obviously think he's the best coach in the world."
Jimmy Avery's career win total is now 804 and counting after Ponder's 57-13 win over Callisburg last Friday night. The Lady Lions are 15-10 overall and 3-1 in District 9-3A, ranked No. 12 in the latest Texas Association of Basketball Coaches Class 3A poll.
And if Jimmy Avery has anything to say about it, his daughter has been a major reason for his past, present and future success.
"I couldn't ask for a better assistant," Jimmy Avery said. "She takes care of everything. If she wants to keep doing this, she will be one of the best head coaches I've ever seen. It almost makes me want to cry. The last three years have been so special. And I'm telling you, I'm coaching nine players this year that are just like her. They would beat down the wall for her."