Da'Vontae McCrae was looking to strike a balance when it came time to decide where to spend the final three seasons of his college football career.
McCrae wanted to find a place where he could excel as a player and also develop academically.
The Florida native found what he sees as the right opportunity at North Texas and committed to continue his career with the Mean Green on Tuesday.
"I wanted to go somewhere smaller and focus on both aspects," McCrae said. "I will lead Conference USA in a lot of stats and will also be able to focus on academics. Denton is a calm city where I can grow."
McCrae has spent considerable time looking for that perfect fit as far as a school goes over the last few years. He began his career at North Carolina State and spent the 2018 season as a redshirt before transferring to East Mississippi Community College.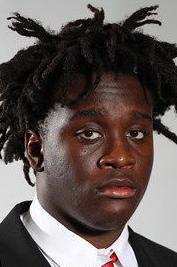 The 6-6, 255-pound Miami native posted 4 1/2 sacks and forced four fumbles in his lone season playing at the junior college level. His performance caught the attention of programs across the country.
McCrae committed to Mississippi State in May before backing out of that pledge in early November. He chose UNT over offers from more than a half dozen schools, including Missouri, Maryland, Florida Atlantic, UTEP and Toledo.
McCrae has three seasons of eligibility remaining. He plans to sign with UNT during the early period that begins on Dec. 18 and will enroll in classes in time for the second semester of the school year.
UNT defensive line coach Marc Yellock recruited McCrae and quickly developed a relationship with him and head coach Seth Littrell.
"I chose North Texas because the coaches gave me the honest truth," McCrae said. "I did my own research and I know for a fact that I will make an immediate impact. I'm better than a lot of the guys they have and can help the team."
UNT lost two of the four defensive ends listed on its depth chart for its season finale against UAB to graduation. LaDarius Hamilton led UNT with 8 1/2 sacks as a senior last season.
"I have a different style than LaDarius," McCrae said. "He is good with his technique. I am a little more raw, a little more twitchy and longer. The coaches are going to help me refine those talents."
McCrae visited UNT late last month and is the second junior college player to commit to the Mean Green this week. Northwest Mississippi Community College offensive lineman Anterrious Gray committed to UNT on Monday.
"My visit was more than I thought it was going to be," McCrae said. "I thought the city would be slower. It's a calm and relaxed place, but UNT also has everything that North Carolina State did with facilities."