The movie Rocky IV plays on a television in the background as Andrew Wright addresses members of the North Texas basketball and volleyball teams from his apartment in Denton.
The UNT strength and conditioning coach — decked out in green shorts and a gray T-shirt — references the movie early in the video he posted on Twitter last month.
"[Rocky] found a way to train in the Soviet tundra," Wright says as Sylvester Stallone's character, Rocky Balboa, runs through the snow. "We are going to make sure we can train wherever the heck we are right now."
Most of the athletes Wright is addressing are exactly where he was when he filmed the video — sequestered at home due to the spread of the coronavirus that causes COVID-19. UNT closed its athletic facilities on March 17, a decision that left the school's athletes without the day-to-day in-person interaction they normally have with trainers like Wright and the program's nutritional staff.
College athletic departments across the country are finding ways to navigate unprecedented times. Wright is one of several members of UNT's support staff using social media outlets, particularly Twitter, to post instructional videos. UNT's athletes are turning to those videos for guidance during their time away from the program due to social distancing.
UNT nutritionists Charles Ashford and Samantha Krysiak have posted multiple videos on UNT Sports Nutrition, the group's Twitter account. The combined social media efforts of UNT's staff doesn't contain the entertainment value of late-night host Jimmy Fallon's account but does provide guidance at an important time for the school's athletes.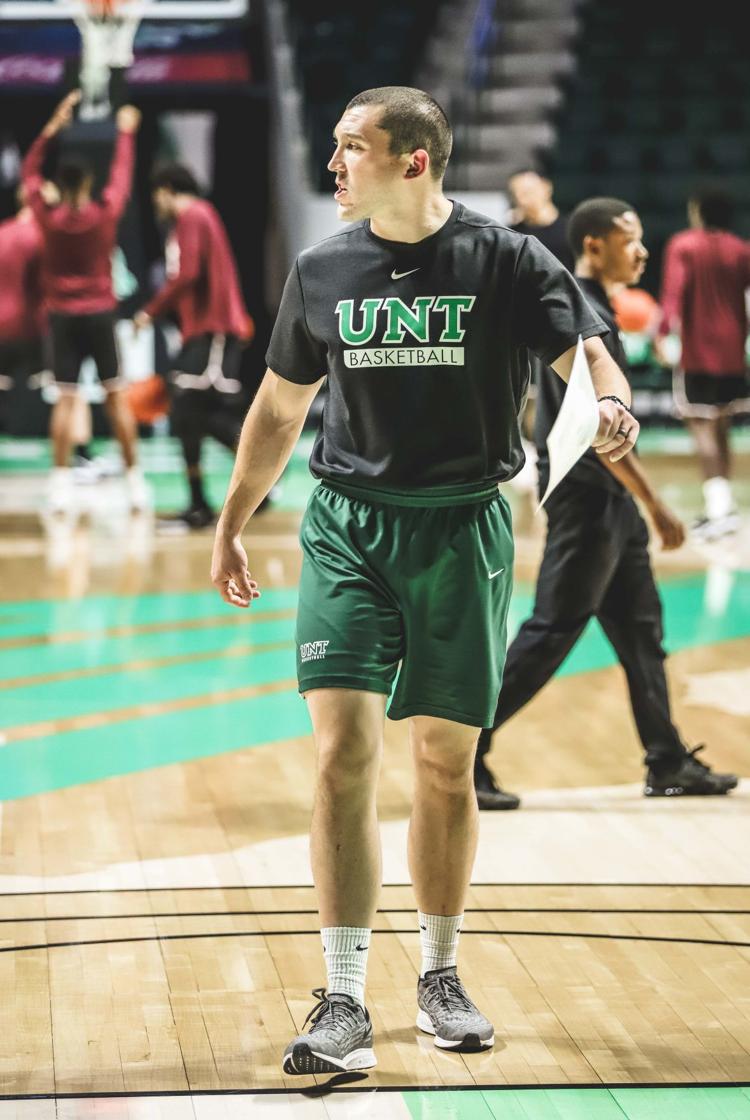 "We have talked quite a bit about that as a staff," UNT men's basketball coach Grant McCasland said of reaching athletes isolated at home. "Everyone has jumped in on how to handle what is the new normal. It's been a collaborative effort by our whole staff."
Wright quickly works his way around his apartment during his video, loading up a black duffel bag with books, a jar of change and a host of other household items. By the time he's done, Wright has an all-purpose 20-pound weight he uses to demonstrate a series of exercises.
UNT's sports nutrition staff has covered topics ranging from snacking to hydration in the last few days.
"We have tried to come up with ways to keep our athletes involved," Ashford said. "We have done a pretty good job over the last year of using social media to do so. Filming videos is a different way to do it instead of just putting out info graphics or sending out information. Athletes are so involved in social media these days. It's a good way to grab their attention."
There is nothing special about the video content the school's support staff is putting out. It's normally just a member of the staff sitting in front of a camera, sharing his or her expertise on a topic.
Most of the time, UNT's nutrition and training staffs use their cell phones or laptops to create videos. Wright drafted his wife to serve as his videographer.
Lately, UNT's staff has added more visual elements. Krysiak appeared behind a table full of fruits and vegetables for a video on tips for athletes who are headed to the grocery store.
"At first it was a little different, but you grow into it," Krysiak said. "It's given me a whole new set of skills."
The more UNT has experimented with social media to reach athletes during the shutdown, the more they have realized its potential.
"When it's done properly, it can be a great platform to create situations we think will be best for our athletes," Wright said. "At a time like now when we are all separated, we still have our phones and computers. We can still connect."
UNT's staff has been pleased with the response. They have heard from the school's athletes as well as high school coaches who say their players have benefited from watching the videos the department has produced.
"Social media gets a bad rap sometimes," Ashford said. "This is a way we can use it in a positive manner and keep athletes engaged without overwhelming them or putting too much pressure on them."