FORT WORTH — Shelve the barbecue and slice the kiwis.
Scott Dixon held off rookie Scott McLaughlin in a 60-mile shootout Saturday for a record fifth victory at Texas Motor Speedway, as the New Zealanders finished 1-2 in the opener of an NTT IndyCar Series doubleheader weekend.
Dixon's victory in the Genesys 300 was the 51st of his career, moving him within one of matching Mario Andretti for second on the all-time list.
"Who doesn't love Texas, man? I love this place," Dixon said. "It was very tense there at the end. It was kind of cool to be racing a countryman for those last few laps.
"We're one away. It'd be great to tie [Andretti] tomorrow night if we can."
Dixon started third in the No. 9 Honda and passed Chip Ganassi Racing teammate Alex Palou for the lead after two laps. The six-time champion proceeded to lead 206 of 212 circuits to break a tie with Helio Castroneves for most wins at TMS.
Dixon's previous Fort Worth victories — in 2008, 2015, 2018 and 2020 — all came in championship seasons. His latest triumph vaults him to the top of the standings entering Sunday's XPEL 375.
"I think we just had one of those races where everything kind of tipped over in our favor — car was pretty decent," Dixon said. "Huge result for a race for a couple of Kiwis.
"It's great to see [McLaughlin] over here, and he's a massive talent and he's going to have a lot of victories."
McLaughlin, a three-time champion of Australian V8 Supercars, was the only rookie in the race and was making his first IndyCar start on an oval.
"I've never been this bloody happy with second," McLaughlin said. "It was bloody cool battling with one of my all-time favorite heroes, Scotty Dixon. Two Kiwis 1 and 2 is fantastic.
"I knew how tough it was going to be getting through the field, but things fell our way and for it to happen on an oval was a pretty proud moment."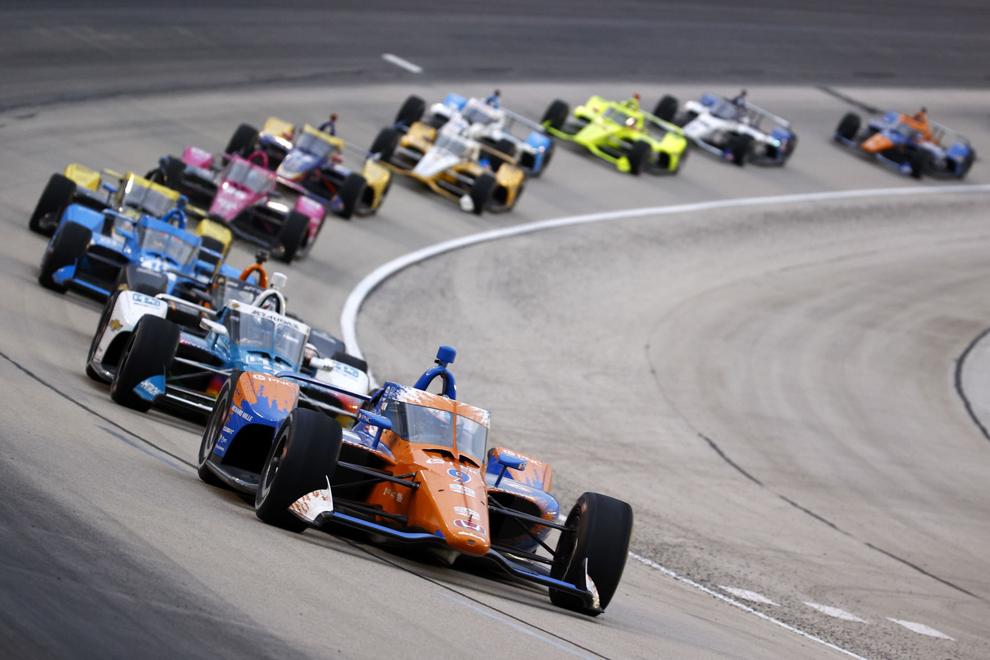 The Scotts were followed in the top five by Mexican Pato O'Ward, Palou and 2016 TMS winner Graham Rahal.
The first caution flag flew on Lap 56 when a tap from Josef Newgarden sent four-time champion Sebastien Bourdais into the Turn 2 wall. Bourdais' crash eliminated the lead car of owner A.J. Foyt, who traveled from his Houston home to attend the race.
"Colton [Herta] was wanting to pit that lap — so were we — and then he just slowed down and Josef just runs into the back of us for no reason, really, and takes us out," said Bourdais, who laid responsibility on both the cars in front of and behind him. "I can't talk for Josef, but obviously he misjudged it.
"It's very strange. It's like [Herta's] car just fell off the cliff and he didn't have any front tires anymore, and it just set off that chain reaction."
A penalty for avoidable contact sent Newgarden to the rear of the field, but he recovered to finish sixth.
Following a mad scramble for positions on each restart, the race settled into a single-file affair. Dixon established a pattern of getting a jump on the competition to control the race from the point.
James Hinchcliffe crashed on Lap 160 to bring out the final caution on the 1 1/2-mile oval, and the race restarted with 39 laps remaining. Herta, last week's winner at St. Petersburg, surrendered a top-five position when the right rear corner of the No. 26 Honda caught fire with 23 to go.
Dixon took the championship lead from Palou, who now trails by 18 points and is followed by Will Power, O'Ward and Jack Harvey. Newgarden and McLaughlin are tied for sixth in their Team Penske Chevrolets.
O'Ward moved to the United States as a child and attended high school in San Antonio, and he had support in the stands Saturday.
"There was a lot of Pato sombreros and Pato T-shirts, and it was really cool to see," O'Ward said. "We made up a lot of track position midway through the race.
"They were great in the pits, especially on the last pit stop that we could get the last positions to be able to get onto the podium."
Briefly …
By taking the 33rd race in Denton County, Dixon became the first driver to win consecutive IndyCar Series races at TMS. … Foyt is the all-time Indy car leader with 67 wins and seven championships. … Sunday's race is scheduled for 4 p.m.