FORT WORTH — The first one was worth $1 million. This one mattered.
Kyle Larson dominated the Autotrader EchoPark Automotive 500 on Sunday at Texas Motor Speedway and secured a berth in the NASCAR Cup Series championship race.
Larson, who won the exhibition All-Star Race in June in Denton County, picked up his first points-paying TMS victory by smoothly executing several late restarts and pulling away on a two-lap shootout to beat Hendrick Motorsports teammate William Byron by half a second.
"We had a great race car to allow me to be aggressive with the blocks — and fast, too, to stay out in front of William," Larson said. "We get to go race for a championship in a few weeks. This is crazy."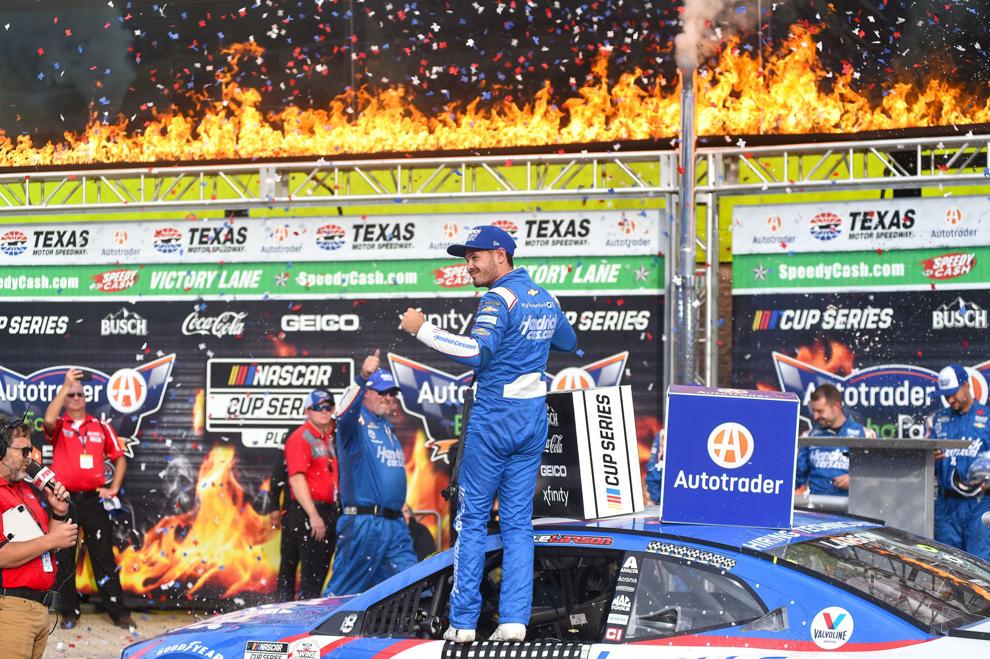 Larson's playoff rivals started taking hits in the waning miles of the race, with the resulting caution periods forcing Larson to navigate high-intensity restarts.
Joey Logano blew an engine with 35 laps remaining.
"It's one of those days when nothing went right. Strategy didn't go the way we wanted it to early in the race; cautions didn't fall the way we hoped they would," Logano said. "Every time we started fighting our way back, something happened.
"Now we know what we have to do the next two weeks — better go find a way to win."
The race was stopped by the red flag for 11 minutes when Anthony Alfredo crashed with 29 laps remaining and his car was engulfed in fire. Alfredo was sent into the wall via contact as drivers looked to avoid the drifting Chris Buescher, who had received a bump from Kyle Busch but managed to save the No. 17 Ford.
The racers refused to give an inch to each other on the ensuing restart. Denny Hamlin, Ryan Blaney and Kevin Harvick were three-wide exiting Turn 4, and Blaney bumped Hamlin's left side. Hamlin's left rear tire received damage and soon failed, sending him spinning into the inside wall.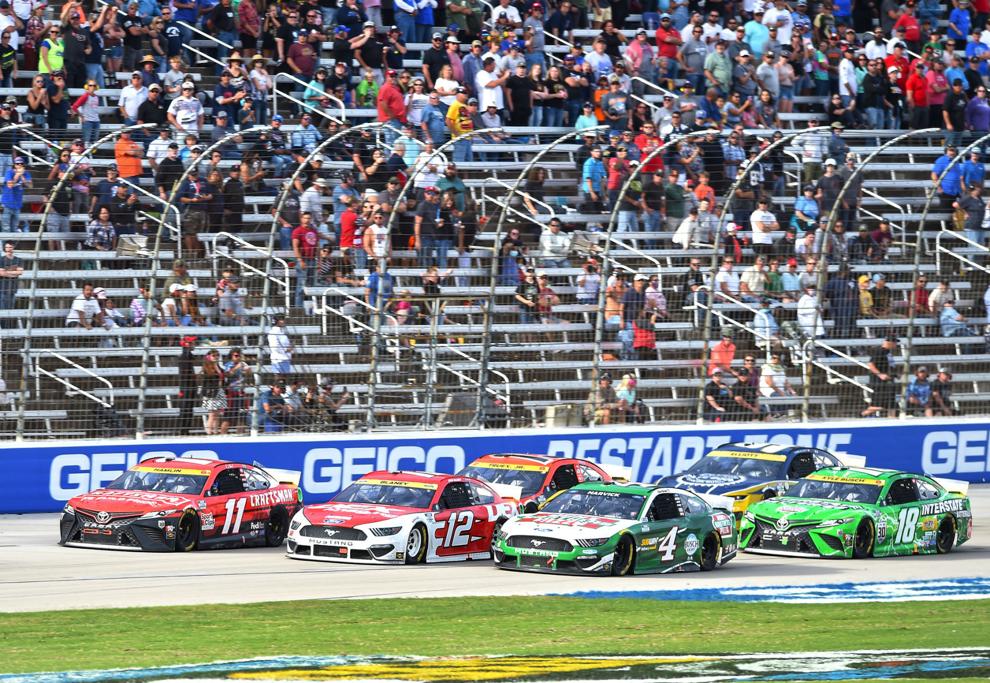 "It's just a crazy day. The way these cars race where we are packed up for a couple laps, you just never know," Hamlin said. "Obviously getting in two wrecks at the end didn't help."
With 14 to go, it was Martin Truex Jr.'s turn. Truex turned low into the path of Daniel Suarez and was sent hard into the outside wall.
Prosper's Buescher crashed with six laps to go while trying to avoid the slowing Chase Briscoe, and Hamlin picked up additional damage.
Logano finished 30th, Truex 25th and Hamlin 11th. The five other playoff drivers were in the top eight.
Larson and three others will battle for the national championship in three weeks at Phoenix Raceway. A win by a playoff driver other than Larson at Kansas or Martinsville would lock that driver into the final four. Remaining spots will be filled based on points.
Blaney, Hamlin and Busch hold spots in the top four in the standings, with Blaney separated from elimination by a class-best 17 points.
Chase Elliott (eight points behind Busch), Brad Keselowski (15 points), Truex (22) and Logano (43) are on the outside looking in.
Larson earned his eighth win of the season and 14th of his career. Dominant all year, he led 256 of 334 laps Sunday in the No. 5 Chevrolet.
"I just got good pushes from behind me, really. I tried to stay patient on the throttle to keep them to my back bumper," Larson said. "Thankfully, I was able to just barely clear them every time into [Turn] 1 and not have to fight off of 2. So thanks to William, Tyler [Reddick], Brad Keselowski — anybody who was ever behind me, especially Brad there that last restart."
Byron was followed in the top five by Christopher Bell, Keselowski and Harvick. Blaney, Elliott, Busch, Reddick and Suarez completed the top 10.
"It's all about the push," Byron said. "I think here at Texas the shortest lane kind of wins out because of the way the track kind of separates into Turn 1."
Running most races during the COVID-19 pandemic without practice or qualifying sessions, NASCAR threw a competition caution after 25 laps so teams could check their cars and tires.
On the lap after the restart, Bubba Wallace spun and triggered one of the biggest accidents in terms of Cup cars involved in TMS history. Up to 16 cars were affected in one way or another, including those of Busch, Ricky Stenhouse Jr., Ross Chastain, Alex Bowman and Daytona 500 winner Michael McDowell.
Busch had only light damage and ended up winning Stage 1 after the leaders made green-flag pit stops. Larson held off Byron to win Stage 2.
Frisco resident David Starr finished 23rd, his best showing in five Cup starts this season.