James Reese was a few months into his freshman season at Buffalo when he struck up a friendship with a newcomer to the program.
The two shared a lot in common – roots in the South, a tenacious approach to basketball and a dream of playing prominent roles for an NCAA tournament team.
Reese just never guessed he and Javion Hamlet would finally be closing on that goal halfway across the country at North Texas.
The pair spent one season at Buffalo before going their separate ways to play in junior college.
They're back together now and thriving while starting together in the Mean Green's backcourt.
"This is exactly what we envisioned," Reese said. "It's a dream come true. We're happy it happened and want to finish it off."
UNT will look to take the next step toward the pair's goal of earning an NCAA tournament bid Saturday when the Mean Green host Louisiana Tech in their opening game in Conference USA's bonus play schedule. The league divided its 14 teams into three pods for the final four games of the conference season again this year.
UNT is in the top pod of five teams and will play the other four teams in the group over the next few days. The hope is the format will bolster the schedule strength and thus the seeding of C-USA's representative in the NCAA tournament.
The Mean Green have won 12 of their last 13 games and are in position to be that team, thanks largely to the pairing of Reese and Hamlet in their backcourt.
Hamlet ranks second among UNT players with an average of 13.8 points per game and leads C-USA in assists (5.2 per game), assist-to-turnover ratio (2.7) and free-throw percentage (90.7) in conference play.
Reese got off to a slow start but has gradually come on and is averaging 8.4 points per game. He ranks third among C-USA players with a 44.8 shooting percentage from 3-point range in league play.
The pair has helped UNT (18-9) run out to a 12-2 record in C-USA and grab a one-game lead on Western Kentucky.
"They have been key to our success," UNT coach Grant McCasland said. "They have worked through hard times. When they were missing shots and turning the ball over, they were in here working by themselves to improve. They love the game independently but also love playing together."
Playing together was far from a given as Reese and Hamlet followed winding paths through college basketball that first intersected at Buffalo.
Hamlet played one season at Motlow State College in 2016-17 after high school before an injury put a temporary hold on his career. He transferred to Buffalo and arrived at the school just a few months after Reese.
Reese averaged 2.4 points per game as a freshman and scored 18 points in a blowout win over Central Penn but never felt at home at Buffalo during the 2017-18 season.
Hamlet redshirted that same year with the Bulls, left the school and returned to the junior college ranks to play for Northwest Florida.
Hamlet, who grew up in Memphis, was with the Bulls just long enough to strike up a friendship with Reese, a native of South Carolina.
They often played together on Buffalo's scout team.
"We have battles and play one-on-one," Reese said. "We argue and get into it. That's what makes our friendship so strong. We can have a big argument and be over it in the next 20 minutes. I love his competitiveness. He's a good dude to be around."
The common background both share has helped strengthen their bond.
"We had a connection on and off the court," Hamlet said. "We were both from down south. It was history from there."
That history just took a little longer than expected to unfold.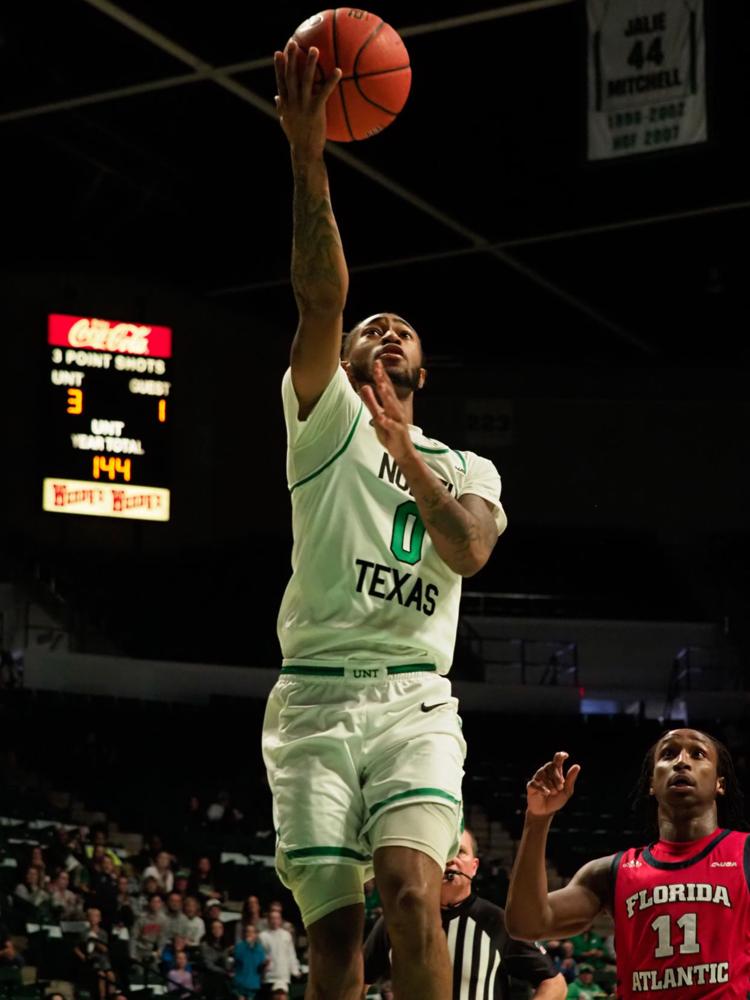 Reese left Buffalo and transferred to Odessa College for his sophomore season. Hamlet was halfway across the country at Northwest Florida that year.
Both went through the recruiting process again and kept tabs on each other throughout the season.
"We called each other every other day to see what offers we had," Hamlet said.
The count went up regularly as both excelled in junior college.
Hamlet was named the Panhandle Conference Newcomer of the Year after averaging 17.8 points and 6.5 assists after leading Northwest Florida to a breakout season. The Raiders were the No. 1 seed in the 2019 NJCAA national tournament.
Reese was just as effective at Odessa, where he averaged 16 points per game while earning a spot on the NJCAA All-America third team.
Hamlet garnered offers from several power conference teams. Reese was also highly recruited.
"We talked about it," Reese said. "North Texas was recruiting both of us. We both loved the coaches and they loved us. We made the decision the same day. The plan was to come here together."
McCasland is quick to point out that UNT recruited Hamlet and Reese independently. Once the Mean Green's staff got to know both players better, they realized their friendship could help UNT land both.
"When you are trying to decide on a school you never know what gets you to yes," McCasland said. "They wanted to come here. Both feeling good about it helped get them to yes."
UNT is on a tear heading into the stretch run of the season with Hamlet and Reese leading the way. The challenge now for the Mean Green is clinching the C-USA regular season title over the next few weeks and carrying their momentum into the conference tournament.
Hamlet and Reese feel good about their chances.
"When we win Conference USA, that's going to be all she wrote," Hamlet said. "We plan on hanging a banner and making a run in the NCAA tournament."