Tope Arikawe walked past a security checkpoint at Murtala Muhammed International Airport in Nigeria before looking back to catch a final glimpse of his mother.
Arikawe knew then, in 2012, he might not see her again for months, maybe years.
The sacrifice was one Arikawe made at the age of 17 in the hope of a better life for him and his family.
"I turned around and saw that my mom was in tears," Arikawe said. "I was going to a new country and would be by myself. She was happy for me because I was getting this opportunity but was also sad because she wouldn't be seeing me in a while."
Seven years have passed since that day as Arikawe, a hulking 6-foot-8 forward with bright smile and ever-positive outlook, has bounced from stop to stop across the United States chasing his dream of playing college basketball at the Division I level.
The journey full of trials and tribulations led him to North Texas, where he now is playing out his senior year.
Arikawe developed into a college prospect at Covenant Christian Academy in Marietta, Georgia, after coming to America but failed to meet NCAA academic standards to qualify to play at the Division I level. He spent two years at Panola College, where his coach remembers him showing up with some of his belongings stuffed in a trash bag.
Arikawe missed the UNT basketball team's tour of Italy over the summer due to problems with his visa that arose while the United States was still sorting through issues related to President Donald Trump's travel ban on people from majority-Muslim countries.
Arikawe looks back on the journey with a smile. Saying goodbye to his mother, Victoria Agbola, and facing those obstacles was worth it because of where he is now.
Arikawe will play for the Mean Green on Wednesday in their game against Florida International in the opening round of the Conference USA tournament at The Star in Frisco.
In a few weeks, Arikawe will have something even more precious than the championship he and the Mean Green are chasing.
He'll have his college degree in integrated studies, the goal he focused on throughout his journey. He'll also have lifelong friends from his time at UNT.
Arikawe's teammates describe him as an approachable and fun person who has played a key role behind the scenes as one of the Mean Green's leaders.
"He's one of the voices we listen to when things get hard," fellow senior Michael Miller said.
Arikawe has endured tough times off the court that dwarf anything he has experienced on it, giving him a unique perspective.
"I don't know how Tope has handled being away from home for seven years," UNT coach Grant McCasland said. "It's a credit to his resiliency. He understands that he has a great opportunity to get a degree that will allow him to help his family long-term. Not a lot of guys at his age have a long-term vision. They just worry about the next place they are going to go out to eat."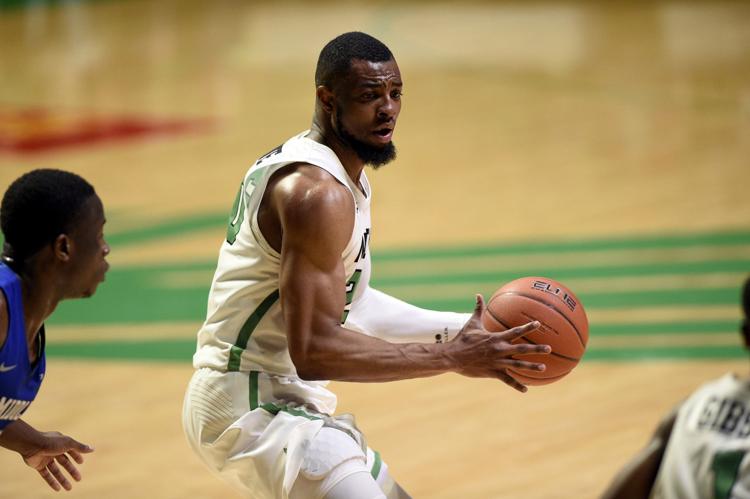 Finding his way into basketball
Soccer was Arikawe's first love growing up in Lagos, Nigeria, a coastal city of 21 million.
It wasn't until Arikawe was 14 that the course of his athletic career changed.
"A coach spotted me and told me that I had the height and size to play basketball," Arikawe said. "I decided to try it and loved it."
Arikawe's size and strength helped him develop quickly and join a long line of African college basketball players who have continued their careers in the United States. Hakeem Olajuwon, one of the game's all-time greats, is also from Lagos and lived just a few blocks away from Arikawe.
Former UNT guard Maurice Aniefiok and Abdul Ado, who has started all season for Mississippi State, are also from Lagos.
Just like the greats who came before him, Arikawe attracted the attention of coaches who help African players find homes at high schools in the United States.
Arikawe's coaches in Africa asked him if he wanted to leave his home behind to chase his dream of playing in the U.S. just two years after he picked up the game.
"Using basketball to help me in life was the goal," Arikawe said. "I could have gotten an education back home, but I have been able to experience something beyond what I would have staying back home."
That education began at Covenant Christian, where he excelled as a player and adapted to life in America.
"I made friends with other players and their parents," Arikawe said. "I had a lot of people I could count on."
Arikawe averaged 13.8 points and 8.0 rebounds per game as a senior. TeamNigeria.com, a website that tracks players from the country, ranked him No. 16 on its list of the top Nigerian prospects in the Class of 2015.
Arikawe had more than 30 scholarship offers from Division I schools. He signed with Troy, one of UNT's old rivals in the Sun Belt Conference, but never played for the Trojans.
Arikawe didn't have the academic qualifications to play at the Division I level.
"That was really tough," Arikawe said. "I thought I would have to go to junior college for a year. Later I found out it would be two years."
The two years he spent at Panola were the most productive of Arikawe's college career and paved his way to reach the Division I level at UNT.
Memories of that time and the difference it made in his life came flooding back for Arikawe in his final home game with the Mean Green.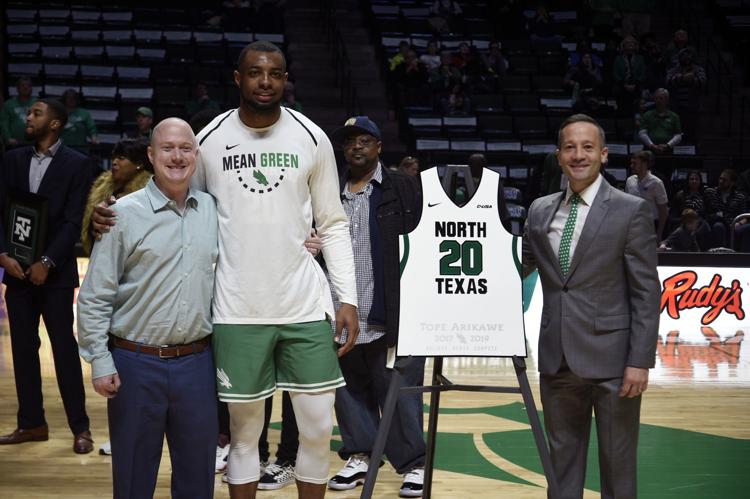 Finding his footing on the college level
UNT's seniors walked onto the court at the Super Pit one by one with their families for the Mean Green's Senior Day ceremony on March 3. Miller's family came from Indiana, while Jorden Duffy's relatives made the trip from Maryland.
Grant McMillan took time out of his schedule as the head coach at Panola to escort Arikawe, who he describes as being almost like a son to him.
McMillan took over Panola's program in 2015 at the age of 28 and was looking for players to help him build a program. Arikawe was one of his first recruits.
They both started new chapters in their lives in Carthage, a small East Texas town, and formed an immediate bond.
"Tope's a survivor," McMillan said. "He came to our place with a trash bag, one backpack and a suitcase with all of his belongings. That was it. He didn't have bedding or anything."
What Arikawe did have was a burning desire to improve and take advantage of his final opportunity to earn a shot to play on the Division I level.
McMillan saw Arikawe grow during his time at Panola, both on and off the court. He averaged 11.7 points and 8.4 rebounds per game and was a key member of a team that advanced to the round of 16 in the 2017 NJCAA national tournament.
"He really appreciated the opportunity and learned about the process of trying to get better each day," McMillan said. "This program wasn't well known when he got here. He was a trailblazer for us."
McMillan and Arikawe watched NBA games late at night and talked.
Those conversations helped fill the void as Arikawe adjusted to a new environment after his years in high school with so few family members within reach.
Arikawe has a cousin who lives in Georgia but hasn't seen her in some time. He keeps in touch with his mother, uncle and other relatives back in Nigeria via email.
Family isn't the only aspect of life in Nigeria that Arikawe misses. His mother bakes a native Nigerian dish made of plant roots called garri. He hasn't enjoyed it since he left home.
Despite those challenges, McMillan can't remember Arikawe straying from his goal. McMillan never had to meet with Arikawe to discuss academic or behavioral issues.
"It takes intelligence to do what Tope has done," McMillan said. "You also have to be driven. He knew he could use basketball to get to where he wanted to go and get an education."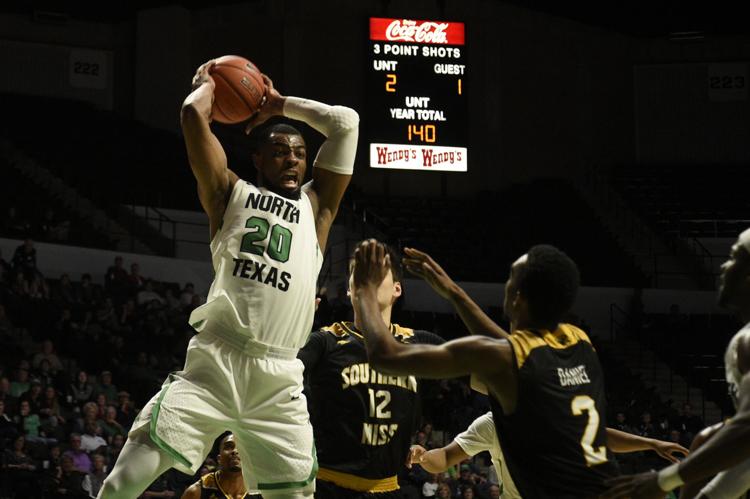 Making the most of his time at UNT
Arikawe took advantage of that opportunity at UNT, where he has played a role in a rebuilding project similar to the one he was a part of at Panola.
Arikawe was a member of the first recruiting class McCasland signed after he took over a team that hadn't finished over .500 in any of the previous five seasons.
Arikawe's journey at UNT hasn't always been smooth. He started three games in his debut season at UNT in 2017-18, when the Mean Green finished 20-18 and won the College Basketball Invitational. He averaged 4.0 points and 3.6 rebounds per game.
Arikawe's playing time has dwindled since. He scored a season-high eight points in UNT's loss to Florida International on Saturday, pushing his season scoring average to 2.1 points to go along with 1.8 rebounds per game.
"Sometimes things in life don't go perfectly," Arikawe said. "You have to adjust. I have learned to play a role and help the team win and achieve. We want to win the conference tournament and go to the NCAA tournament. I love playing with these guys. This is the best team I have played on. We love each other and hanging out together. I love the school, too."
McCasland said he appreciates Arikawe's attitude and the impact he has made by serving as a calming presence for UNT in tough times.
"When we are in the pressure moments in games when things can unravel, he's the one guy on the bench who voices the direction we need to go as a team," McCasland said.
Arikawe has also served as a positive influence on his teammates off the court. Roosevelt Smart leaned on Arikawe when he missed the first seven games of the season with a torn calf muscle.
"He kept talking to me about staying focused and getting better," Smart said. "That is what a senior leader does."
UNT was without that steadying influence over the summer during its trip to Italy.
The nine-day tour was meant to be an educational experience and a way to prepare for the season. The team visited Rome, Florence and Venice and played professional teams at each stop along the way.
Arikawe missed the entire trip after problems with his student visa prevented him from being able to leave the country.
UNT officials discovered a problem with Arikawe's paperwork just weeks before the team was set to leave for Italy. The only way to rectify the issue would have required Arikawe to return to Nigeria to renew his visa.
There was no guarantee Arikawe would be able to return to the U.S. He decided to skip the trip instead.
"For a while I was upset and disappointed," Arikawe said. "It was a big opportunity to experience new things, but I had to make the right choice. I didn't want to risk it. I wanted to stay and make sure I could further my education."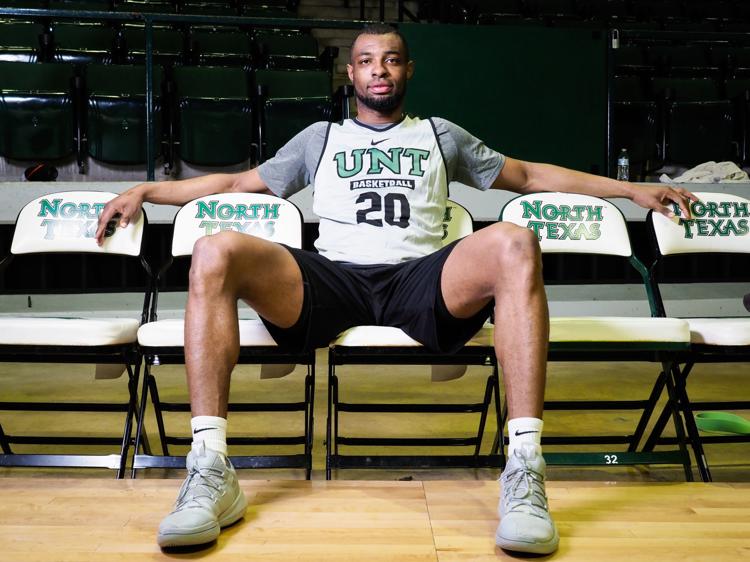 A fitting end for Arikawe in America
Arikawe has done just that during the seven years since he saw the tears streaming down his mother's face on his last day in Nigeria.
He'll return home. He just isn't sure when he'll make that trip or if he will stay in Nigeria.
Arikawe plans to play basketball professionally, either in the U.S. or overseas, hopefully after a run to the C-USA title during the league's tournament this week and the NCAA tournament after that.
UNT enters the 12-team event as the No. 10 seed and is a decided underdog. The Mean Green have lost seven straight games to fall to 20-11.
Those long odds won't deter the Mean Green or Arikawe, who overcame a series of challenges to get to where he is today.
The journey will provide him a degree, friends and memories. He helped guide Panola to the Sweet 16 of the NJCAA national tournament was a member of UNT's CBI championship team.
Those memorable moments have made the tough times worth it.
"I think about how far I have come every once in a while," Arikawe said. "That motivates me to keep going. Sometimes life gets hard and I lose sight of things. That's when I think back on how far I have come since high school. After coming this far, I can take on whatever is next."