Kason Howell was driving a tractor for work when he was notified via Twitter that the Boston Red Sox selected him in the 20th round of baseball's first-year player draft Wednesday.
The Auburn signee admitted that he nearly forgot about the possibility of being drafted.
"I don't know if I forgot I could be drafted or didn't really think anything of it," Howell said. "They told me they were going to draft me, and I couldn't really believe it. That's why I was on a tractor today at 11."
The former Liberty Christian center fielder was called by his agent and then notified by the Red Sox's area agent moments later that he was drafted.
Howell started out as a freshman playing right field on the junior varsity team. A few games into the season, he was bumped up to the varsity team.
As a sophomore, he set the school record for doubles (16) in a season and tied it his senior season. As a junior, he recorded the most hits in a season (63).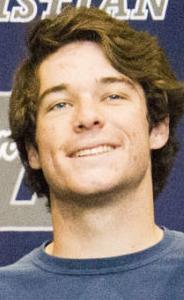 Howell's final season as a Warrior was one to remember. He posted a .462 batting average, 39 RBIs, 53 runs, 27 extra-base hits, 40 stolen bases and a 1.000 fielding percentage. He was voted the TAPPS District I-6A MVP and helped the Warriors (30-12-1) secure their fourth state title in 15 years (2003, 2009, 2013, 2018).
"Winning a state title was better than signing to play for Auburn and even getting drafted," Howell said. "I made lifelong memories with that team."
The 19-year-old has time to decide if he wants to join the minor league system for the Red Sox. If he chooses to play college baseball with the Tigers, he will be draft-eligible as a sophomore due to his age.
"It's been a dream of mine to play for Auburn," Howell said. "I'm not making any decisions on what I'll do at the moment. My parents have been supportive since the beginning of this stressful process, so I'm going to seek their advice as well as coach [Johnny] Isom's."
Isom said the sky is the limit for Howell, a three-sport athlete who now will get to focus on baseball.
"I've told [Howell] that he was light years better than I was when I was his age and I got the same opportunity he's been given," Isom said. "I would not say this lightly, but his athletic ability and maturity put him at Mike Trout's level. If he focuses on baseball for a few years, he could be scary good."
Focusing on one sport after excelling in football, track and baseball is what Howell is most excited about.
"To focus on just baseball will be different, but it will make me a better player," Howell said. "It's encouraging to know that I'm on the MLB radar, but I'll pray about it and see what God has in store for me."