When Guyer and Prosper met for the first time back on Oct. 30, nearly everything that could go wrong for the Wildcats did.
On the road in a hostile environment, Guyer watched as one by one, key players went down with injury. It started with the Wildcats' leading receiver Grayson O'Bara and linebacker Jordan Eubanks. Then, on Guyer's final drive of the game, offensive lineman Knox Boyd exited with an ankle injury.
The odds were stacked against them, but the Wildcats managed to escape with a 24-23 win thanks to a touchdown from quarterback Eli Stowers as time expired.
"We won that game on the last play, but we did not feel it's a game that we played that well," Guyer coach Rodney Webb said. "We lost three of our best players to injury — two of them early in the game. We were out there probably the most shorthanded we've been all year."
And in some ways, Guyer (10-2) is still feeling the effects of that first meeting heading into Saturday's rematch against Prosper (8-3) in the Class 6A Division II Region I final. Kickoff is set for 1 p.m. at McKinney ISD Stadium.
O'Bara has not played since leaving early on Oct. 30, missing Guyer's last seven games. Eubanks missed six consecutive games before returning last week against Abilene.
The injuries from their first matchup left Guyer hampered on offense, as the Wildcats managed just 305 total yards — one of their lowest totals of the season.
Now, with a region title at stake, the Wildcats have one main objective on their mind.
"We want to prove we're a better football team than the one that people saw the first time we played them," Webb said. "That was a week where we had lots of things going against us. There was a really negative mojo that week. And we were able to overcome it and still win the game."
For Guyer to pick up another win against the Eagles, the Wildcats will have to solve one of their biggest challenges from the first game.
Prosper linebackers Aidan Siano and Mason Jolley, who are Rice and SMU signees, wreaked havoc on Guyer's offense. The Wildcats were held to 124 yards on the ground, as the tandem of Siano and Jolley stymied Guyer's ground game.
"Both of those players are very intuitive," Webb said of Siano and Jolley. "You want your linebackers to be intuitive. The Siano kid is a very physical linebacker. When you're blocking him it's like you're blocking a defensive tackle, yet he runs like a linebacker. He's a really good player. The scheme is very advantageous to them. It gives them a lot of opportunities to make tackles. They're tough, hard-nosed, gritty kids."
While it remains unclear if O'Bara will be able to return on Saturday after a roughly two-month absence, Guyer did have one of its best passing games in the region semifinal against Abilene last week.
Stowers threw for 245 yards and four touchdowns, connecting with three different receivers for scores. Two of his touchdowns went to Jace Wilson, who finished the game with six catches for 83 yards.
Brody Noble hauled in three catches for 75 yards and a touchdown, while Bryson Riggs caught one pass for a 34-yard score.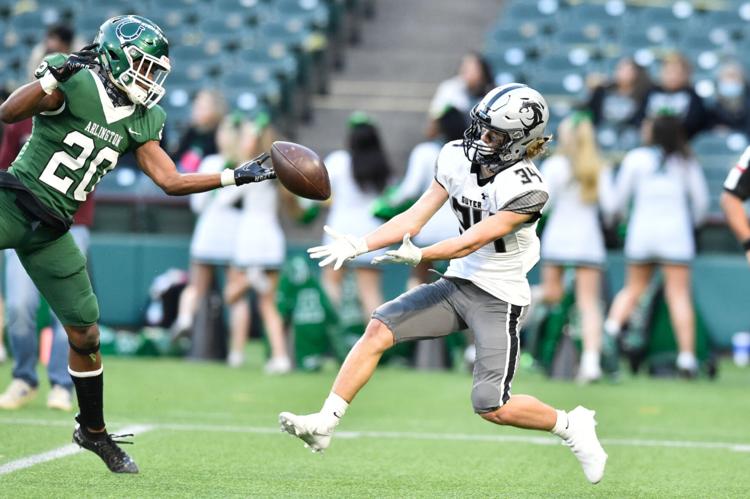 Even if O'Bara is still sidelined on Saturday, Webb said the likes of Wilson, Noble, Riggs and D'marcus Howard have stepped up and played pivotal roles.
"We needed a confidence builder game for our passing game, in general," Webb said. "Certainly, for some of those young kids that are a work in progress, I thought it was a really good game for all of those guys to get their hands on the ball and make some big plays. I was glad we were able to connect on some of those shots."
The winner of Saturday's game will advance to the 6A Division II semifinal and play the winner of Cedar Hill and Rockwall-Heath.
Guyer is now just two wins away from making a repeat appearance in the state championship game after falling to Austin Westlake last year.
But first, the Wildcats must take care of business against a Prosper team they know is hungry for another shot at them.
"Games like this are going to be emotional," Webb said. "They need to be emotional. You're playing for a lot. You're playing for a ticket to the state semifinals. You're playing for a UIL medal, is what you're playing for. It's going to be an emotional game."