Guyer coach Heather Van Noy had butterflies in her stomach when she woke up on Tuesday.
After waiting more than a month for her team to be able to resume play under the UIL's COVD-19 guidelines that kept Class 5A and 6A teams sidelined until Sept. 7, the Lady Wildcats were finally back together again — masks and all.
"It was like Christmas this morning — waking up and knowing you had to wait all day to open gifts," Van Noy said cheerfully through her facial covering.
The present Van Noy finally got to unwrap was watching Guyer, which is ranked No. 4 in the American Volleyball Coaches Association/USA Today Super 25 national preseason poll, finally suit up.
And the Lady Wildcats did not disappoint.
Outside of a brief mental lapse in the third set, Guyer looked the part of a potential state title contender, knocking off Frisco Lebanon Trail 26-24, 25-21, 21-25, 25-12 to begin the season.
"The excitement and anxiety of everything we've had to change and do — it's been so much work for us as coaches to try and follow policy and protocol," Van Noy said. "And it's constantly changing. When we change something, the girls are affected immediately. They've just done a good job of figuring things out and being very flexible.
"Yeah, we struggled a little bit tonight. We definitely have some things to work on, but overall, I think that we played well together."
The Lady Wildcats jumped out to an 11-3 lead in the third set and looked as though they had all but salted the game away. But the Lady Trail Blazers ended the frame on a 22-10 run, erasing an eight-point deficit to deny Guyer of its bid for a sweep.
"I think our serve-receive kind of fell apart, and we weren't trying as hard as we could have," Guyer all-state setter Brooke Slusser said. "I think we just kind of fell apart overall, but we got back in it in the fourth set, obviously. We got our game back."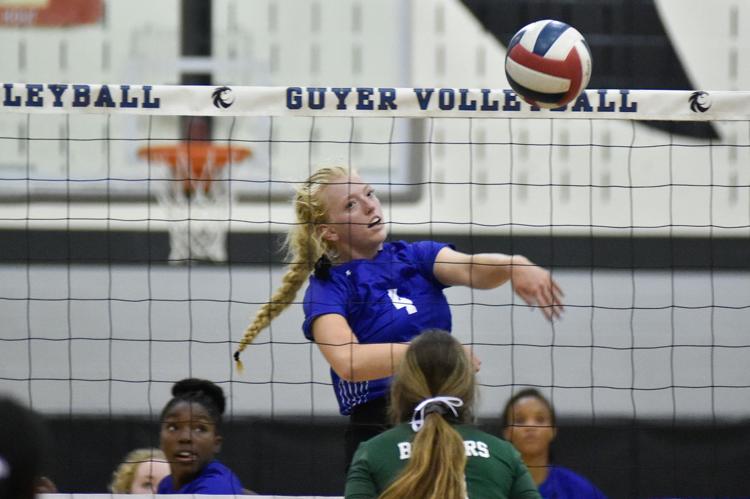 Slusser, who was the Denton Record-Chronicle's All-Area MVP last season, finished the night with a 15-kill, 19-dig, 25-assist triple-double.
The Alabama commit set Kentucky commit Jordyn Williams for a kill to put Guyer up 19-10 in the fourth frame, which was all the cushion the Lady Wildcats needed to seal the win.
Williams and sophomore Kyndal Stowers ended the match with 15 kills apiece.
"She's insane," said Slusser of Stowers. "Compared to last year, she's developed so much, just her body overall. She jumps 10 times higher and hits harder."
That trio of Slusser, Stowers and Williams powered the Lady Wildcats to their first win of the 2020 campaign, combining for 46 of Guyer's 53 total kills.
The Lady Wildcats will host Aledo on Friday before taking on defending Class 5A champion Lucas Lovejoy on Saturday.
Moving forward, Van Noy admitted there will be plenty of unknowns for such an unprecedented season. But at the end of the day, she is just grateful to have the opportunity to play.
"I don't honestly know what to expect," Van Noy said. "This whole thing is such a mess. But to me, it's a beautiful mess. We get to play. A win is win. We learned a lot of stuff tonight that you don't typically learn in a win, but we haven't had this opportunity to compete against people. We learned a lot about ourselves tonight and what we need to work on as a team."