FORT WORTH — The Verizon IndyCar Series returns to Texas Motor Speedway on Saturday night, and Chip Ganassi Racing brings two drivers with decidedly different levels of experience.
Scott Dixon is a four-time series champion and the 2008 Indianapolis 500 winner. He's in his 18th season, while teammate Ed Jones is in his second.
There's at least one place where their stats are similar — the 1-year-old asphalt on the 1 1/2-mile oval at TMS. Both drivers crashed out of last year's debut of the new surface, and they're back with a new-for-2018 Indy car to run the DXC Technology 600K.
"With drivers, when you're out of the car, everyone kind of understands what's going on," Dixon said. "But once you get into the heat of the battle, all that stuff really goes out the window and everybody's just trying to get to the front, so it can make for some pretty crazy racing."
The scheduled start time of 7:45 p.m. adds to the character of the race.
"From day to night as well. It's pretty extreme," Jones said. "I didn't have prior experience to know what the track was like. It was a pack race, and that was the first time I experienced that, too."
Dixon won the race in 2008 and 2015 and knows how the sun going down makes it hard for team engineers to prepare the cars.
"The track grip itself can change the whole race style," the New Zealander said. "The temperature alone, just the shift, you can have a 30-degree ambient shift where you can have a car that's really difficult to go flat [out] to then you're doing 45-50 laps flat and the group is packed together, so it's a really tough one for them to get right, especially this year coming back with a different aero kit."
Jones said series officials have been working on the aerodynamic package. The ninth race of the season is only the third on an oval — and the first on a high-banked speedway.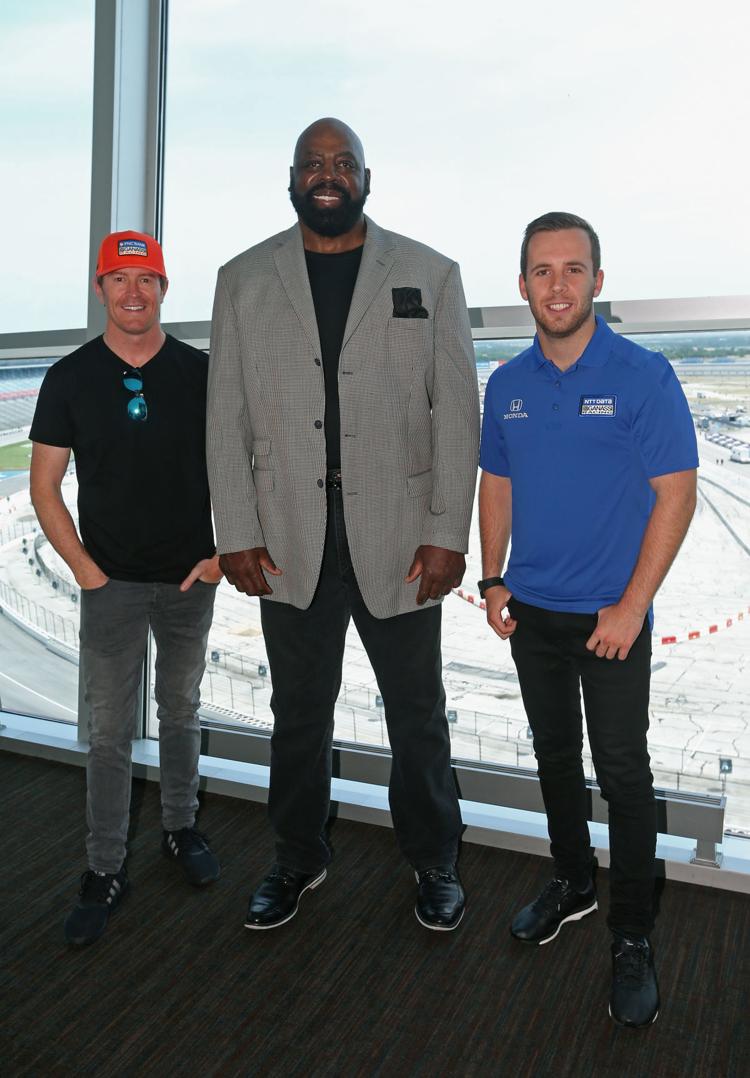 "They added a bit more downforce [Wednesday]," Jones said. "With how hot it is, you're losing a lot of downforce as it is. I think it's going to be very sketchy out there. … It's going to be very loose for everyone."
The National Weather Service was forecasting a temperature of 95 at 7 p.m. Dixon said that makes it difficult to use any data from last fall's test of the 2018 car at TMS.
"We did do a test here, but the unfortunate timing with testing is that it's a lot cooler, like it was less than 70 degrees," Dixon said. "And then you have testing, where it's just by yourself, maybe a couple other cars out there, opposed to 24 crazies trying to do the same thing."
In last year's race at reconfigured TMS, Will Power, this season's Indianapolis 500 winner, picked up his second Fort Worth victory for Team Penske.
Power visited with Dallas-Fort Worth media last week and said the new asphalt didn't allow the tires to degrade.
"That created a very tight, pack type of racing situation because no one started to slide around," Power said. "It was a tough race that I enjoyed being at the very front, because back there it looked pretty hectic."
After Power's visit to Frisco, he finished seventh and second in last weekend's twin races at Detroit. He arrived in Denton County with the points lead that he picked up after winning at Indy.
"I feel like I can win every week at any track if we do the job right," Power said. "That's the thing when you drive for Penske — they provide you with the crew and the equipment to do that. So now I'm gone, looking straight ahead — I want to win this championship."
Dixon is five points back in second. Jones is 12th in the standings, just ahead of veteran Tony Kanaan and 2017 Indy 500 winner Takuma Sato. Jones matched his season best with a third-place effort in Race 2 at Detroit.
Dixon won Race 1 in Detroit and tied Michael Andretti for third all-time with 42 victories. Only Houston's A.J. Foyt (67) and Mario Andretti (52) have more Indy car wins.
"We'd been flirting with the top three for a little while," Dixon said. "Just with only one win last year, it doesn't meter up too quickly. But definitely it's pretty cool to be on a shortlist with Foyt and Andretti."
Dixon and Jones had lunch Thursday with another Ed Jones — Cowboys great Ed "Too Tall" Jones, who said he got his love of racing from his father, a NASCAR fan.
"He just loved racing. He and all his buddies would get together every time there was a big race and watch, and they were nice enough to let my friends and I hang out with them," Too Tall Jones said. "They didn't miss a race. They used to often say that regardless of who won the race, they didn't want to see anybody crash or anything like that, and they always wanted to see the big names there at the end."
Driver Jones was born in 1995, six years after Too Tall Jones retired from the NFL.
"When I started racing in karting, my parents were doing a website for me when I was young. And when they put in 'Ed Jones,' it was always Too Tall," racer Jones said. "Growing up in Dubai, all the sports are European, so it was quite different. I didn't know much about American football. But since I've been over here, I've learned a lot more about it and looked into what Ed's done."
The next item on Too Tall Jones' agenda is attending Saturday's Indy car race.
"This is another one off my bucket list, because growing up in Tennessee, all the young boys wanted to be like their dad. My dad was a big NASCAR fan and a big boxing fan," he said. "This will be my first time attending a race like this. And I'm very excited about it — I cannot wait.
"I've always, like most men, had a thing for speed. Unfortunately for me, when I was old enough to afford one of those muscle cars, I was too tall. But I enjoy watching it, even though I would have given anything to have tested my abilities to go 200 mph 'round a track."
Briefly ...
Josef Newgarden won the pole Friday with a two-lap average of 220.613 mph. Simon Pagenaud qualified second and Power third to give Penske a sweep of the top three positions. ... The Speed Energy Stadium Super Trucks will race at 5:15 p.m. Saturday and 30 minutes after the DXC Technology 600K.