For weeks now, sports fans across the state have wondered if high school athletics would be able to resume this fall amid the COVID-19 pandemic.
There have been no organized high school games of any kind since the UIL suspended the spring sports season in March and later canceled it all together in April.
But with Friday night lights right around the corner, the UIL released a plan on Tuesday morning to get teams back on the field.
Class 1A-4A fall sports programs will begin their seasons as scheduled. For Denton-area teams, this means Argyle, Aubrey, Sanger, Krum, Pilot Point and Ponder are set to start football and volleyball practice on Aug. 3.
Volleyball teams in 1A-4A can play their first game on Aug. 10. Cross country and team tennis can compete on Aug. 17, while football can begin its season on Aug. 27.
Class 5A and 6A schools will have to wait a little longer.
Guyer, Braswell, Ryan, Denton and Lake Dallas' football and volleyball teams will start practice more than a month after 1A-4A schools on Sept. 7.
Volleyball teams in 5A-6A can play their first games as soon as Sept. 14. Team tennis and cross country begins on Sept. 7. Football teams play their first games on Sept. 24.'
The state championships for 1A-4A volleyball and football are unchanged and will still be Nov. 18-21 and Dec. 18-19, respectively.
Volleyball and football state championships for 5A and 6A have been pushed back.
Football playoffs for 5A and 6A teams will now begin in early December and extend through the New Year. The state championships will be held in January 2021.
Volleyball will hold its state tournament for 5A and 6A schools Dec. 11-12.
UIL fall sports
Sport
First day for practice
First day for games, matches, meets
District certification deadline
State championships
Conferences 1A-4A
Team tennis
—
Aug. 17
Oct. 24
Nov. 11-12
Cross country
—
Aug. 17
Nov. 14
Dec. 5
Volleyball
Aug. 3
Aug. 10
Oct. 27
Nov. 18-21
Football
Aug. 3
Aug. 27
Nov. 7
Dec. 16-19
Conferences 5A-6A
Team tennis
—
Sept. 7
Oct. 24
Nov. 11-12
Cross country
—
Sept. 7
Nov. 14
Dec. 5
Volleyball
Sept. 7
Sept. 14
Nov. 17
Dec. 11-12
Football
Sept. 7
Sept. 24
Dec. 5
January, TBD
"Our goal in releasing this plan is to provide a path forward for Texas students and schools," UIL Executive Director Charles Breithaupt said in a press release. "While understanding situations change and there will likely be interruptions that will require flexibility and patience, we are hopeful this plan allows students to participate in the education-based activities they love in a way that prioritizes safety and mitigates risk of COVID-19 spread."
The UIL also released COVID-19 risk mitigation guidelines on Tuesday morning for 2020-21.
In these guidelines, the UIL says that schools may allow spectators to attend games, contests and events, but only with a 50% maximum capacity that allows for appropriate distancing.
In addition, spectators, audiences, fans and the media are required to wear face coverings.
The UIL also says schools should not allow seating in consecutive rows.
Student groups such as marching bands, cheerleaders, drill teams and other groups may attend and perform at games or contests, but are required to wear face coverings.
The UIL said in its press release that it delayed schools in highly populated metro areas, primary 5A and 6A, given the challenges these communities are facing with COVID-19.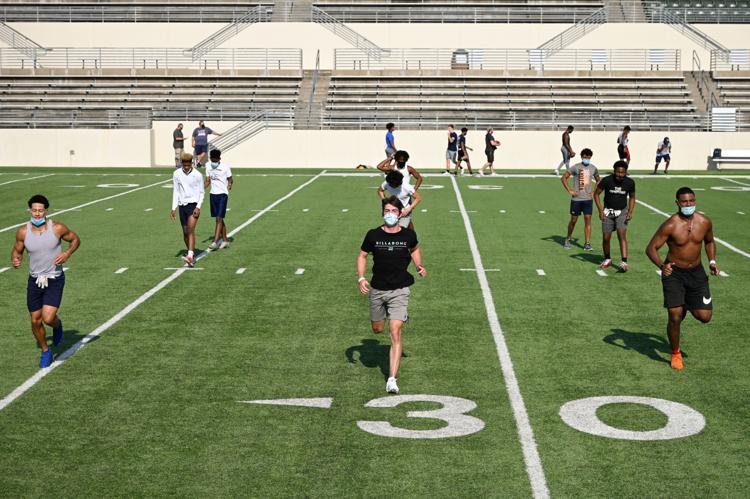 In Denton County, there have been nearly 5,000 confirmed coronavirus cases to date and 42 deaths.
In mid-June, four local schools — Braswell, Denton, Krum and Sanger — were forced to suspend summer strength and conditioning for two weeks after someone affiliated with their athletic program tested positive for the virus.
Of those four schools, Denton was the only one where the positive case stemmed from someone associated with the football program.
Denton ISD announced on July 10 it would begin classes on Aug. 26, two weeks later than originally decided.
The district will not allow students who opt for virtual learning to participate in athletics, but as of last Wednesday, that policy was still under review, according to Denton ISD athletic director Joey Florence.