Ty Marsh knew that wherever he went to play college football, he'd have a chance to play for a great program with excellent facilities.
Not many Division I programs out there can compete with paradise, though.
Marsh, the defensive MVP of last month's Class 5A Division I state title game, caught everyone's attention last week when he verbally committed to Hawaii. On Wednesday, he made his trip to Oahu official at a special National Signing Day ceremony inside the Ryan field house.
"I most definitely see myself as an island boy," Marsh said with a laugh. "As soon as you walk outside the coach's office, the field is right there, and it's surrounded by palm trees and stuff. I'm thinking, 'That's clean.' And then you look to the right, and there's an even bigger stadium, and I'm like, 'That's unbelievable.' We have nice facilities here, but you go out there, and it's sunny every day."
Marsh was one of three Ryan athletes to sign Wednesday, joining running back Ke'Ori Hicks (Texas A&M-Commerce) and defensive tackle Jay Sheppard (UT Permian Basin).
But Marsh may have taken the biggest recruiting gamble of the three. Originally pledged to Houston, he decommitted Dec. 10 and admitted that he questioned whether that was a good decision so late in the process. Clearly, everything worked out. The senior safety was on Hawaii's radar within a matter of weeks and perhaps sealed his next opportunity with one particular play in the title game. Following a huge catch by Cedar Park receiver Josh Cameron, Marsh didn't give up on the play and forced a fumble before Cameron could get into the end zone. Marsh also came away with the recovery, fueling an eventual 59-14 win.
"That play was one of the first things they mentioned when we spoke," Marsh said.
Marsh had been making plays like that all year, finishing with 87 tackles, including 12 for loss, with 11 pass breakups, four fumble recoveries, two interceptions, two forced fumbles and two defensive touchdowns. In the title game, he had six tackles and three pass breakups to go with a forced fumble, fumble recovery, interception and a blocked extra point.
"At the end of the day, it all paid off," Marsh said. "We played for 26 weeks, and even long before that. Just to get here is amazing."
Elsewhere around the Denton area, Guyer and Argyle each had 10 signees, while Braswell had seven and Denton four.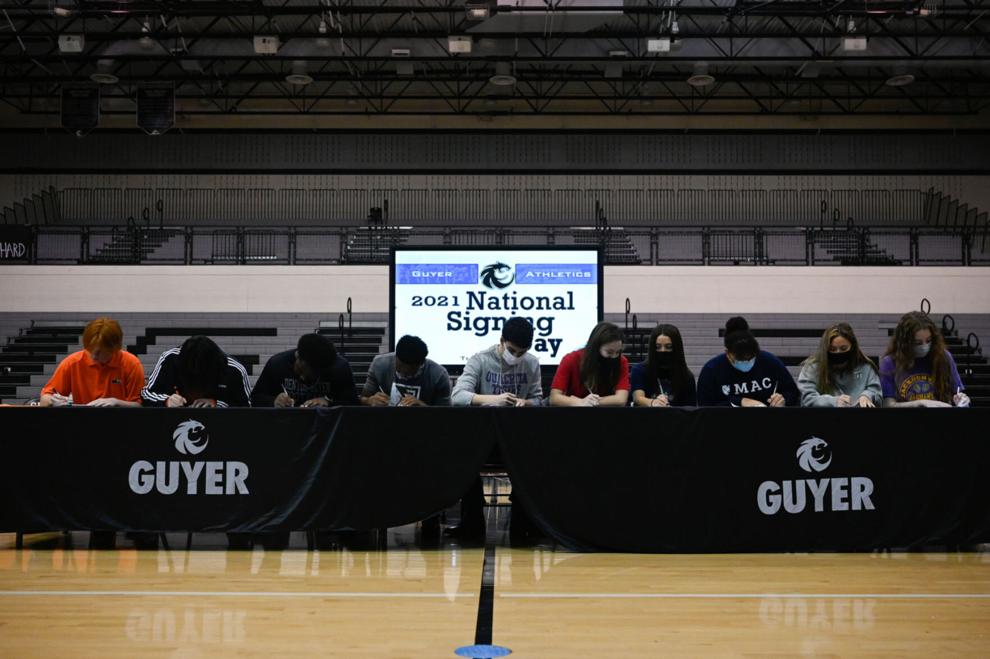 Four members of the Wildcats football team, which advanced to the state semifinal for the second consecutive season, were celebrated at signing day ceremonies.
Dotun Olanipekun and Tyson Johnson each signed with East Central Oklahoma. Guyer's kicker, Michael Mayfield, signed with UT Permian Basin, while Jaden Fugett inked with Evangel University.
The Lady Wildcats basketball team, which clinched at least a share of the district title for the third consecutive season on Tuesday night, was represented by Madelynn Hallmark. She signed with Jacksonville College.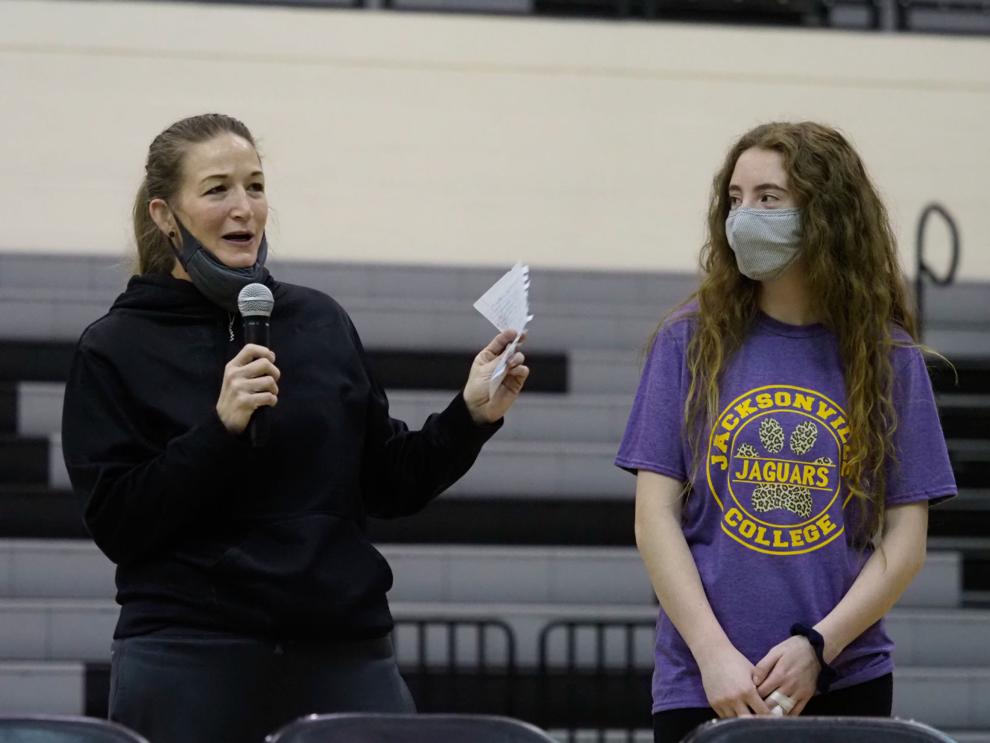 At Argyle, the Eagles had five members of its undefeated state championship football team sign with their respective colleges.
Quarterback CJ Rogers inked with Baylor, receiver Cole Kirkpatrick signed with Texas Tech and Cash Walker signed with Houston. Reece McCue signed with Oklahoma Baptist and Chase Bunnell signed with Arkansas Tech.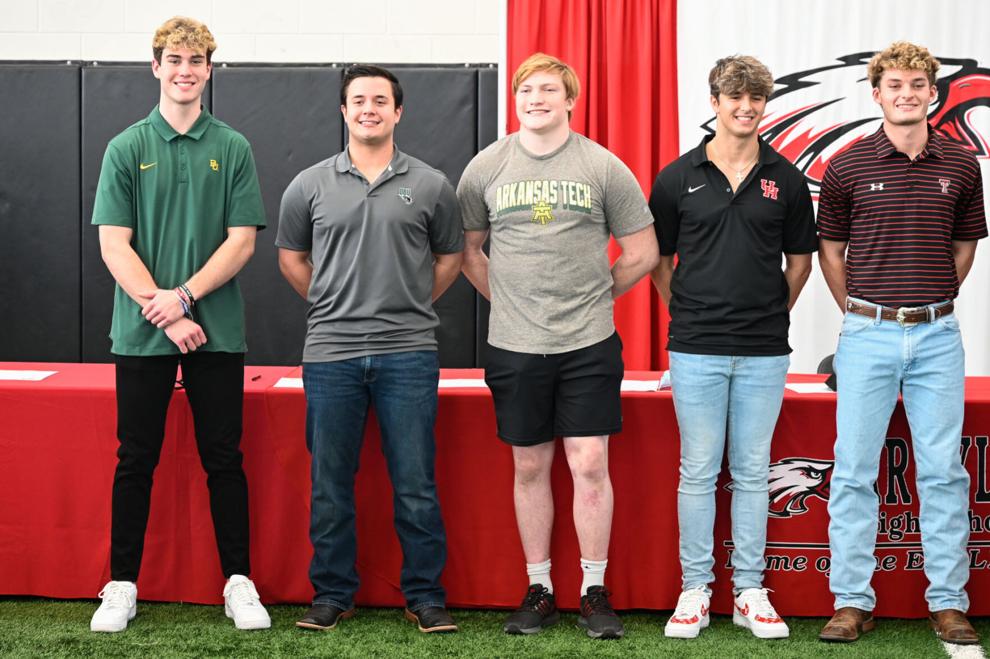 Down the road at Braswell, the Bengals had five football players sign, highlighted by Ole Miss pledge Erick Cade. Quarterback Tristan McClary inked with Tarleton, while Jaylon Banks signed with UT Permian Basin. Braylen Butler and Dee Gafford will be attending Ouachita Baptist and Oklahoma Panhandle, respectively.
The Denton Broncos had two members of their football program sign, as Cole Hager inked with Buena Vista University and Ashton Davis with Southeastern Oklahoma State.
Denton's Caden Greanead signed with Vernon Junior College in baseball, and the Lady Broncos' Emily Williamson signed with Howard Payne in girls soccer.
See the full list of Denton-area signees below.
Guyer
Football
Dotun Olanipekun, East Central Oklahoma University
Tyson Johnson, East Central Oklahoma University
Michael Mayfield, UT Permian Basin
Jaden Fugett, Evangel University
Volleyball
Vicki Johnson, New Mexico Military Institute
Girls basketball
Madelynn Hallmark, Jacksonville College
Girls soccer
Launa Torrez, Southwestern Oklahoma University
Swimming
Thomas Morley, Ouachita Baptist
Water polo
Kayleigh Carter, California Baptist
Olivia Dimka, Macalester College
Ryan
Football
Ke'Ori Hicks, Texas A&M-Commerce
Jay Sheppard, UT Permian Basin
Denton
Football
Cole Hager, Buena Vista University
Ashton Davis, Southeastern Oklahoma State University
Baseball
Caden Greanead, Vernon Junior College
Girls soccer
Emily Williamson, Howard Payne
Braswell
Football
Tristan McClary, Tarleton State
Jaylon Banks, UT Permian Basin
Braylen Butler, Ouachita Baptist
Dee Gafford, Oklahoma Panhandle
Baseball
Nic Bennett, University of the Ozarks
Boys soccer
Rennato Ramos, Southern Nazarene University
Argyle
Football
Cole Kirkpatrick, Texas Tech
Reece McCue, Oklahoma Baptist
Chase Bunnell, Arkansas Tech
Girls soccer
Rebecca O'Neal, Lawrence University
Golf
Blake Kelly, Kentucky Wesleyan College
Softball
Lilly Coleman, Tyler Junior College
Blyth Wickstrum, Oklahoma Wesleyan University
Tennis
Wade Paquin, Mary Hardin-Baylor
Aubrey
Football
Cody Newton, Missouri Valley College
Sanger
Football
Tallyn Welborn, Butler Junior College
Girls basketball
Chloe Malone, Ranger College
Softball
Mercedes Ibarra, Southwestern College
Cross country
Krum
Football
Trey Cook, Oklahoma Baptist
Ponder
Football
Chase Taylor, Hendrix College
Pilot Point
Football
Max Hollar, Missouri Valley College
Jacob Scott, Lincoln University