Right before the 2018 season opener, Ryan defensive tackles coach Aaron De La Torre told the entire defense that anyone who came away with a defensive score would get a steak dinner on him. And not just any steak dinner, mind you — a 12-ounce ribeye with steakhouse mac and cheese, bread and a loaded baked potato.
It was a simple gesture from a coach who wanted to go beyond the typical helmet sticker to reward players for big plays. What he didn't take into account was how good the Raiders already were at creating turnovers.
Offering a free meal by adding a score to the mix opened up the floodgates — and has quickly emptied his bank account.
"That's what I get for opening my mouth," De La Torre said with a laugh. "It's fun, and it has certainly created a buzz."
Most football teams nowadays have some sort of reward system in place to recognize individual player contributions. It could be a helmet sticker, turnover chain or bucket, a weekly player of the week honor, kudos on social media, a day off from doing cardio drills, or being able to lead the team out of the tunnel the following week. Ryan has a few of those, too. But what has really caught fire is De La Torre's steak dinner.
The stipulations are straightforward. Anyone who nabs a defensive score, whether it be an interception return, fumble scoop and score, punt return, kickoff return, safety or a touchdown off a blocked point-after-attempt, gets their meal.
Heading into Friday's Class 5A Division I state semifinal, Ryan players have milked De La Torre for eight Outback Steakhouse dinners this season alone, including four in one game. Over the past three seasons, he's purchased 37 meals.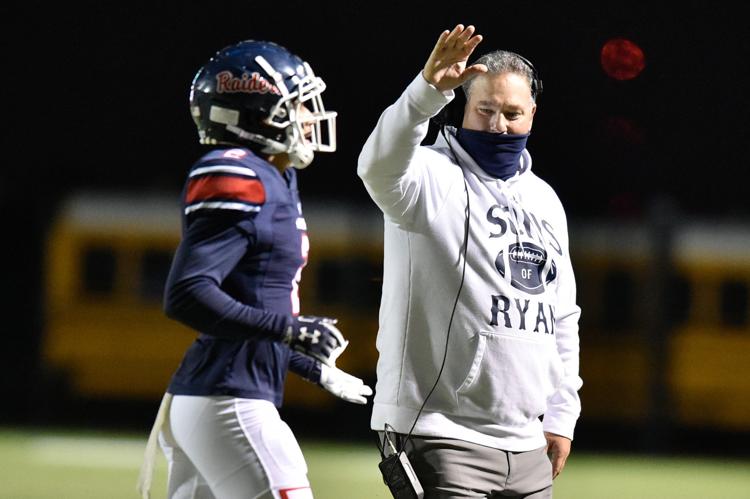 Ryan had 16 defensive scores in 2018, including two by then-junior Tra Smith in the season opener. The Raiders racked up 13 last year and seven this year. He awarded an additional steak dinner this season to his son, Kolt, who plays offensive line but recovered a rare fumble in the end zone for a touchdown.
Overall, Oklahoma signee Billy Bowman Jr. has the most steak dinners with 13. Smith, who has since graduated, is still No. 2 with six steak dinners. Drew Sanders, who is now at Alabama, earned four during his two years at Ryan.
"Steak is one of my favorite meals, and it's something everyone on defense looks forward to," Bowman said. He leads a unit that is currently the No. 3 overall defense among Class 5A area teams. "I didn't think he was serious at first, but after I got a lot of them, I think he started to regret his decision. The two years Tra was here, he got a lot, too.
"When you're on the field, you're not thinking about it until you score. Then, it's the first thing that comes to your mind."
Ty Marsh agreed. He has two steak dinners to his name, as do Austin Jordan, Garyreon Robinson and Texas signee Ja'Tavion Sanders. Six other players are tied with one apiece.
"Everyone loves steak," Marsh said. "All I was thinking was, 'This is my chance.' So, I went out and got one. Really, it's a turnover mindset that we already have. But [the steak dinner] makes you hungry to go after it even more. And it's not just the steak — it's a full meal."
Defensive coordinator Shane Tolleson said De La Torre had the right idea — and it's working. Not only do the Raiders boast the No. 3 overall defense, but they're allowing just 14.46 points per game.
Over the last two weeks alone, Ryan held Lone Star and Highland Park to a combined 14 points offensively.
"It's fun to see the kids react the way that they do," Tolleson said. De La Torre also celebrates their meal on Twitter with a picture and weeklong bragging rights. "Everyone has something, maybe a turnover bucket or turnover chain. I do Blow Pops. But the quickest way to a kid's heart is through his stomach. It's a great reward and a way for us to emphasize what a kid does on the field. It keeps them thinking."
De La Torre said he thought of the idea while he was the head coach at Irving. At the time, he had a freshman named Kevin Kirkland who racked up five steak dinners throughout his four-year varsity career.
Naturally, bringing something like that to Ryan felt like the right thing to do, as he and his wife, Lori, wanted to give back to the program however they could. And in De La Torre's first game, Tra Smith earned two steak dinners.
"Everyone kept asking me if his two scores meant that he got two," De La Torre said. "He had a blocked field goal scoop and score and a pick-six in that game. But I couldn't do two, so I did a special surf-and-turf deal for him. The best thing that's come out of it is that I get to create fellowship with these guys — sitting with them at the lunch table that week, posting pictures on social media. I've been able to sit with Billy 13 times. I enjoy all of those guys."
As for whether or not their coach might run out of money someday, players like Marsh aren't too worried.
"He put up the offer. If he goes broke doing it, I'll help him pay for the next one, I guess," Marsh said.