ARLINGTON — The wait is finally over.
Just over 18 years after Ryan won its last state championship, and after the past five seasons of coming oh-so-close to winning it all numerous times, the Raiders knocked on the door and this time kicked it down with authority in a 59-14 win over Cedar Park in the Class 5A Division I state title game at AT&T Stadium in Arlington.
Ryan (15-0) forced four turnovers and broke open what was a 10-8 game with 9:13 left in the first half with 35 straight points.
Memphis signee Seth Henigan was named Offensive MVP after throwing for 270 yards and four touchdowns. Ty Marsh was named Defensive MVP. Marsh had an interception, forced fumble and fumble recovery.
Ryan reigns: Photos from the 5A Division I title game
The win caps a wire-to-wire run for Ryan as the No. 1 team in the state. More important, it ends five years of seemingly unending heartbreak in big games. Ryan was a Drew Sanders fingertip away from winning last year's title game against Alvin Shadow Creek. In each of the three years before that, the Raiders lost to Highland Park in the state semifinals. Highland Park went on to win the title each time, leaving Ryan wondering, "What if?"
Ryan's win on Friday gives the Raiders a staggering 85-5 record dating back to 2015.
"This medal looks and feels so much better than a silver one," Ryan senior and Oklahoma signee Billy Bowman Jr. said. "In my four years here, all the years I've been on varsity, we've come up so short. … I just remember all the things that went through my head after losing that game last year. When we came back, we weren't sure we would even have a season, but our coaches preached to us, and I feel like everyone on this team was locked in and had one goal in mind.
"We wanted this to be the result, and we made it happen."
This was a 10-8 game with 9:13 left in the first half, but Ryan proceeded to force two turnovers and convert both into scores as part of a 21-point scoring spree to close out the frame.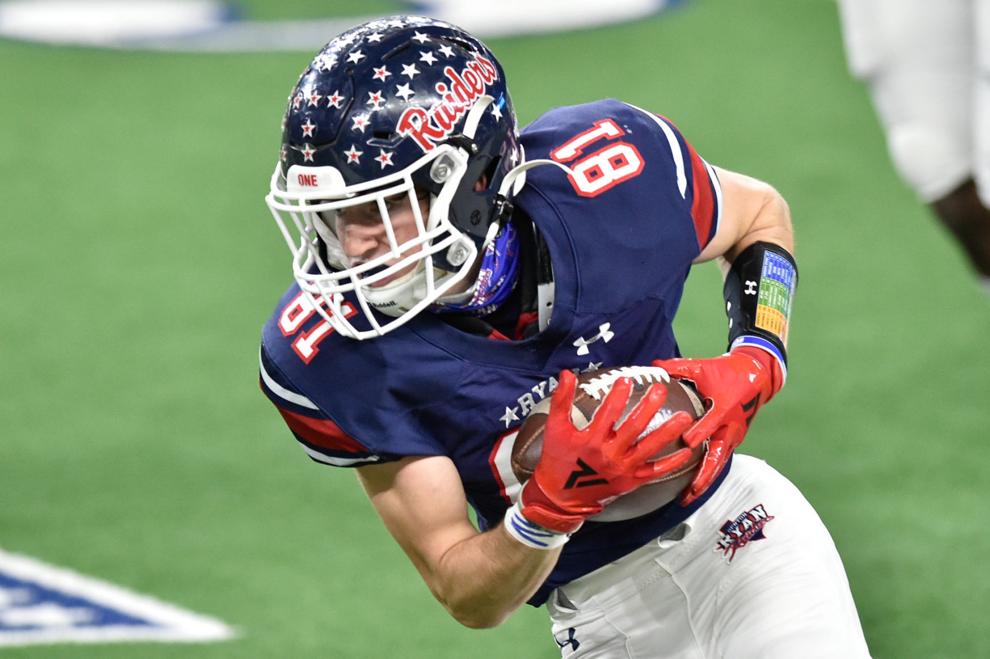 In that sequence, Henigan found Keagan Cunningham for a beautiful 52-yard touchdown pass. Just less than a minute later, Marsh intercepted Cedar Park quarterback Ryder Hernandez. Henigan took advantage of the extra possession and found Bowman or a 37-yard touchdown.
That score extended Ryan's lead to 24-8. Roughly a minute later, Hernandez was intercepted again, this time by Garyreon Robinson, who returned the ball all the way to the Cedar Park 19-yard line. Anthony Hill Jr. capped the ensuing Ryan drive with a short 1-yard touchdown run.
"We knew we were going to have to answer," Ryan coach Dave Henigan said. "It's the state championship game. You have to answer. We went up 3-0 and then 10-0, and [Cedar Park] did a good job of answering us early. Then our kids went right back down and scored, and then here we go. We have a lot of momentum and big plays defensively. You have to do that to win these games. We preached that to the kids all week — and all year, really. We've been in a lot of tight games. We've been through a grinder just to get to this one. Our kids were composed and poised in those moments."
Statistics-wise, the offensive onslaught was a credit to Ryan's versatility and constantly looking for ways to throw something different at the Cedar Park defense. The brother duo of Ke'Ori and Kalib Hicks rushed for 128 and 87 yards respectively, with Ke'Ori scoring twice on runs of 13 and 5 yards. Cunningham finished the night with three receptions for 78 yards. Texas signee Ja'Tavion Sanders caught five passes for 82 yards and a touchdown.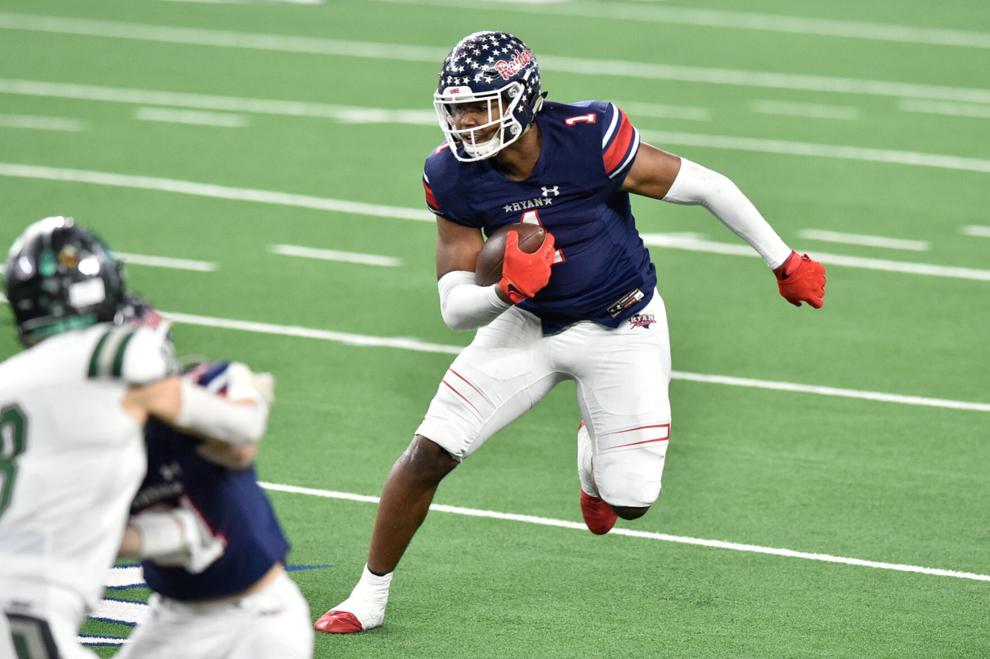 Bowman had five catches for 63 yards and a score. Michael Davis added two catches for 47 yards and another score.
Defensively, Ryan frustrated Cedar Park early, turning the Timberwolves away empty-handed on their first two drives — both of which were marches deep into Ryan territory. That allowed Ryan to jump out to a 10-0 lead.
Cedar Park stormed back, but as the night wore on, it became increasingly difficult to trick the Ryan defense.
Ryan pushed its lead to as many as 37 points before Cedar Park finally got into the end zone with 6:40 left in the third quarter. MarQuice Hill Jr. picked up a fumble with 10:10 left in the third quarter and returned it two yards for a touchdown to extend Ryan's lead to 38-8. Michael Davis followed that with a 29-yard touchdown catch with 8:05 left in the same frame.
For the game, Cedar Park was held to 298 total yards.
"I came back to Denton Ryan, and this is the reason I came back," coach Henigan said. "I love this school. I love this program. I love the city of Denton — southeast Denton, in particular. And to finally get to the point where we get to bring that trophy back to southeast Denton is very, very special after having to wait close to 20 years. I'm really proud to be a small part of this and bring this thing back to southeast Denton. This community and the city of Denton deserves this."