MESQUITE — One of Ryan's rallying cries this season has been "We don't want easy." Granted, the Raiders have certainly made things look easy since September, but against Longview in Saturday's Class 5A Division I Region II semifinal, they expected a much different game.
Longview gave it to them with a gritty and physical matchup befitting of a playoff game, and Ryan didn't flinch.
Memphis signee Seth Henigan threw for 284 yards and three touchdowns and Texas signee Ja'Tavion Sanders caught seven passes for 115 yards while adding a rushing and receiving touchdown as Ryan blew open a six-point game at halftime to gut out a 27-9 win at Mesquite Memorial Stadium.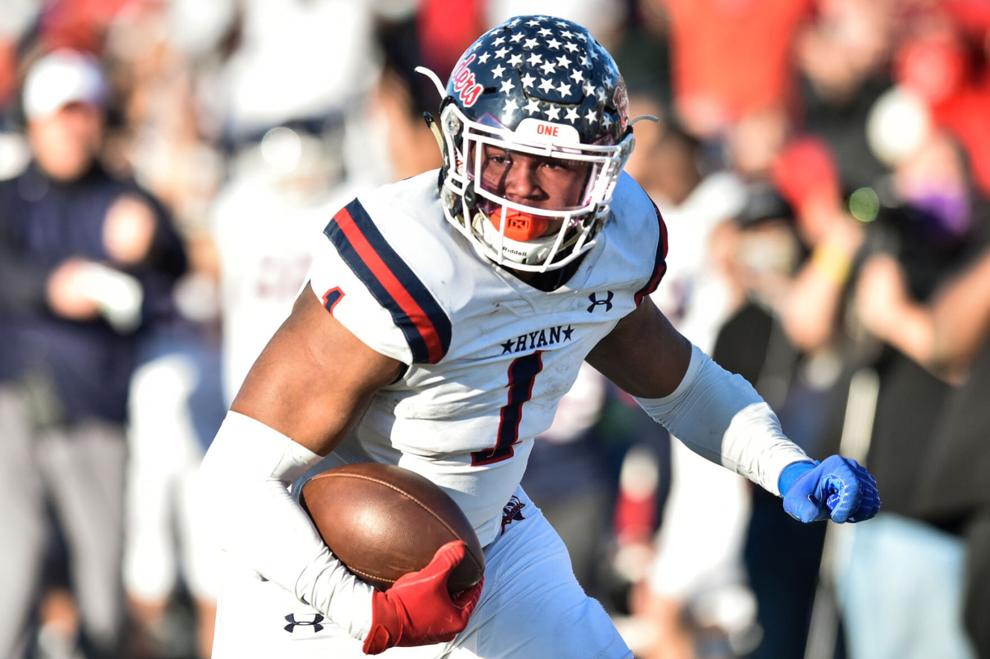 Defensively, the Raiders (12-0) held Longview (9-3) to six total yards in the second half.
They'll face Highland Park in the region final at 3 p.m. Friday at Globe Life Park in Arlington.
"People want us to score 50 points every game, but against that kind of a team, you're not going to light up the scoreboard," Ryan coach Dave Henigan said. "That bunch held Highland Park to 18 points. This was a great team win. The defense obviously played unbelievable, and the offense did, too, against a great, physical team.
"We knew it would be a gritty, ugly, physical football game. And that's exactly how it turned out."
Ryan led only 13-7 at halftime. But after forcing a punt on Longview's first possession of the second half, the Raiders marched down the field with a six-play, 82-yard drive that culminated in a 44-yard touchdown pass from Seth Henigan to Keagan Cunningham.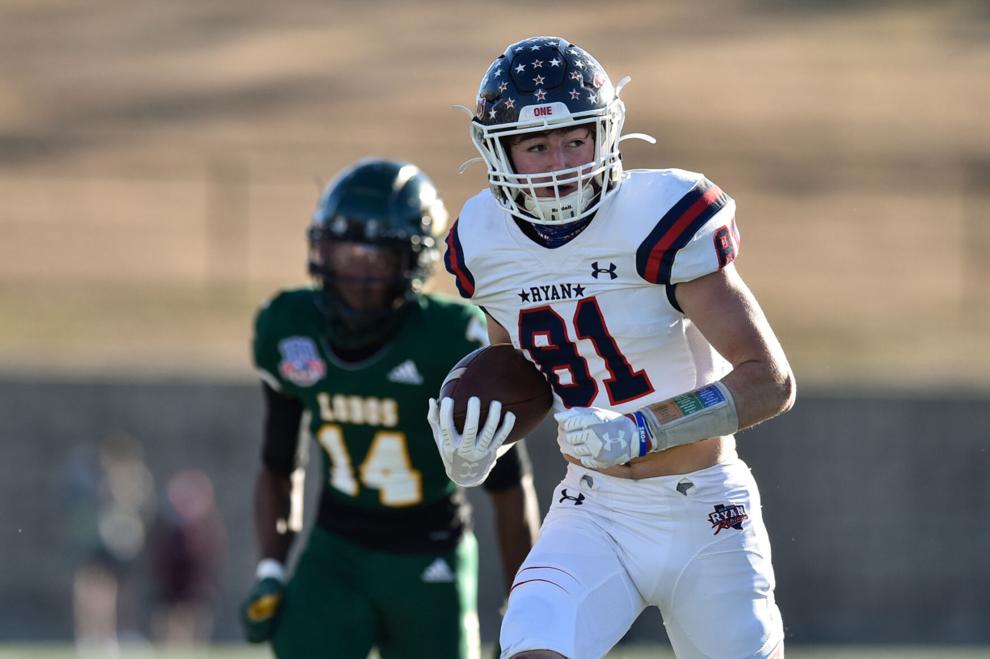 Ryan added another touchdown with 7:37 left in the game, as Sanders hauled in a 36-yard touchdown pass.
"The way [Longview] plays the game is that they try to slow the clock and run the ball down your throat, which gives their defense time to rest so that they can stop you on offense," Seth Henigan said. "I felt like we controlled the clock, and despite not scoring at times, I thought we moved the ball up and down the field."
Ryan's 27 points was its lowest single-game point total since a 23-20 win over Guyer in Week 2. Regardless, the Raiders racked up 353 total yards. Cunningham scored twice while piling up 89 receiving yards.
Meanwhile, Longview (9-3) came in averaging just shy of 279 rushing yards per game. The Lobos were held to 40 yards on the ground Saturday as Ryan stonewalled them at nearly every turn — particularly with the combo of linemen Keithian "Bear" Alexander and Michael Gee.
Both were constantly in the backfield. As a result, Longview scored with 4:45 left in the first quarter but was held scoreless until a safety in the closing minutes. The Lobos finished the game with 122 total yards.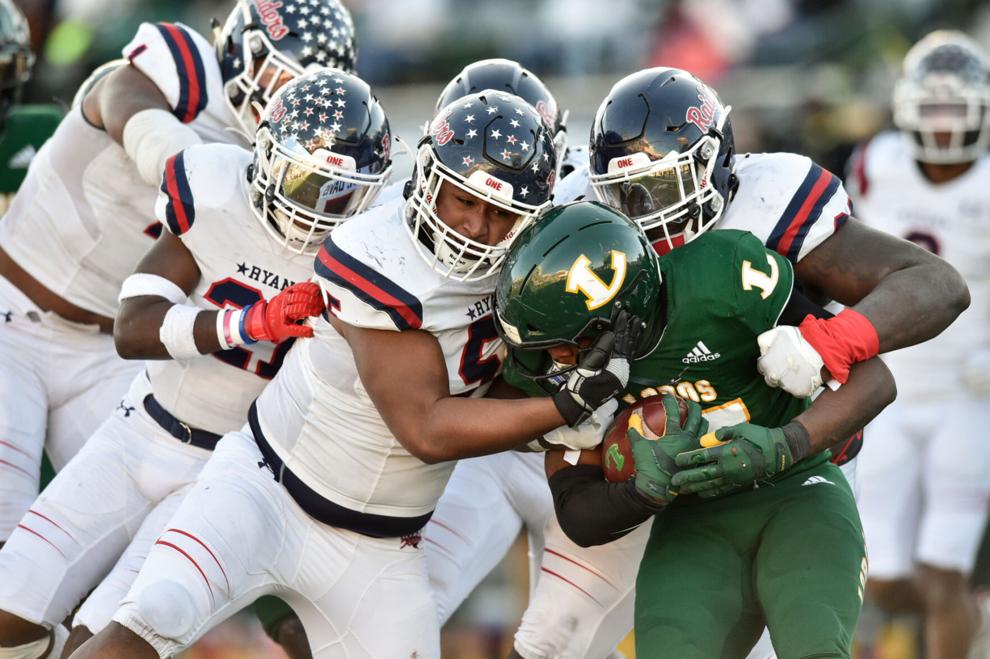 "Everyone was flying around," Alexander said. "The intensity was high, and everyone was explosive and striking."
Knowing that Ryan would be keying on their run game, the Lobos went to the air early and answered Ryan's game-opening score with a 10-play, 59-yard scoring drive. Jalen Hale hauled in a 10-yard pass in the back of the end zone to knot the game at 7-7.
That's when Ryan's defense began bowing up. The Lobos marched into Ryan territory but were stuffed on a fourth-down-and-3 play. Ryan responded with a scoring drive to take a 13-7 lead into the break. On that play, Seth Henigan found Cunningham for the 24-yard touchdown on fourth down.
"Any time you can get a win like this and keep playing at this time of the year is big," coach Henigan said. "That was a great football team we just beat, and we are excited to get another opportunity to play."