Ryan coach Dave Henigan and his son Seth will talk openly about anything that has to do with Friday's Class 5A Division I state title game against Cedar Park. They'll break down what they've seen on film, what they think the Raiders need to improve on, and how they feel about their odds of winning. They'll even reflect — albeit briefly — on last year's heartbreaking loss in the title game and the second chance they'd hate to waste.
What they struggle to talk about is this: Win or lose, Friday is the last time they'll compete in a game together as coach and quarterback. Seth is also graduating early. He leaves first thing Saturday morning to enroll at Memphis.
"It will be a whirlwind going from playing for a state title Friday to driving seven hours Saturday," Dave said.
Seth agreed but did not want to think too deeply about it with such a big game mere days away.
"It's coming up fast, and it's been crazy. But I want to help this team win a state title so that we can leave our legacy," Seth said. "Once that's done, then I can go off [to play college football] and see where it takes me."
The Henigans aren't the only father-son duo in the high school ranks to go their separate ways because of graduation. But theirs is certainly one of the more intriguing family storylines entering championship weekend — second maybe to the Dodge Bowl between Austin Westlake's Todd Dodge and Southlake Carroll's Riley Dodge in the Class 6A Division I game.
Seth Henigan was a lanky sophomore when he took over for his injured brother Ian a few games into the 2018 season. The Raiders were coming off four years with 2017 Texas Associated Press Player of the Year Spencer Sanders (Oklahoma State) under center, and it was difficult to imagine anyone — even a coach's kid who was every bit a student of the game and knew the program like the back of his hand — matching or exceeding what Sanders did. With his dad by his side, Seth has matured into a Division I player and one of the top quarterbacks in his classification.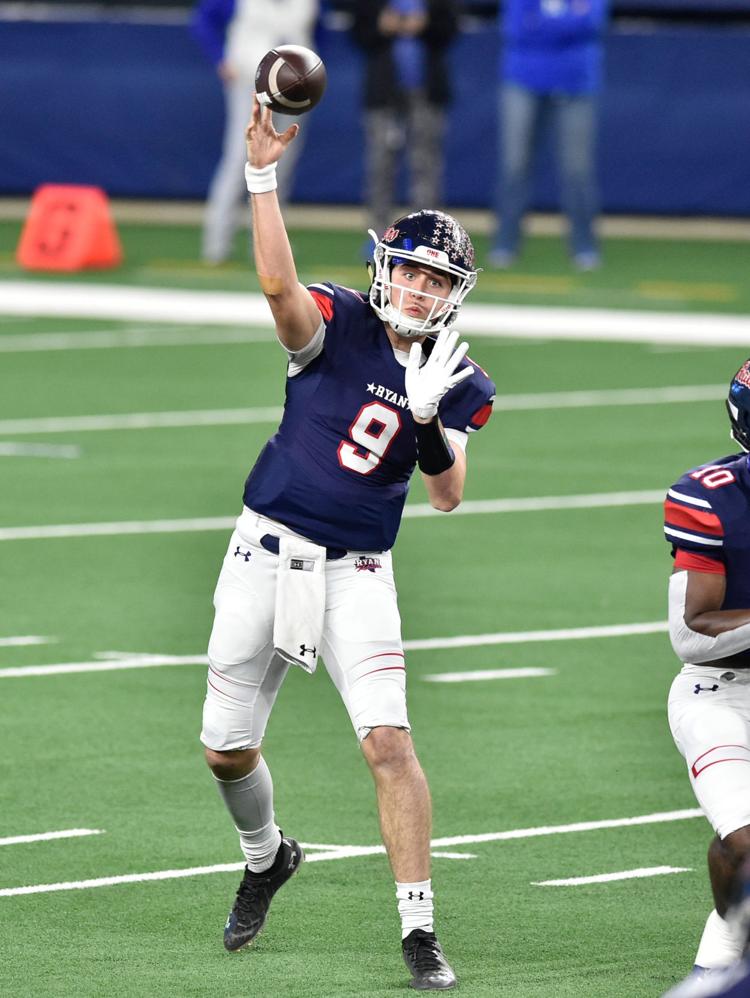 He has led Ryan to a 43-2 record and back-to-back state title game appearances in three seasons, and now he has the Raiders on the precipice of a title that — despite all their past success and superstars — has eluded them for 18 years.
With a win Friday, he'd join James Battle (2001 and 2002) as the only Ryan quarterbacks to win a state championship. Dave would also become the first Ryan coach not named Joey Florence to lead Ryan to the mountaintop.
"I went into last year's title game thinking of it as just another game, but I've abandoned that mentality," Seth said. "It's not just another game. It's state, and we expect to go out there and win it. It's hard to win a title at this level. It'd be really special, and when that happens, it will be great to share that moment with my dad."
Home isn't always about football
Earlier this week, Dave found himself tossing and turning in his bed at 3 a.m. All he wanted to do was sleep, but he couldn't stop thinking about the state title game and all the planning outside of Xs and Os that he needed to get done. So rather than fight it, he got up and, by 4 a.m., was hard at work preparing for one last busy Monday.
"I'm wiped," he said later that afternoon as he got in his truck to head home. "I'm going to get in the hot tub, and then all of us are going to sit down and watch the National Championship game."
That's about as much football talk that historically goes on in the Henigan household with Dave, his wife, Laurie, and sons Ian, Seth and Quin — even during what is undoubtedly the most important week of the season for Dave and Seth. Granted, there are plenty of times when dad is thinking about what it's going to take to win another game, but one thing he's always prided himself on is separating what goes on at the field house from family life.
Almost like a light switch, he simply turns it off.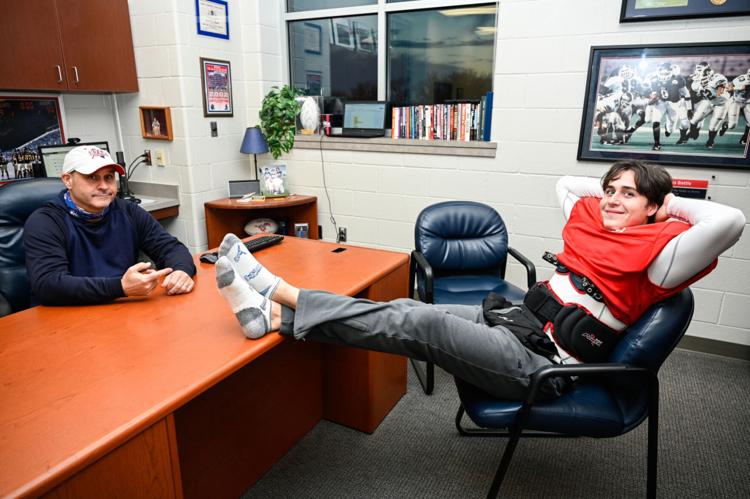 "I guess we've always done a good job of separating it. I may be thinking about it every now and again, and Laurie and the kids may see me working from home, but football just doesn't come up," Dave said. "You have to find a way to separate the two. Someone told me after the [Mansfield Summit] game that there was a series where I didn't think Seth was doing what he was supposed to, and I was chewing him out. It ended up being shown on the big screen.
"You don't ever want to take that home with you. In the game, he may need his chain yanked. But at home, you're dad."
Seth added that despite larger-than-life championship aspirations, home life is exactly that — home life.
"When I'm here, he's my coach. But when I'm at home, he's just a regular dad. We play board games, watch TV, joke around and do family stuff," Seth said. He added that every Monday, the family sits down with Seth and his girlfriend, Mollie, to watch The Bachelor. "[My dad] means a lot to me. I've been coming up here to the field house since I was very little, trying to spend more time with him. We have a special bond, and I credit him for helping me become the quarterback that I am. But he's always done a good job separating quarterback and son."
'You're only playing because your dad's the coach!'
Most coach's kids are cut from the same cloth. They are students of the game, hard workers, and live and breathe football. They dedicate themselves to film study, eating right, grinding in the weight room and soaking in all they can from their dad. As a result, most turn out to be really good players who are deserving of taking on prominent roles.
Seth is no exception, and he's one of several players on this year's Ryan team who have dads on the staff — including Oklahoma signee Billy Bowman Jr. Heading into Friday's title game, Seth is the No. 1 quarterback among Class 5A area passers with 3,558 yards and 43 touchdowns to just eight interceptions. He's also completing 67% of his passes.
"Seth has really become one of the biggest leaders on this team," Bowman said after Seth threw for 332 yards and five touchdowns in a 49-8 win over The Colony. "I think that's mainly because he's become so much more comfortable at the quarterback position. He's just more confident, and with him doing that, it's just brought the team together even more."
But at a young age, Seth said his dad would regularly sit him down and prepare him emotionally for the downside of being a coach's kid at the high school level — and the need to develop thick skin.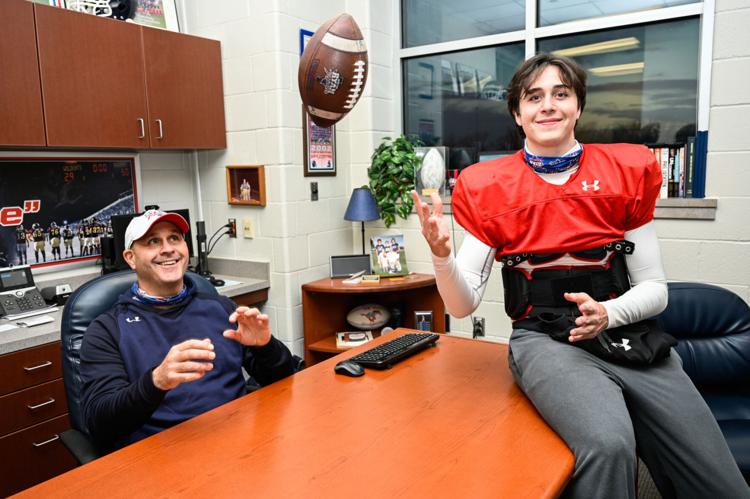 "He told me to expect hearing from other people that I'm only playing because I'm the coach's son, and I've heard it," Seth said. "When Ian first took over his senior year, we weren't playing as great because we were facing really good teams. [We still won], but he took a lot of hate. And then when I took over for him, I got a lot of it, too — and I was just a little sophomore. I just sort of expected it and instead worried more about playing my game and working hard."
Pat Galyon is the quarterback coach at Ryan and insists Seth earned the right to be Ryan's starting quarterback.
"I don't pay attention to that [coach's kid] stuff, and honestly, I don't think he does, either," Galyon said. "I know the kid, and I've seen what he can do. He may use some of that stuff as motivation — to prove to others how good he is. But he doesn't talk about it. He's always had the knowledge, and he strives to be the best quarterback he can be. To be one of the best at Ryan, you've got to win that title. That's what puts you up there.
"That's big, and it's his motivation. He's always been that way. He doesn't want to be anyone else except Seth Henigan."
"I went through all the same things. I started as a sophomore, and my dad was my coach. It was the same stuff," said Dave, who played college ball for the University of the Pacific Tigers. "The coaches had to hear about it, too. But then, lo and behold, you're a Division I quarterback. So, maybe we knew what we were doing all along. You can say all you want in an anonymous letter or online forum, but in three years of being in this office [with Seth as our quarterback], not one person has come in, shut the door and said anything. And if they did, I'd pull up the film.
"If you don't have high-level quarterback play, you're not going to win at all. It's important to have that guy, and Seth is that guy. It doesn't look as sexy as Spencer with all the highlight-reel plays, but all he does is be efficient, keep the chains moving, throw touchdowns, protect the football and be a leader. The people who know football see that."
One last ride
Every week, Seth, Dave, Galyon and backup quarterback Khalon Davis go out to the practice field at Ryan for a friendly accuracy competition amongst quarterbacks. Sometimes, Seth wins. Other times, it's Khalon — who apparently is on a roll as of late. Dave has won a few, too, proving that he's still got "it." And he's usually the first to commemorate each contest by posting a photo of the foursome on Twitter.
It's a fun exchange, and something they've all looked forward to throughout what has undoubtedly been a long season. But perhaps there are a few who take it too seriously?
"K5 and Dad act like it's the Super Bowl, and they just want to post it on Twitter," Seth said with a laugh. "Most of the time, I'm just warming up. If I really tried, I'd win that thing every time."
Joking aside, the Henigans know deep down that those are the many moments they'll remember most about this final season together. And, of course, there's Friday's game. It's a chance to finally win the big one, give the city another championship, silence a few critics along the way, and yes — have one last game on the biggest stage in Texas high school football between dad and son.
"Things have been pretty hectic in our house," Dave said. "We're packing, writing our goodbye notes, getting his passport ready and doing all the other stuff that needs to be done to prepare him and this team. It's all coming really fast, but I've been trying my best to slow down and enjoy it all. All I know is that my day-to-day will forever be different, and that is sad. As a parent, you wake up one day and they're gone.
"When Ian left [for college], everything changed. And when Seth leaves, that will be hard, too. I'm getting emotional now — I'm going to miss seeing him come through that door. But I'm excited for him. He has a great opportunity at Memphis."
But first, one last ride with dad — for all the marbles.