Ryan won the Class 5A Division I state title last season.
In a fiery speech to his players following Monday's first day of fall practice, Ryan coach Dave Henigan praised his team for a great workout but was quick to remind them that last year's success is exactly that — in the past. It's time to focus on winning this year's title, he added.
"I just read it again. I got the TV schedule talking about 'defending state champs,' and that's fine. It was a whole lot of fun. But the reality is, this is a different team," Henigan said after practice. "We have different leadership, different seniors, and we're still developing our chemistry. We also have different coaches. The reality is that you're not really defending anything. You have to attack — just like always.
"We have kids who deserve us trying to figure out a way to attain their goals this year. You can't do that while talking about defending stuff."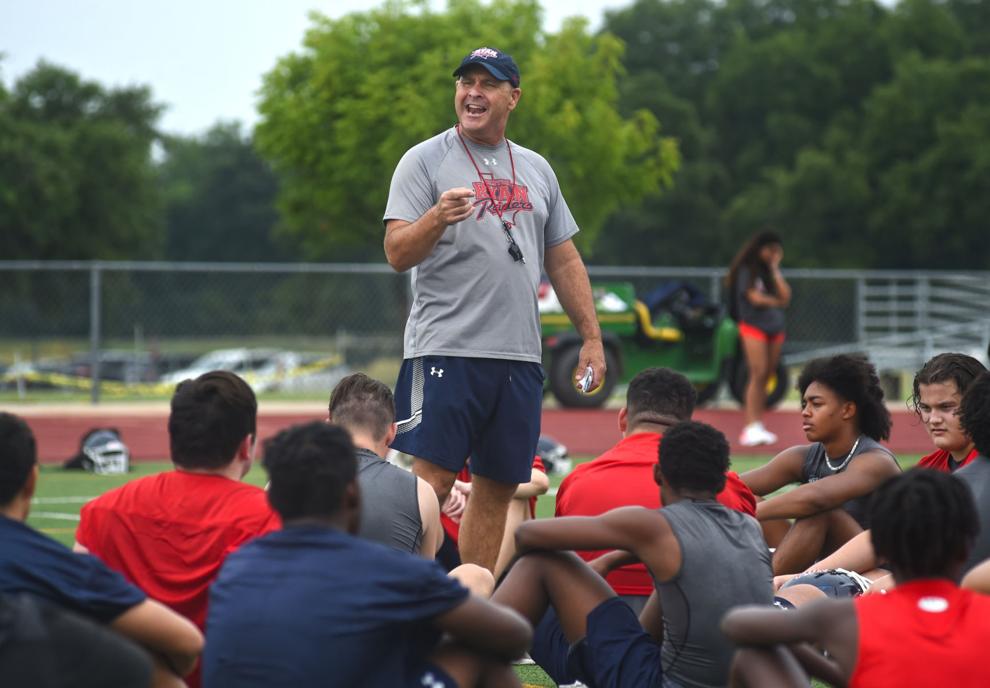 The Raiders, who are an eye-popping 85-5 over the past six seasons and are the No. 1 team in the Dave Campbell's Texas Football 5A Division I preseason poll, had their share of new faces walking onto the field Monday. But they are in many ways no worse for wear with 14 returning starters and several more who saw significant playing time.
That number includes eight on a defensive unit that already has four players committed to FBS Division I programs.
Just a few of the familiar faces include defensive back Austin Jordan, who is committed to Texas, linebacker Anthony Hill Jr., defensive tackle and Army commit Mason Davis, and defensive end Michael Gee. Offensively, running back Kalib Hicks is back, as are offensive linemen Kolt De La Torre and Henry Appleton (Army) and wide receivers Jordyn Bailey and Michael Davis (Army).
As is usually the case, several players will be playing both ways, including Jordan, Hill and defensive end/wide receiver MarQuice Hill Jr.
"It was good getting back out here with the guys," Anthony Hill said. "I feel like we will have a great defense again, but we're taking it day by day."
Here are a few notable observations from Monday's first practice:
A new trigger man under center
With Seth Henigan (3,828 yards and 47 touchdowns) off to Memphis, the Raiders are breaking in a new quarterback for the first time in three years.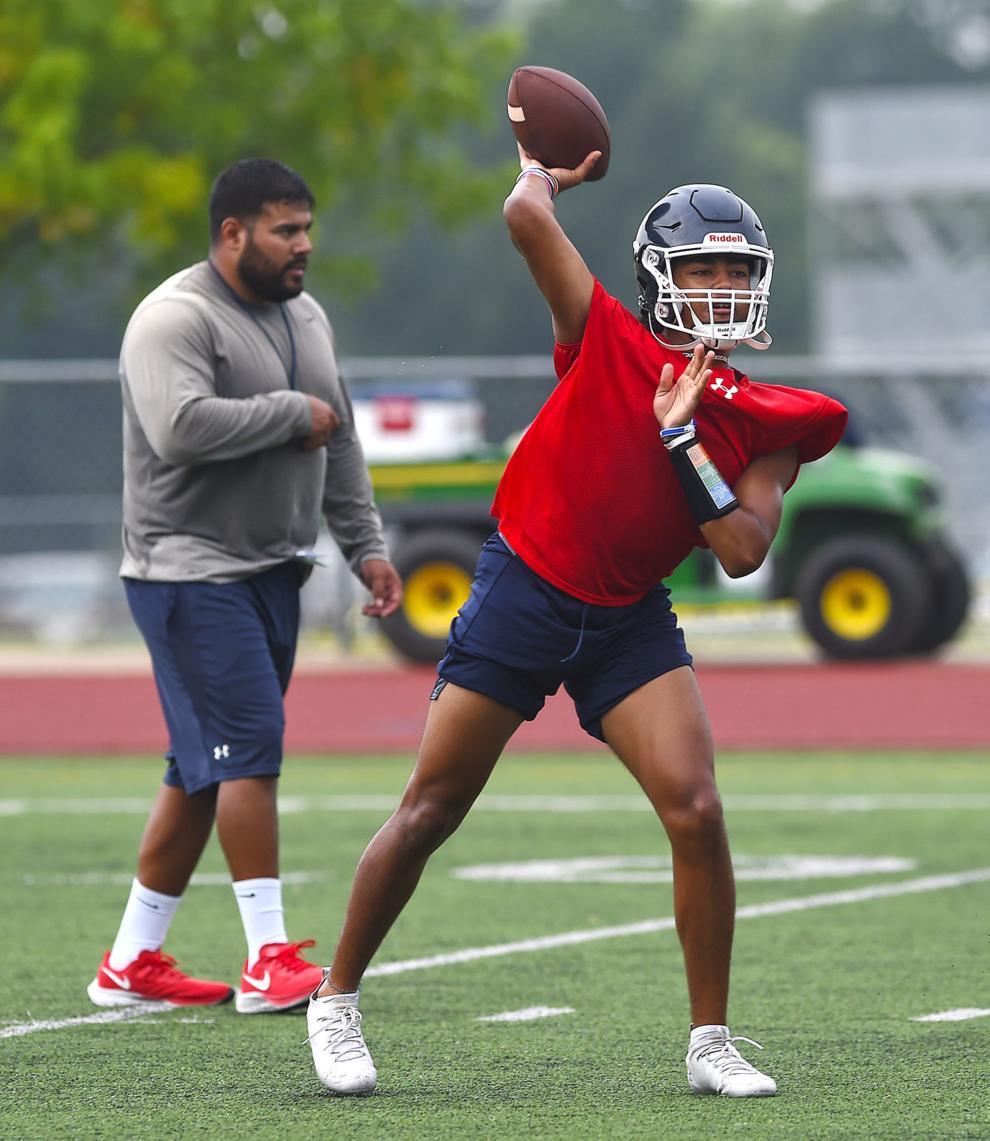 Junior Khalon Davis takes the reins after being the backup last year. He attempted only 51 passes for 419 passing yards and four touchdowns in that role, though coaches say he had a fantastic offseason and is ready to command the offense.
Davis flashed his speed while scrambling from the pocket several times in Monday's practice. He also made several pinpoint throws downfield and appeared to be extremely confident in his new role.
"I learned a lot from Seth last year with him being a leader and general on the field," Davis said. "I do need to work on a few things, but I'll get better. It was a long summer [for all of us], but we all had a good opportunity today."
Davis will have plenty of weapons to work with. Michael Davis, Jordyn Bailey and Jordan lead a deep receiving core that appears to be adjusting nicely to the graduation of Billy Bowman Jr. (Oklahoma) and Ja'Tavion Sanders (Texas). Bowman and Sanders hauled in the lion's share of the receiving yards a year ago, but Davis and Bailey still combined for 843 yards and 11 scores.
Hicks (838 rushing yards and five touchdowns) is expected to be the lead back, though Anthony Hill will be in the rotation, too, along with Garyreon Robinson.
"[Khalon] did well. There's a lot of retention there and things he's comfortable with," Henigan said. "When Seth took over for a four-year starter in Spencer Sanders, I didn't ask Seth to be Spencer. So, I'm not going to ask Khalon to be Seth. You have to cater it to what the strengths of that guy are, and we'll do that. He had a good day. It's important to him, and he's been working hard."
Defensive adjustments
While nothing is set in stone yet, Henigan said Gee could line up at linebacker alongside Hill to fill the void left by DJ Arkansas (Rice). In theory, three-star defensive end Cameron Robertson, who recently transferred from John Paul II, would then slide in at Gee's previous defensive end spot opposite of MarQuice Hill. And with Mason Davis and Rovante Blowe at tackle, Ryan would again have the ability to put some serious pressure on opposing offenses.
In the defensive backfield, Kaden Kelly is projected to start at rover, replacing Ty Marsh (Hawaii). With Jordan, Robinson and James Lundy all back, Ryan only has just one cornerback spot up for grabs.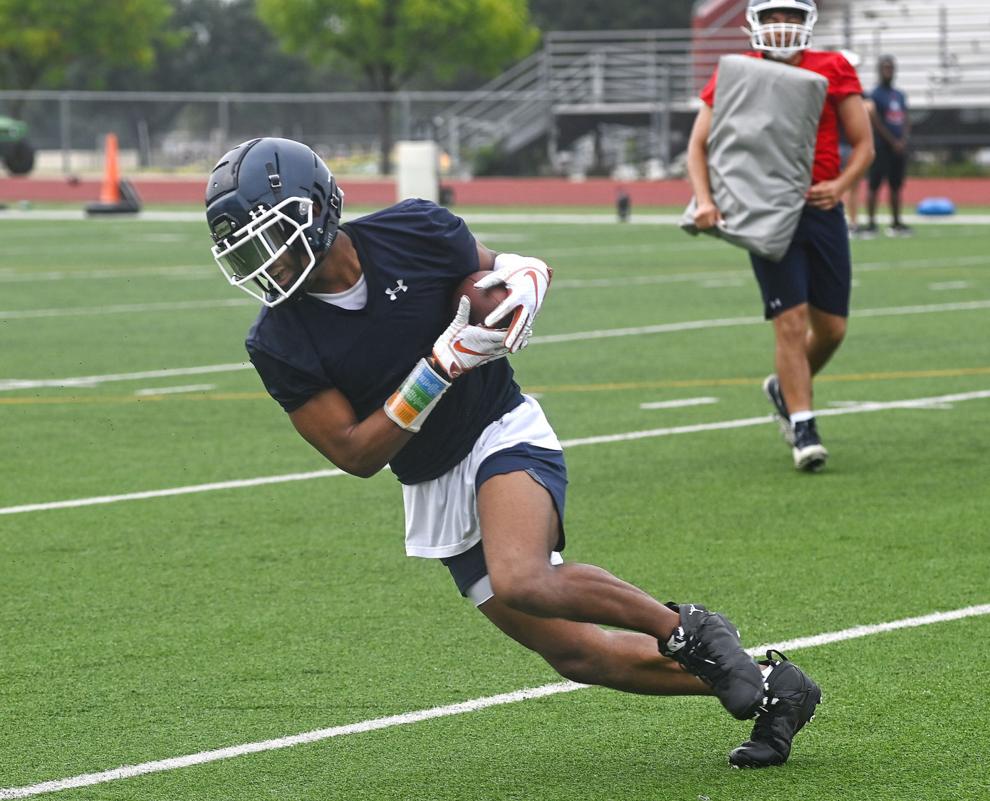 "I feel good about those guys," Henigan said. "They have to jell and find different leaders, but I like what we have.
"The first day is always interesting with all the stuff that goes on with the first day of practice. But retention was good and kids were flying around. There's a lot to work on — there's a long way to go."