CORINTH — Lake Dallas coach Jordan Davis doesn't mind her team shooting 3-pointers all night long. The only caveat is that they've got to make the majority of them. On Tuesday, the Lady Falcons were uncharacteristically cold from downtown, and at least early on, that nearly cost them against a Ryan team determined not to lose a second straight district game.
In the end, Bailey Broughton scored 13 points — including three second-half treys — and the Lady Falcons found their stroke just long enough to overcome another big night from Ryan's Janiah Allen-Taylor to pull away for a 49-26 win.
Allen-Taylor led all scorers with 16 and helped push Ryan (3-3 District 6-5A) to a slim lead midway through the second quarter. But after that, it was all Lake Dallas. The Lady Falcons improved to 21-4 overall and now have a pristine 6-0 mark in league play. Jorja Elliott and Allie Buchanan chipped in nine apiece for Lake Dallas.
"I think we were 1-12 [from 3-point range] at one point," Davis said. "I rarely tell kids not to shoot it, but I said, 'Hey, we are 4-for-5 from inside the line, so maybe let's try that a little bit more.' I'm going to try and stay smart as a coach.
"The girls stayed patient, and we made some adjustments at halftime."
Lake Dallas temporarily abandoned its penchant for the 3-ball midway through the second quarter as Ryan took an 11-7 lead off back-to-back buckets from Allen-Taylor and Abbey Kirk. Twenty of Lake Dallas' next 26 points between the second and third quarters came from close range as it engineered a 26-8 run.
By the time the dust settled, Lake Dallas had a 14-point lead going into the fourth quarter.
They extended that lead to 45-21 a few minutes later thanks in no small part to Broughton, who opened the fourth quarter with back-to-back 3-pointers. All of Broughton's points came in the second half.
"[Ryan] had a great game plan when it came to slowing us down, but the girls stayed patient," Davis said. "Anything can happen on any given night, so that's why you step out here and play the game. These girls stayed focused, which is important because when you haven't lost [a game], you're going to get everyone's best shot."
Lake Dallas travels to Richland next while Ryan heads home to take on Justin Northwest.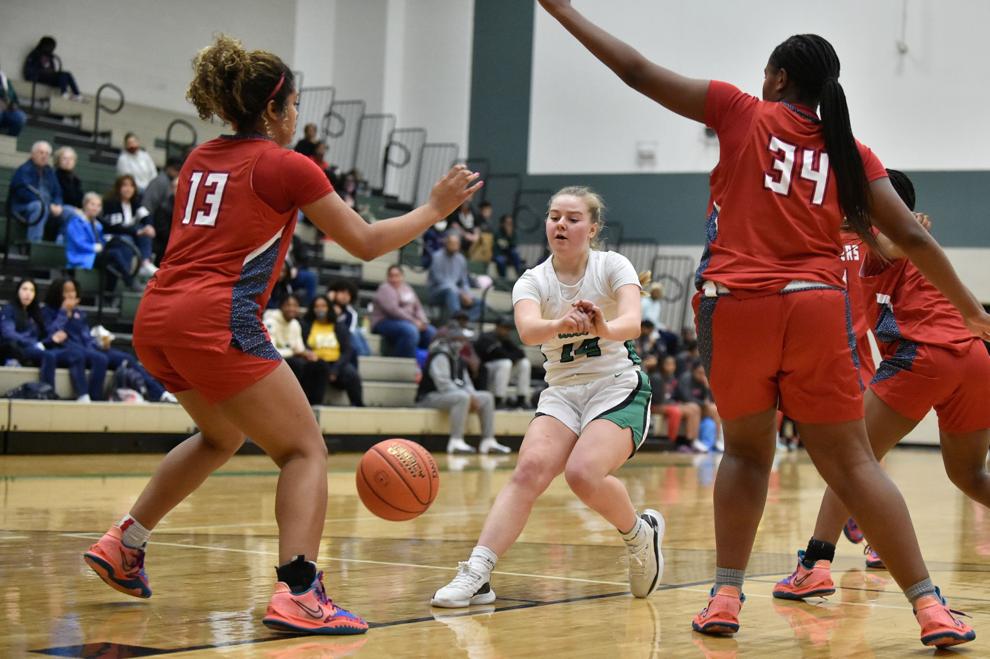 Ryan Raiders trounce Falcons to remain perfect in district
When you have five players reach double figures, good things are bound to happen.
Such was the case for the Ryan Raiders on Tuesday, as they cruised to an easy 80-37 road win at Lake Dallas. Amarien Mohair, Christian Lawson and Elijah Thomas all scored 12 points each while Jordan Ware added 11 and Jack Bommarito finished with 10. Ryan (11-6, 4-0) jumped out to a 32-point lead by halftime and led by 40 going into the fourth.
"I was proud of the way we came in focused," Ryan coach Bryce Overstreet said. "We approached this game like any other up to this point. We're still figuring ourselves out. I do think defensively that we've started to take on an identity. That's going to help us in any game. But coming into this, we have to come in focused. We're not good enough to just show up and win."
Lake Dallas (8-15, 1-3) was led in scoring by the combo of Jadon Jones and Caleb Harris, who each scored 10 points. But the Falcons never got into a rhythm offensively, scoring a combined 14 points in the first and third quarters.
Ryan has now won six of its last eight heading into Friday's home game against Northwest.