ARLINGTON — For weeks, Ryan players and coaches insisted that they could abbreviate summer and fall workouts and go play a game, "right now."
Braggadocious? Perhaps. A true statement? Absolutely.
In a game that was put out of reach by halftime and made more lopsided in the fourth quarter, Ryan got a big night from a ferocious defense that is every bit as advertised and an offense that proved time and again why Ryan is the favorite in Class 5A Division I in a 47-24 win Friday over Arlington Martin at AT&T Stadium.
Ryan forced three turnovers, returning two for scores during a 1:17 stretch in the fourth quarter.
Texas commit Ja'Tavion Sanders had one of those defensive scores — a one-handed 69-yard interception return that he snagged at the line of scrimmage. Sanders also had 122 receiving yards and touchdown receptions of 58 and 32 yards, respectively.
"Honestly, I didn't think it would be like that," Ryan coach Dave Henigan said. "I'm proud of the guys for what they did. We started fast; we ran 43 plays on offense in the first half. That kept the defense fresh, and they were flying around making plays. And then we got those huge turnovers in the second half.
"That's a good football team we just beat — handily."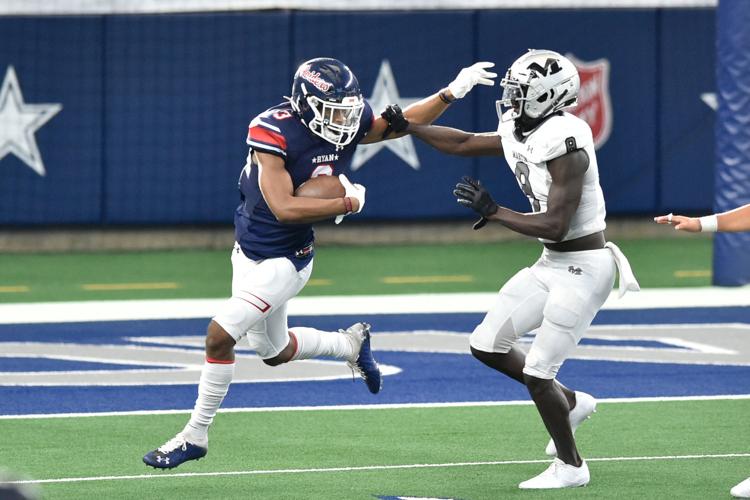 Henigan said earlier in the week that he was worried about Martin, a Class 6A regional semifinalist a year ago. The Warriors return 11 starters and have a knack for confusing opponents with a flurry of different looks and pressure on both sides of the ball.
But Ryan didn't fall for any of it, racking up 381 total yards by the end of the game and building as much as a 27-0 lead midway through the third quarter.
By the end of the first half, Martin had been outgained 217-36.
"Defense played great. Some analysts were picking the other team and thought they could play with us. But at the end of the day, we have to prove ourselves each and every week," Ryan senior quarterback Seth Henigan said. "We got it started on the first drive of the first quarter, and we kept it rolling."
Henigan threw for 222 yards and three touchdowns while completing just over 63% of his passes. Ke'Ori Hicks carried the ball 15 times for 106 yards and a touchdown. Billy Bowman Jr. added four catches for 34 yards and a 12-yard touchdown catch to cap Ryan's first drive of the game.
Ryan has now won 51 straight regular-season games dating back to 2015. It didn't waste any time flexing its muscles Friday. After forcing a quick three-and-out on Martin's first possession, the Raiders marched down the field to take an early 7-0 lead.
Three plays into his team's next drive, Henigan found Sanders for what looked to be a short pickup. Sanders instead outmuscled a couple of defenders and raced in for a 58-yard touchdown.
Ryan led 21-0 at the break and 33-8 with 1:54 left in the third on Sanders' second touchdown.
That's when things really got out of hand, starting with Sanders' interception return.
"I really work on that [one-handed catch] every day in practice, if we're being real," Sanders said of the interception. "[Defensive coordinator Shane Tolleson] and me run screens, and he's always telling me not to pick it with one hand. But I always tell him, 'What's going to happen in a game?' I saw the QB looking at me. So, I caught it and took it to the crib.
"We want everyone to know that we are still dominant."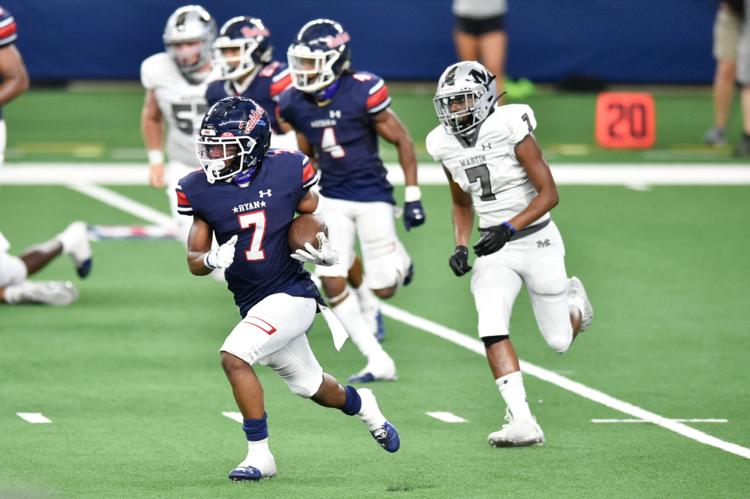 Adding insult to injury, Garyreon Robinson scooped up a fumble on Martin's ensuing drive and returned it 73 yards for another touchdown to give Ryan a comfortable 47-10 lead with 9:54 left.
"Those are big plays, and games turn on just a couple of plays," coach Henigan said. "We don't look past people. We take it one day at a time."