If there was one thing both Guyer coach Rodney Webb and Braswell coach Cody Moore knew coming into their game against one another, it was what to expect the other to do on offense.
Moore was Webb's offensive coordinator for eight years at three different schools before taking over at Braswell in 2015. And, as a result, Guyer and Braswell's offense are essentially mirror images of one another.
With that in mind, Webb spent the early part of this week with his defensive coaching staff, developing a strategy to try to slow the Bengals down.
On Friday night, the Wildcats' plan worked to perfection.
Guyer forced three turnovers, tallied at least four sacks and held Braswell to just 327 yards, as the Wildcats' defense dominated in a 49-7 rout at C.H. Collins Athletic Complex.
"We're very proud of our defense tonight," Webb said. "That's a really hard-working group. Our defensive staff was very meticulous with their plan, and it was really good to get to see it pay off tonight. [Braswell] is one of the top offenses in the metroplex. We just had a good, sound plan, and the kids did a great job of executing it."
On Braswell's second drive of the game, the Bengals marched down the field before quarterback Tristan McClary took off around the left side. McClary went untouched until he reached the 1-yard line, where he was met by several Guyer defenders.
McClary was hit and spun into the air, fumbling the ball out of the end zone and resulting in a touchback for Guyer. It was the first of three Braswell turnovers.
"From an offensive perspective, I thought we were doing some pretty good things early," Moore said. "We didn't stick it in when we had the opportunity. We obviously turned the ball over entirely too much, which is uncharacteristic of us. Credit to [Guyer].
"We moved the ball right down the field. We had a chance to score and make it 7-0, and then we just didn't get it in."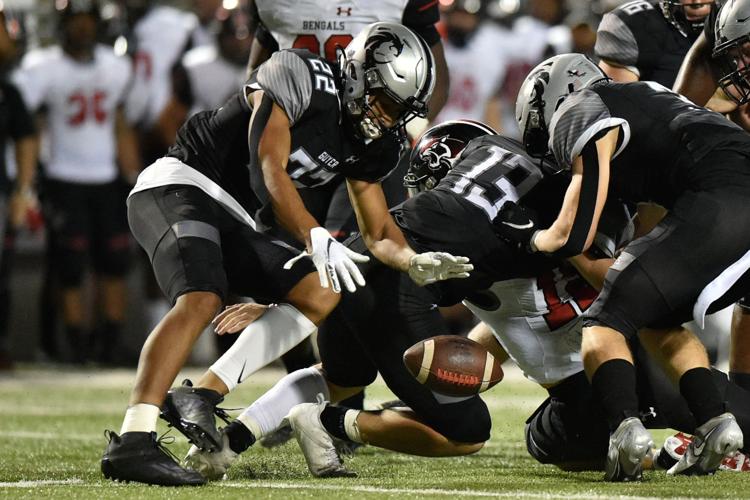 The Wildcats were unable to turn McClary's fumble into points, as both sides went scoreless through the first quarter.
But on the first play of the second quarter, Guyer cornerback Deuce Harmon jumped in front of McClary's pass intended for JK Carter, returning it 35 yards for a pick-six.
Harmon's electric play was all the spark the Wildcats needed for the rest of the night, as Guyer went on to score 49 consecutive points.
"They're a good team and a physical team," Moore said of Guyer. "I thought we played really well defensively in the first half. I just think as the game wore on, that becomes tough for our guys to hold up against. But I'm proud of our guys. We fought, and that's all I can ask of them."
The Wildcats made it 14-0 on a 1-yard run by Eli Stowers late in the second quarter and took that lead into halftime.
Guyer continued to add to its advantage in the third quarter, leaning heavily on its ground game. Ty Alridge's score made it 21-0, and minutes later, Stowers took off on a 25-yard quarterback run to give the Wildcats a 28-0 lead.
Sophomore quarterback Jackson Arnold even got into the action, breaking loose for a 54-yard touchdown to extend Guyer's lead to 42-0 in the fourth quarter. The Wildcats ended the night racking up a whopping 424 yards rushing.
"As I've said from day one, it's important for us every week to be able to run the ball effectively," Webb said. "It just makes the whole offense run better. And in the games this year where that we've been able to run the ball effectively, those are the games we've scored a bunch of points."
Guyer's defense did the rest, as the Wildcats held the Bengals to their lowest point total of the season. Braswell also managed just 180 yards rushing.
"Even though they throw for a ton of yards, that's the No. 3 rushing offense in the metroplex," Webb said. "We felt like trying to stop the run game and trying to keep them from hitting vertical shots was a critical component to the plan. We did a great job on both of those."
Braswell dropped to 4-3 overall and 1-2 in District 5-6A with the loss.
Guyer improved to 5-1 overall and stayed unbeaten in district play, moving to 3-0. The win for the Wildcats sets up a de facto district title game next week against Allen.
"It's an opportunity for us," Webb said of Guyer's game against Allen next week. "That's it. It's an opportunity. I'm going to use the word opportunity 100 times this coming week."