Rodney Webb still remembers the feeling of shock when he watched Guyer and Cedar Hill's 2019 playoff game for the first time.
Since the Wildcats' coach was still at Rockwall last season, he didn't get to see the game live. But when he eventually sat down to watch it on video, he immediately realized why it has been hailed as one of the greatest Texas high school football playoff games of all time.
Webb, much like everyone who was in attendance at AT&T Stadium that day in November 2019, could hardly believe what he was seeing.
"The first time I watched it, I didn't realize the kind of hole Guyer was in," Webb said. "I remember watching it on Hudl and there being a shot of the scoreboard. And I'm sitting there watching it like, 'What? They won this game?' Then they scored [36] unanswered and won. It was cool to watch it and is definitely one of most memorable games ever played."
Now, more than 13 months after that memorable meeting, the state will finally get to see the rematch. Except this time, there is even more on the line.
Guyer (11-2) and Cedar Hill (11-1) will square off at 1 p.m. Saturday at McKinney ISD Stadium in the Class 6A Division II semifinal. The winner will advance to the state championship game at 1 p.m. on Jan. 16 at AT&T Stadium.
Webb knows emotions will be amplified going into the game, but he also has made it a point to tell his team they aren't trying to recreate what happened last season.
"It's difficult for me to say what's in the hearts and minds of our kids because I wasn't here," Webb said. "But it's the state semifinal. I don't want our kids or our coaches to feel like we're trying to relive something that happened last year. Both teams have a bunch of new faces on the field that weren't a part of that game last year.
"Every team writes its own story. We're certainly writing the 2020 story. But at the same time, there's some familiarity between the two teams. And it's a huge stage this week."
When these two teams met in 2019, Cedar Hill quarterback Kaidon Salter torched the Wildcats and almost singlehandedly beat them.
The Tennessee signee combined for 416 total yards and five touchdowns, flashing his explosiveness nearly every snap.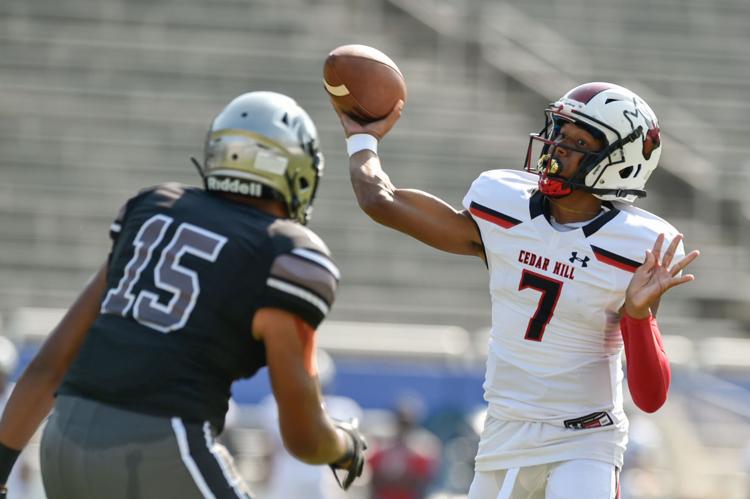 "He's electric, and that's a great descriptive word for him," Webb said. "He can extend plays, and his ability to improvise, that's what sets him apart from anybody we've seen this year. His arm talent is unbelievable. There's no question it all runs through him."
Salter has thrown for 2,409 yards and 29 touchdowns this season, while also running for 924 yards and 13 scores. He leads an explosive Cedar Hill offense that is averaging 36.5 points per game.
"You have to contain him," said Webb of Salter. "You have to be under control. You can't be dive-bombing past him when he's in the pocket and allow him to get out of trouble, then all of a sudden, the scramble routes break. That's when it becomes yard ball, to some degree."
For Guyer offensively, Webb said it will all boil down to execution. The Wildcats were held in check during regulation last week against Prosper, scoring just 10 points.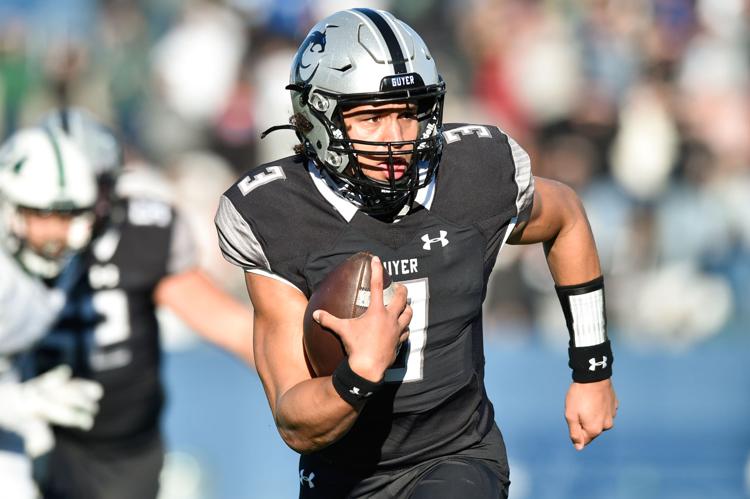 It wasn't until overtime that Guyer finally started to fire on all cylinders, eventually coming away with a 30-24 triple-overtime win. The Wildcats were still without their No. 1 receiver in Grayson O'Bara last week, who missed his eighth straight game despite suiting up and going through warmups.
With a berth in the state championship now on the line, Webb knows there will be plenty of opportunities for distractions this week. But he said ultimately, it will be paramount for Guyer to remain focused on one thing.
"It's going to be important that come Saturday, we just play football," Webb said. "We're not there to try and show anybody up. We're not there to try and relive what happened a year ago. We're there to play football."