With Guyer and Ryan tied at 7-7 in overtime last Friday, Sutton Lee lined up in the slot and found himself single covered.
The junior receiver made a slight jab step inside before sprinting toward the back corner of the end zone. As he crossed the plane, Lee contorted his body with a defender draped over him, reeling in a perfectly-placed pass from quarterback Jackson Arnold.
Lee's 29-yard touchdown proved to be the game-winner, as Guyer held on to knock off Ryan 14-7, snapping the Raiders' 60-game regular-season winning streak.
"It was a great catch," Arnold said last Friday after the game. "We've practiced that. It's exactly where the ball is supposed to be. We practice excellence."
For Lee — who went to Crownover Middle School, which feeds into Guyer — catching last Friday's game-winner was a special moment.
Lee spent his freshman season at Denton before moving to Argyle for his sophomore campaign in 2020. He transferred to Guyer this past offseason, rejoining many of his middle school teammates.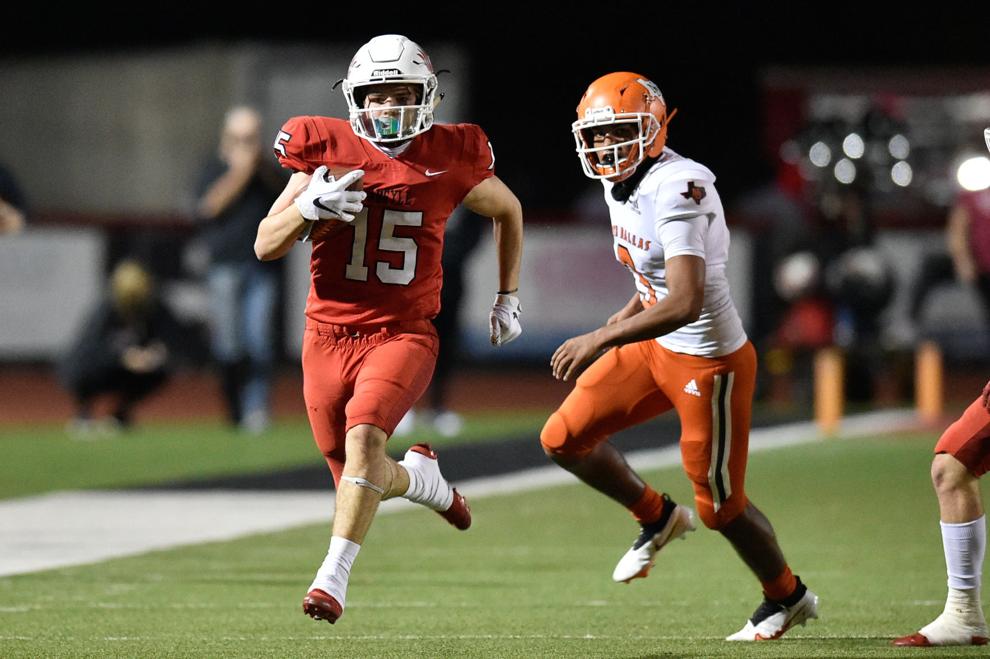 "I grew up with these guys," Lee said. "It was a great time, and I'm really close with these guys. But we had moved houses, and I went to Argyle. Just coming back here, I wanted to be back with my brothers. This has more of a home feeling for me."
Lee wasn't sure where he would fit in when he got to Guyer, but he was willing to do anything to help.
"They had a great team. I knew that coming here," Lee said. "I just wanted to come and do the best I could. Wherever I fit is wherever I fit. I just wanted to help the team overall.
"To come in, win that game and make an impact playing like that, it means a lot."
Through the Wildcats' first two games of the season, Lee has certainly made his presence felt.
Lee leads the team in receiving yards (87) and yards per catch (12.4). He is tied for the team lead in receptions (7) and touchdowns (1), and Lee has emerged as one of Arnold's favorite targets.
"Sutton brings a lot of energy," Guyer coach Rodney Webb said. "He's full-tilt all the time. As a receiver, he is a very, very good route runner. He's got great wiggle. He has the ability to get open in tight spaces. That's a really important trait in this offense. He's also got tremendous hands. He's a guy that certainly fits what we're looking for."
Lee credits some of his early success to the other three guys who make up the Wildcats' receiving corps — Jace Wilson, Grayson O'Bara and Brody Noble.
"I truly believe we have the best [receiving] corps in the state, to be honest," Lee said. "We have great weapons all across the board. With Jace's size, that opens the field. He's a great receiver. Then with Grayson, he has great speed. And Brody's the same way. He's a great receiver with good hands and runs good routes.
"When you have three guys like that surrounding you, it makes your job easier."
While Lee admitted he has received some extra attention after his spectacular catch last Friday, he has tried to not get lost in the hype.
Instead, Lee was adamant after practice on Monday that he was focused on Guyer's next task against Mansfield Lake Ridge on Thursday night.
"Not instant-celebrity, but I have been getting more attention," Lee said. "It's cool and all. I enjoy it, but it's a new week and we have a new opponent. We have to get focused on that."