With the game tied late in the first quarter, Guyer quarterback Eli Stowers dropped back and rolled out to his left, searching for an open receiver.
The Wildcats had already turned the ball over three times in the opening frame and were struggling to get into a rhythm.
But that was about to change.
After surveying his options, Stowers momentarily looked like he might throw the ball away. Instead, he uncorked a pass to the end zone for Grayson O'Bara, who leapt over the Mansfield Lake Ridge defender to come down with the 39-yard score.
Just like that, Guyer had its offensive mojo back. And the rout was on.
O'Bara's touchdown sparked an offensive outburst from the Wildcats, as Guyer scored 36 straight points to roll Lake Ridge 56-20 on Thursday night at C.H. Collins Athletic Complex.
"When I was first supposed to throw it, [O'Bara] wasn't open," Stowers said. "So I turned, got a little pressure, and Grayson ended up going scramble drill. Honestly, it wasn't a very good ball. If I would have thrown it to the sideline, it would have hit him in his helmet.
"I left it inside, so at that point I knew it was 50-50 for Grayson, and I knew he was going to win it."
The Wildcats, who were held to just 223 total yards in last week's 23-20 loss to Ryan, piled up 424 yards by halftime against the Eagles.
Guyer ended the night with a staggering 552 yards and 26 first downs.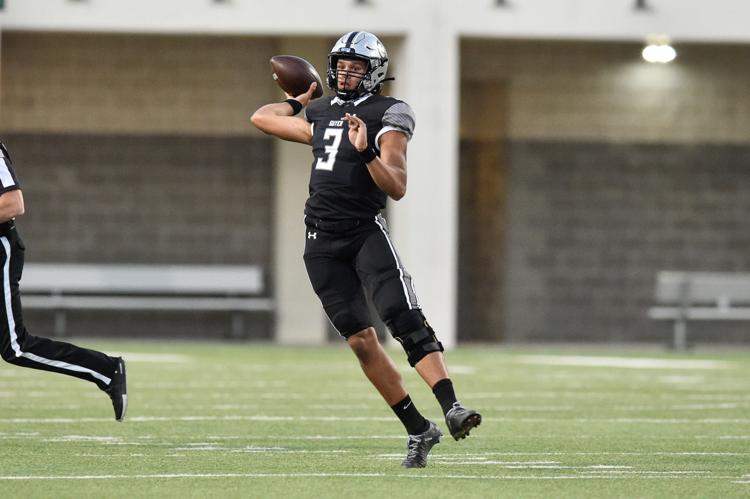 Stowers, who attempted just 10 passes for 39 yards against the Raiders, was 20-for-25 for 289 yards and three touchdowns in the first half alone. The Texas A&M commit also added a 55-yard score on the ground and finished with 303 yards through the air.
And if there was any lingering doubt about just how potent Guyer's offense could be, the Wildcats quickly put those concerns to rest.
"For anybody to question the numbers this offense will generate, just look around," Guyer coach Rodney Webb said. "[Look at] the place I'm coming from [Rockwall] or what Argyle is doing. And everyone is a little bit different. But I'm saying the proof is in the pudding.
"Ultimately, I'll say this. When we get this thing rolling, we're going to score points. There's no question about it. We're going to put up points. And we have in two of the three games this year."
Guyer's defense did the rest, forcing four first-half turnovers by Lake Ridge.
The Eagles fumbled on their ensuing drive after O'Bara's touchdown, and Guyer turned that miscue into a score when BJ Phillips found the end zone from 20 yards out.
"[The defense] played really well tonight," Webb said. "We knocked them off schedule a lot more than we did the first two weeks. We had more tackles for loss tonight and were in the backfield significantly more tonight."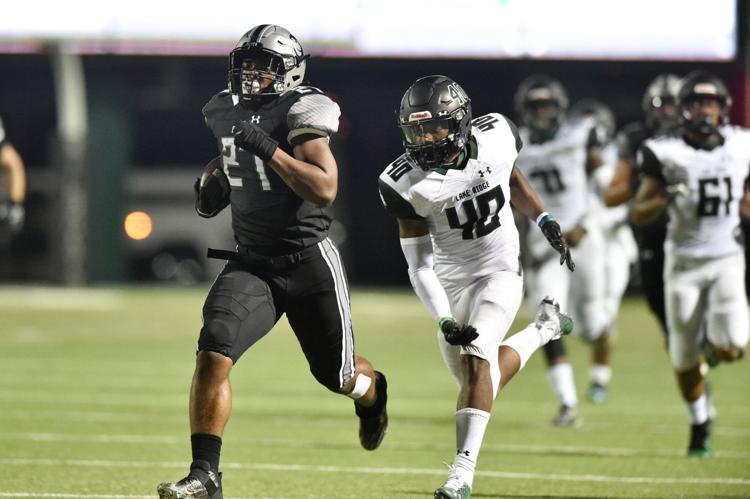 Phillips added a second touchdown in the second quarter to put the Wildcats up 29-7. From there, Stowers found Jace Wilson for two touchdowns, as Guyer built a commanding 43-7 lead it never relinquished.
"Pass protection was much better tonight," Webb said. "It just gave us a lot more opportunities to do things tonight that we didn't necessarily have last week."
The Wildcats improved to 2-1 overall with the victory.
Guyer will travel to take on Southlake Carroll next Friday. Webb announced after the Wildcats' win that the matchup will be broadcast nationally on ESPN2 as the High School Showcase game.
"It's a great opportunity for our kids, our program, our school and our community," Webb said. "Again, it's a nondistrict game, so we don't have the weight of the world on our shoulders on that game. But what an opportunity for exposure. We'll do our best to make the most of that opportunity."
Guyer 56, Mansfield Lake Ridge 20
| | | | | | | |
| --- | --- | --- | --- | --- | --- | --- |
| Mansfield Lake Ridge | 7 | 6 | 0 | 7 | — | 20 |
| Guyer | 21 | 22 | 10 | 3 | — | 56 |
SCORING SUMMARY
DG — Eli Stowers 55 run (Michael Mayfield kick)
LR — Jaylen Holt 2 pass from Wesley Smith (Tyler Rumsey kick)
DG — Grayson O'Bara 39 pass from Eli Stowers (Michael Mayfield kick)
DG — Byron Phillips 20 run (Michael Mayfield kick)
DG — Byron Phillips 7 run (Rowan Briggs run)
DG — Jace Wilson 16 pass from Eli Stowers (Michael Mayfield kick)
DG — Jace Wilson 3 pass from Eli Stowers (Michael Mayfield kick)
LR — Trevor Andrews 4 run (kick failed)
DG — Tiyon Alridge 2 run (Michael Mayfield kick)
DG — Cristian Horne 22 field goal
DG — Michael Mayfield 22 field goal
LR — Logan Chisholm 7 run (Tyler Rumsey kick)
TEAM STATS
| | | |
| --- | --- | --- |
|   | LR | DG |
| First Downs | 19 | 26 |
| Rushing Yards | 45-169 | 32-195 |
| Passing Yards | 153 | 357 |
| Passing | 17-28-0 | 29-36-0 |
| Punts-Avg | 6-27.3 | 1-34 |
| Penalties | 8-78 | 5-45 |
| Fumbles-Lost | 7-5 | 1-1 |
INDIVIDUAL LEADERS
Rushing — LR: Trevor Andrews 19-103, Jaylen Holt 10-13, Ryan Fudge 6-36, Wesley Smith 3--3, London Young 4-8, Logan Chisholm 3-12 DG: Eli Stowers 6-66, Byron Phillips 10-60, Tiyon Alridge 2-8, Jackson Arnold 3-13, Brailynn Pegues 4-26, Ryan Fritcher 6-19
Passing — LR: Trevor Andrews 11-21-0-94, Wesley Smith 6-6-0-59 DG: Eli Stowers 22-27-1-303, Jackson Arnold 7-9-0-54
Receiving — LR: Jaylen Holt 3-8, Matthew Bynum 7-97, Jacob Madu 1-6, London Young 1-1, Coleman Robertson 1-3, Bryce Marcus 1-10, Thomas Hall 2-21 DG: Grayson O'Bara 5-73, Brody Noble 5-51, Jace Wilson 4-31, Byron Phillips 2-80, D'marcus Howard 10-106, Jake Ausec 1-6, Caroline Simpson 1-6