ARLINGTON — With his team leading by 10 in the fourth quarter, Guyer quarterback Eli Stowers prepared for an all-important third down.
A conversion would go a long way in sealing a third-round playoff win — and Stowers knew it. But on the snap, Stowers came under immediate pressure and was wrapped up by an Abilene defender.
The Texas A&M signee spun and fought to stay upright, eventually lofting a pass into tight coverage. Dylan Rivero ultimately hauled in the pass, running 26 yards to pick up the first down and set up a touchdown later in the drive.
"I was rolling out and saw Dylan and Jace [Wilson] standing in the same spot," Stowers said. "It was third down, and I knew I couldn't take a sack.
"We had to get that first down. It was a pretty big first down there, and we ended up going and scoring. I wasn't going let myself go down. I was going to find someone to get the ball to."
The miraculous play by Stowers encapsulated his gargantuan afternoon, as the senior ended with 356 total yards and four touchdowns to lead Guyer (10-2) past Abilene 38-21 in the Class 6A Division II Region I semifinal at Globe Life Park on Saturday.
Stowers accounted for 83.2% of the Wildcats' total yards and four of their five touchdowns.
"He was really good all day," Guyer coach Rodney Webb said. "Last week, Arlington didn't afford us the opportunity based on the scheme they were playing to take as many shots down the field. It was good to get out today and let him kind of sling it a little bit."
The Wildcats' victory sets up a rematch with Prosper in the region final, set for 1 p.m. Saturday at McKinney ISD Stadium.
Guyer edged Prosper 24-23 on Oct. 30, using a walk-off touchdown from Stowers as time expired to come away with the win.
It did not all come easy for the Wildcats against Abilene, though.
Guyer started the game in a quick 7-0 hole after Abilene's Jeshari Houston ran 49 yards to give the Eagles an early lead.
Stowers then threw an interception on the Wildcats' next drive, as a pass intended for D'marcus Howard went off Howard's hands and into the arms of Noah Hatcher.
But from there, it was all Guyer.
Stowers connected with Brody Noble down the seam for a 33-yard touchdown on play action to tie the game at 7-7. The Wildcats then forced a turnover when Ryan Yaites dove and intercepted Houston. That takeaway led to a 1-yard touchdown run from Ty Alridge, which put the Wildcats up 14-7.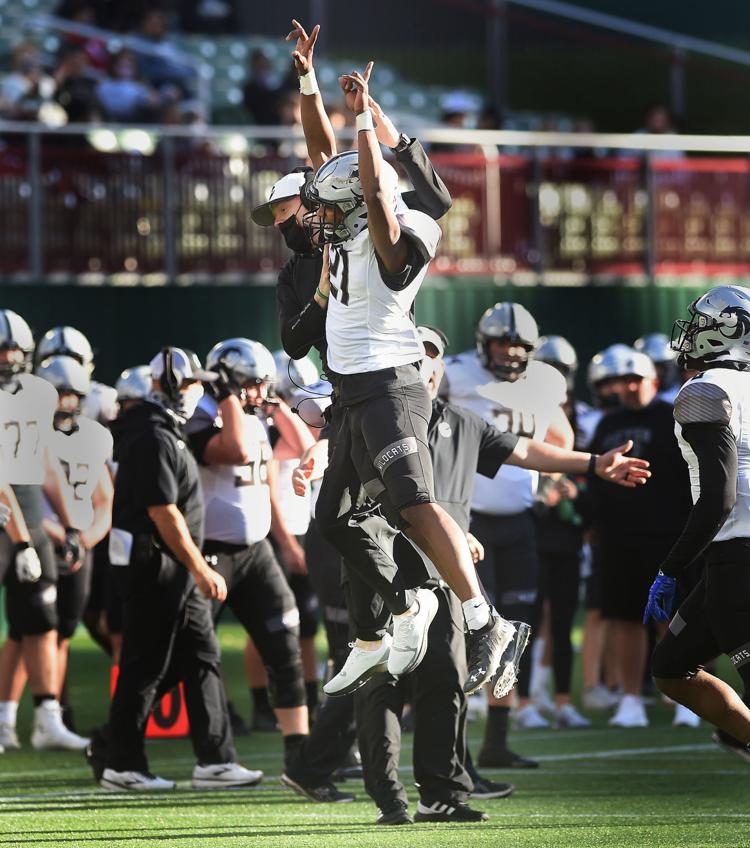 "We knew that they weren't going to give up," Stowers said. "They're a team from West Texas. Some of them come from hard situations. We knew they were going to come out here and fight. We just had to come out here and fight back. I think we did that well today."
Guyer added a 22-yard Michael Mayfield field goal before scoring its final touchdown of the first half. With under a minute left in the second quarter, Stowers hit Jace Wilson in stride for a 38-yard score after Wilson got behind the Abilene secondary.
Wilson tacked on another touchdown in the second half, reeling in a 13-yard score to give Guyer a 31-14 lead. Wilson ended the game with six catches for 83 yards and two touchdowns.
"Jace stepped up big time," Stowers said. "We called Jace's number a lot. He came out here and did a really good job."
Guyer's defense held Abilene to 329 yards and forced two turnovers to secure the win. Both takeaways came via interception, with Jaden Powell coming down with the final interception late in the fourth quarter to send the Wildcats into the region final.
"I'm extremely proud," Webb said. "This is the most resilient group I think I've ever been around. As I told them before the game, there are eight teams left [in 6A Division II]. We're one of eight."