The situation at halftime looked bleak for Guyer on Friday night, to say the least.
Outside of a 41-yard field goal as time expired in the second quarter, the Wildcats had been shut down offensively, while its defense was getting gashed. McKinney Boyd held a 21-3 lead going into the intermission — and nothing was going Guyer's way.
"It was the worst possible scenario," Guyer coach Rodney Webb said. "They got long, sustained scoring drives. We were three-and-out, then we had another where we got a first down and punted. It was a lack of execution."
Those shortcomings led to the Wildcats punting on three of their five first-half drives. Webb challenged his team at halftime to respond, calling on their toughness and determination.
And Guyer answered the bell.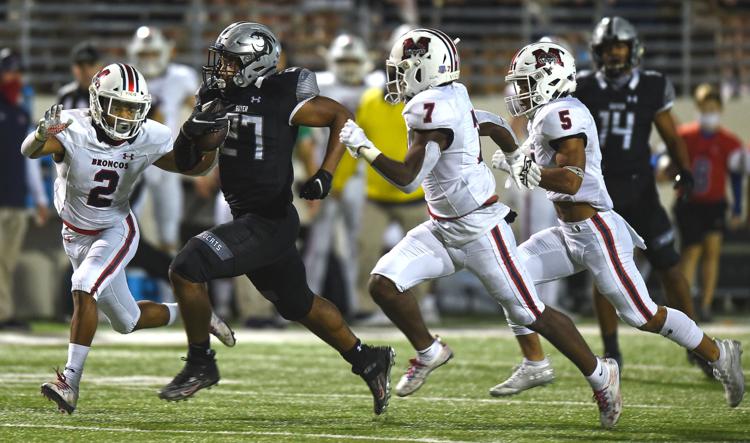 The Wildcats rattled off 33 unanswered points — highlighted by BJ Phillips' go-ahead 42-yard touchdown run late in the fourth quarter — to stun Boyd 33-21 and clinch the No. 1 seed in District 5-6A Division II.
"It's just a great hallmark of a championship team," Webb said. "You're going to get four quarters out of them. They have a never-say-die attitude."
Trailing by 18 to start the second half, Guyer's defense quickly forced a Boyd three-and-out.
The Wildcats promptly marched down the field and scored when Phillips plunged into the end zone for his first of three touchdowns. His 5-yard score cut Boyd's lead to 21-10.
Guyer's defense then made a critical stop on fourth down, and a few minutes later, Phillips narrowed the gap even more with a 1-yard score. The Wildcats added the 2-point conversion to make it 21-18 with 10:51 remaining.
"We learned from last year against Cedar Hill that the game is never over," Phillips said. "We have to do it for each other and love each other. I am very proud. I love each and every one of them. We're a family. We're ready for the long road ahead in the playoffs.
After Rowan Briggs forced a Boyd safety, Phillips gave Guyer the lead for good with his 42-yard run to paydirt. Phillips ended the night with 144 yards and three touchdowns on 18 carries.
But as Webb noted, Phillips' contributions went far beyond the stat sheet. On Eli Stowers' 60-yard touchdown run with 3:06 left, it was Phillips who made the block to spring him free.
"The thing about BJ is he's such an awesome kid," Webb said. "I don't know how much he filled the stat sheet tonight in terms of carries, but he did a great job blocking. [On] the clinching touchdown, his block sprung Eli. He made an impact for us running the ball, catching the ball and certainly blocking."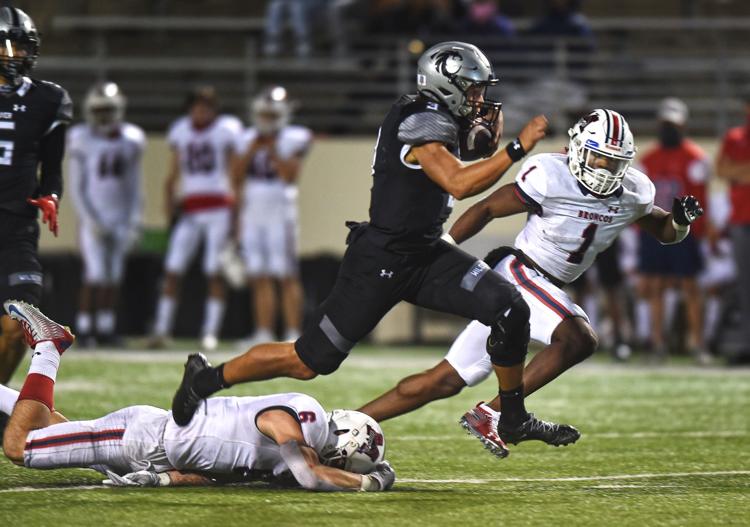 Defensively, Guyer held Boyd to just 278 yards on the night, with 201 of those yards coming in the first half.
The Broncos managed just 77 yards in the second half, as the Wildcats' defense bowed up and rose to the occasion.
"I felt like all the adjustments in the world weren't going to fix our issues in the first half if we didn't play with more toughness and determination," Webb said. "But to their credit, it sunk in. They came out and played a scintillating second half in every phase."
Guyer improved to 6-2 overall and 4-1 in District 5-6A with the victory.
The Wildcats will close out the regular season next Friday on the road against Little Elm.