ALLEN — Coming into Friday night's de facto District 5-6A title game, Guyer knew it would have to play its best game of the season to have a chance against Allen.
The Eagles had not lost a regular season game since 2012 and have never lost at Eagle Stadium.
On the Wildcats' first drive of the game, Guyer quickly marched down to the Allen 3-yard line before settling for a 20-yard field goal.
The Wildcats had a lead, but it didn't last long.
Less than two minutes later, the Eagles got into the end zone, effortlessly moving the ball down field. And it proved to be a sign of things to come.
On the strength of running backs Jordan Johnson and Jaylen Jenkins — who combined for 229 yards and four touchdowns — Allen cruised past Guyer 56-38, extending its regular season winning streak to 80 games.
"Those two [running] backs, we're going to see things on film that we busted," Guyer coach Rodney Webb said. "But with the naked eye in the first half, those two backs they have are electric. For 90% of it, we couldn't get those guys on the ground. That was a challenge for us.
"I tip my hat. They are a very good offensive football team."
After taking a 7-3 lead, Allen rattled off three consecutive one-play touchdown drives to blow the game open.
Jenkins broke free on a 52-yard run up the middle to give the Eagles a 14-3 lead. After a Guyer three-and-out, Allen quarterback General Booty also ran 52 yards untouched up the middle to extend the Eagles' lead.
Guyer answered with a 5-yard touchdown run from BJ Phillips, but Allen scored in one play again, as Johnson ran 82 yards to paydirt.
The Eagles added two more touchdowns to make it 42-17 at halftime.
But Guyer wasn't ready to wave the white flag just yet, scoring 14 straight points to cut Allen's lead to 42-31 early in the third quarter.
"We said the first ingredient to an epic comeback is you have to be behind by a lot," Webb said. "We don't want to be, but they've been there before. This team came back from down 41-14 last year against Cedar Hill. I'm proud of the kids the way they played in the second half. They got it down to 11 in the second half. Then they got a big kick return."
That kick return, which set the Eagles up with tremendous field position, extinguished any hopes for a massive Wildcat rally.
Jake Wolff scored a few plays later to restore Allen's three-possession advantage, and 42-31 was as close as Guyer got.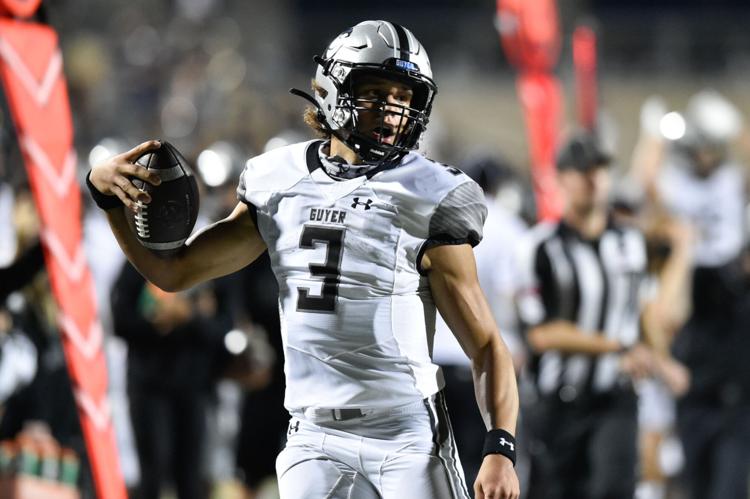 Guyer quarterback Eli Stowers ended the night 27-of-41 for 260 yards and an interception, but added 131 yards and two touchdowns on 25 carries rushing. BJ Phillips ran for 58 yards and three scores on 18 carries.
The Wildcats racked up 515 total yards despite missing their No. 1 wide receiver in Grayson O'Bara, who missed his second straight game due to injury.
"We were consistent moving the ball," Webb said. "And I'm really proud — we're down a couple of starters right now. We're asking some kids and heavily relying on some kids that we haven't had to heavily rely on. I'm proud of the game CJ Rice played and Bryson Riggs. Brody Noble made some great catches tonight. Jace Wilson has had to become the go-to guy on the outside in the absence of Grayson."
Guyer fell to 5-2 overall and 3-1 in District 5-6A with the loss. The Wildcats are now 0-5 all-time against Allen, with the Eagles' latest win all but securing them the district title.
"The whole theme of the week was this was going to be an awesome game with an awesome atmosphere," Webb said. "But in reality, it doesn't mean a lot in terms of, we want to be the No. 1 seed in Class 6A Division II. This game tonight was not going to get us any closer to that had we won. It was not going to get us any further away if we lost. I don't want anyone to feel good about it, but at the same time, we're going to turn the page and move on to McKinney Boyd. We've got all of our goals in front of us still."