Bri Payne got into position on the starting block with the baton in hand.
Guyer was on the verge of claiming the District 5-6A championship, and a strong finish in the final event of the night — the 4x400 relay — would lock up the league title.
The moment was intense, but for Payne, there were even more emotions swirling through her head.
"I was really nervous," Payne admitted. "But we always pray before we run. And when I was on the line, I was like, 'God got me here. After all this, he's made it possible for me to be able to run again.' And with my team, we could win the district championship after not running for two years."
To understand Payne's emotions, you first have to go back nearly three years to the summer of 2018.
Payne injured her right foot playing a summer league basketball game and spent the next year being misdiagnosed. It wasn't until June 2019 that Payne's doctor discovered her navicular bone was fractured, leading to surgery that was supposed to only require three months for recovery.
But shortly after her surgery, Payne suffered a third-degree burn on her foot after using a cold-therapy machine designed to aid with rehab. The burn was so bad, doctors had to apply skin substitutes and meticulously clean the area three times per week for the next six months.
The initial injury and subsequent burn cost Payne her entire sophomore track season. By the time she was finally cleared to return in March 2020, the COVID-19 pandemic forced the UIL to cancel what was supposed to be Payne's junior campaign.
"I think a whole bunch of people would have called it quits," Guyer coach Megan Sprabeary said. "It takes a special, special young lady to endure all of that for two full years. Think about how much you grow from your freshman to your senior year, and the idea she hasn't competed on the track team since her freshman year and is now a senior — that's a huge chunk of time. So, proud — if there's a better word for it, I don't know. It almost seems like an understatement to say I'm proud of her."
Fast forward to last Thursday in Little Elm, and there was Payne on the starting block, in a position to help Guyer win the 5-6A championship.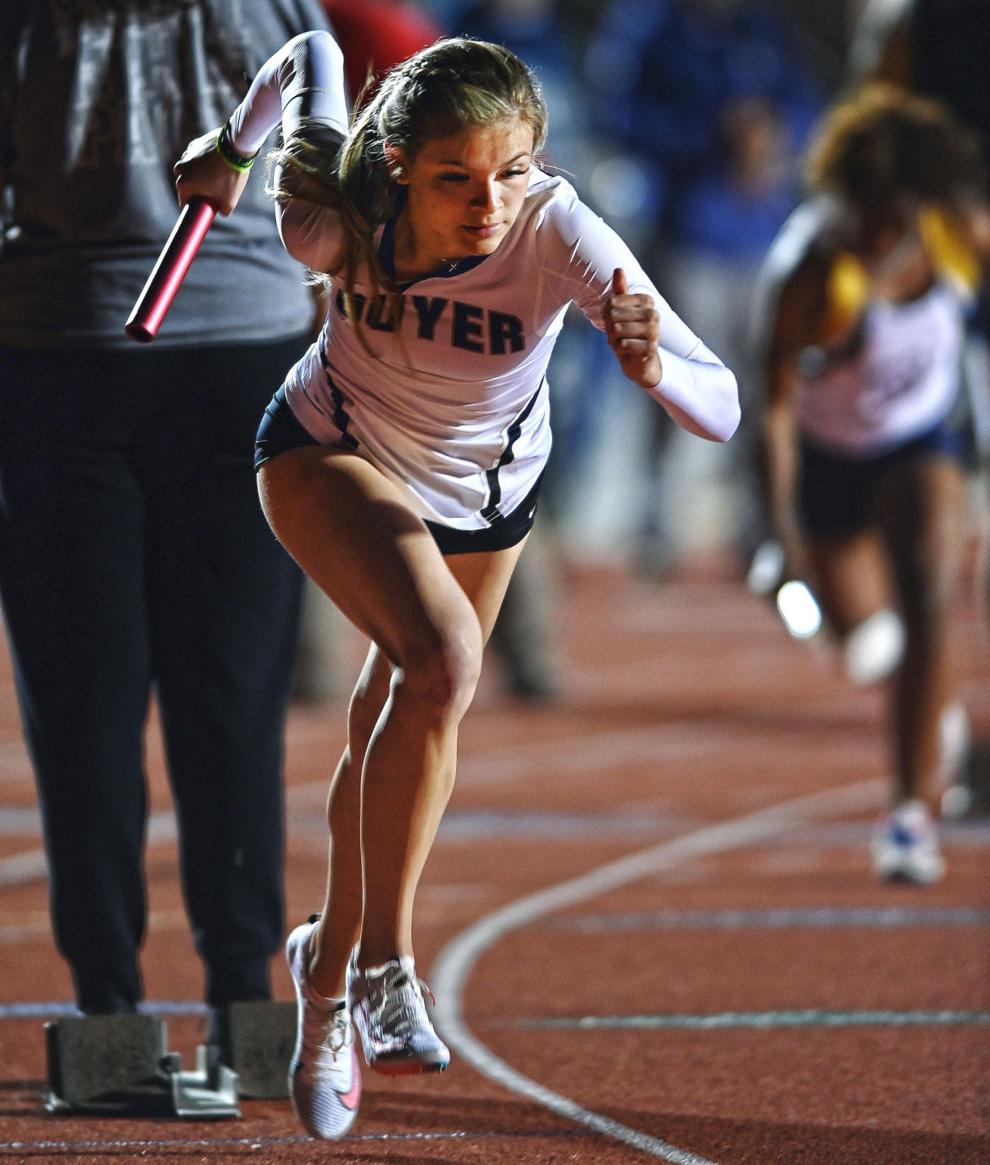 And Payne did just that. The senior helped the Lady Wildcats win the 4x400 title and the overall district championship, as Guyer finished the mile relay in 3:56.27.
Almost three years after Payne first hurt her foot, and despite a bevy of medical mishaps, Payne finally made it back onto the track.
"It was hard," Payne said. "I wanted to give up at times. But I just felt like I needed to redeem myself. I had to run."
Tough break after tough break
Sprabeary said for about a year, there was a running joke that any time they saw Payne, she was in a walking boot.
Payne's initial navicular fracture was misdiagnosed several times as either a sprain or shin splints. Payne eventually started physical therapy, but her pain only increased as her foot got worse.
"My foot would hurt after practice every day," Payne said. "It just kept hurting. I would cry after practice it hurt so bad. I kept doing physical therapy for a few months. Then we went to another doctor, and she said, 'Oh, the navicular bone is fractured.'"
Payne underwent surgery to repair the fracture in June 2019. She was told if everything went well, her recovery would be roughly three months.
But everything did not go well.
Immediately following her surgery, Payne began using a cold-therapy machine. The device, which consists of a gel pad connected to a vessel of circulating cold water, is designed to provide pain relief after surgeries.
Three days after surgery, Payne went back to the doctor with her foot severely discolored.
"[The doctor] said it just looked like a blister," Payne said. "My foot was so red and purple. She tried to pop it. I was supposed to get a cast on it. A week went by, we went back, and [the doctor] was like, 'Yeah, that's a third-degree burn.' We kept icing it because she said it was just a blister."
The burn was so bad, the tendons in Payne's foot were visible.
What started as a procedure with a three-month recovery time quickly turned into a year-long ordeal.
"It kind of was [painful]," Payne said. "The nerves were dead. But I also got a burn on my heel, because they took stem cells from bone there, so that got burned too. My heel hurt more than my foot. The burn was so bad, you could see my tendon. It was horrible."
A ray of sunshine
Payne spent the next six months following her surgery in wound therapy to repair the extensive damage to her foot caused by the third-degree burn.
When she was finally cleared to return in March 2020, Payne only practiced one time with the track team before the season was canceled. She never ran at an official meet.
"I was kind of heartbroken," Payne said. "Freshman year I was on the relay team that went to regionals for the 4x400. I was ready to do track, and I wanted to do it. It felt like I was missing something not being able to run for those two years, and then COVID for last year. Whenever I got released from my foot, we had one practice was in March last year, and then COVID [shut the season down]."
While she was recovering from her injuries and after the season was shut down, Payne did everything she could to be a part of the team. Nothing detoured her.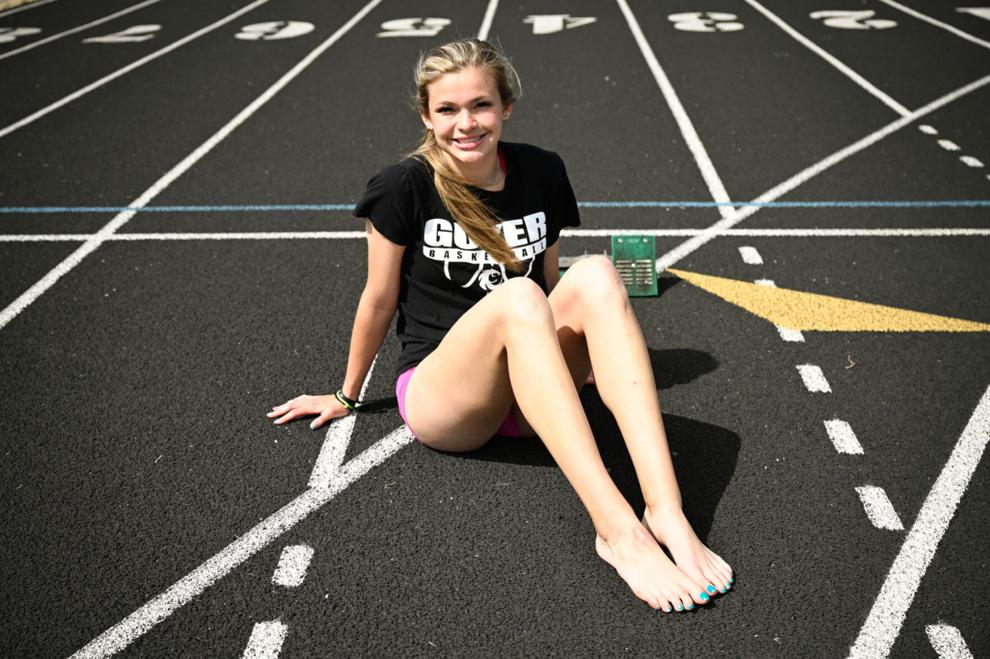 "Anywhere she goes, she's going to make it a better place and a happier place," Sprabeary said. "I've never heard one negative thing come out of her mouth.
"What do you tell a kid that's dealing with that? Keep your head up? At that point, anything seems insensitive. All you can do is just keep loving them up, and hope the love you and the team show them is enough to keep them invested and want to come back and stay positive, and be reminded of why they're still doing this recovery. It kind of gave me chill bumps just thinking about it, because like I said earlier, I think a lot of kids couldn't have done it. They would have just said, 'I'm done. I'm out. I had fun.'"
Guyer senior Mia Thompson, who was on the 4x400 relay with Payne as a freshman and runs the third leg of the mile relay this season, said Payne's dedication to the team is a testament to her character.
"It meant a lot to all of us," Thompson said. "If I was her, I would probably not be out here every day. It would probably break my heart. It's unreal. It's something a lot of athletes honestly wouldn't do. People are out for six weeks, and it hurts, and people could be out for six months, and she was out for two years. She still came back. It's definitely crazy."
For Payne, the question was never if she was going to come back.
It was just a matter of when she would be back.
Payne thanks her family, including her mom, dad, stepdad, brother and friends for supporting her during her journey to get healthy again.
Now, Payne will compete with Guyer's 4x200 and 4x400 relay team at the Class 6A Region I area meet next Thursday and Friday in Coppell.
And, perhaps it is only fitting that Payne will be suiting up and running alongside her team, which she credits for helping get her through the past several years.
"The team is like my family," Payne said. "And the coaches, I'm really close with them, too. Everyone on the team supported me through everything with my foot. They always wanted to see pictures and everything. Talking to them about it made me still want to be part of the team and run whenever I finally could."