Personal water bottles were scattered across Guyer's practice soccer field on Tuesday morning, as were a limited number of its football players.
No one stood closer than six feet from each other, and if players started to get too close, coaches shouted gentle reminders to stay spread out.
For the second day under the UIL's new COVID-19 guidelines, Guyer — along with nine other Denton-area teams — held organized workouts for the first time since mid-March.
The summer strength and conditioning marked the first step in what will be a cautious and meticulous road back to high school athletics returning.
"So far, everything is going smoothly. Coach [Kyle] Keese had a really good plan for us," said Guyer starting quarterback Eli Stowers, a Texas A&M commit. "We didn't go to school for two months straight and I barely got to see anybody. We didn't get to play much ball, and I wasn't even able to throw at the beginning of quarantine just because I was on my knee injury. Just to be able to come back out here and throw with my boys and work out feels great."
Guyer had around 220 athletes participate in the workouts on Monday, with coaches splitting them into several groups over various time slots to accommodate social distancing.
On Tuesday morning, players lined up in rows of roughly six players spaced out every five yards to run 25-yard sprints. At no point did players come into contact with one another during drills.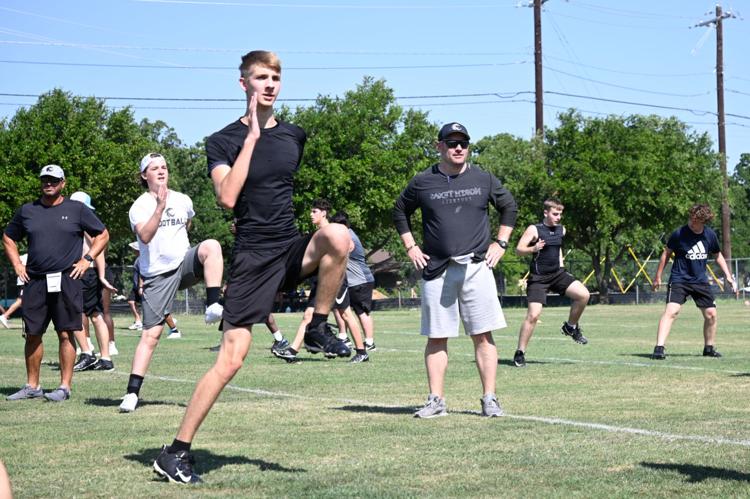 "It was tremendous and really smooth," Guyer coach Rodney Webb said. "They were very compliant. We've given them a lot of heads-up about following rules and the guidelines in place. We had no issues at all."
At Denton, coaches conducted touchless temperature checks while athletes were still in their cars. Coaches then asked players if they had experienced any COVID-19 symptoms.
Once players were cleared, they proceeded to the main gate at Bronco Field and were checked in.
"I felt like it went a whole lot more smoothly than we anticipated," Denton coach Billy Miller said of the first two days. "When you've got good kids and people around you, things like that tend not to overwhelm you. Being here in Denton ISD, it's a great place with great leadership across the board. And that makes it easy for us to get in and get the job done."
For the past three months, locker rooms across the state have been shuttered as schools remained closed due to the COVID-19 pandemic.
While the workouts are far from what coaches and players are used to, many are just ecstatic to be back together again.
"Coming back out here feels amazing," Denton senior defensive end JJ Mangel said. "I'm not used to the heat anymore; my legs are sore from yesterday and running was harder. But it's good to be back."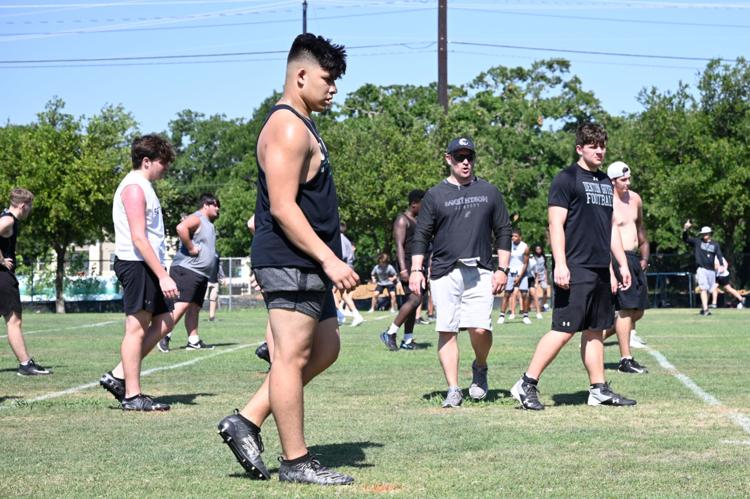 Braswell coach Cody Moore held a Zoom meeting with parents prior to the workouts starting in order to explain the new restrictions in place.
The UIL listed 12 different requirements for schools to hold workouts, including a 20-1 player-to-coach ratio, handwashing stations and no shared food or water.
"They understand all of this is necessary to get to where we want to be," Moore said. "It's still important we're doing these things, because the virus is still an issue. We need to make sure we're taking the necessary protocols to limit it.
"I'm really happy logistically with how it went. I thought we had a good, organized plan. The kids deserve a lot of credit for being really compliant with what the guidelines are."
For Webb, Monday was the first time for him to personally see a majority of his players because he was hired in the middle of the coronavirus shutdown.
While Webb still wasn't able to interact with them as closely as he would like, simply seeing his team was enough to bring a smile to his face.
"It was so awesome," Webb said. "It's a bunch of kids I only know through Zoom. I've only seen them on a computer screen, Twitter video or their Hudl highlights. Now, I'm able to see them in person and get to know them. It was awfully rewarding for me to get to be out there with them."