Multiple athletes from across the Denton area inked letters of intent on Wednesday morning, the first day of the early signing period.
At Guyer alone, 14 athletes made their commitment to their colleges official. Brynn Brown, who won the Class 6A Region I cross country title on Tuesday, signed her letter of intent to attend North Carolina.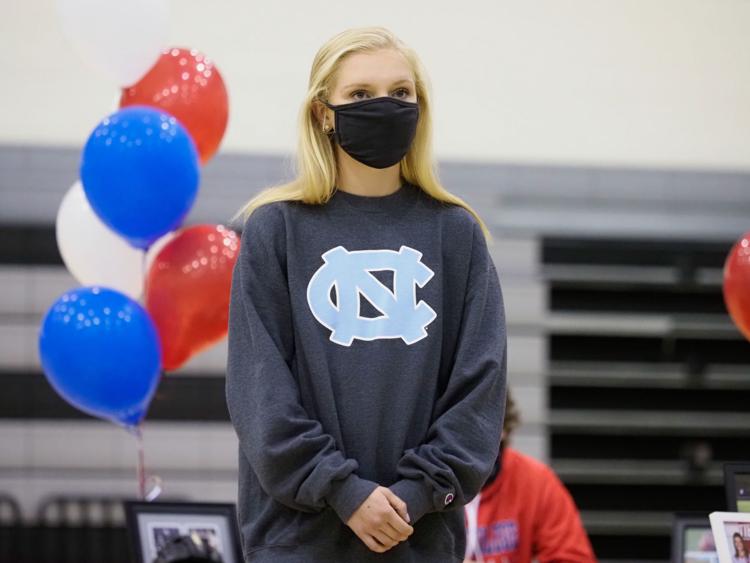 Brown also won the District 5-6A title on Oct. 30 and is the unquestioned favorite to claim the 6A championship later this month.
In volleyball, the Lady Wildcats had Jordyn Williams, Brooke Slusser and Joley Fritsch sign letters.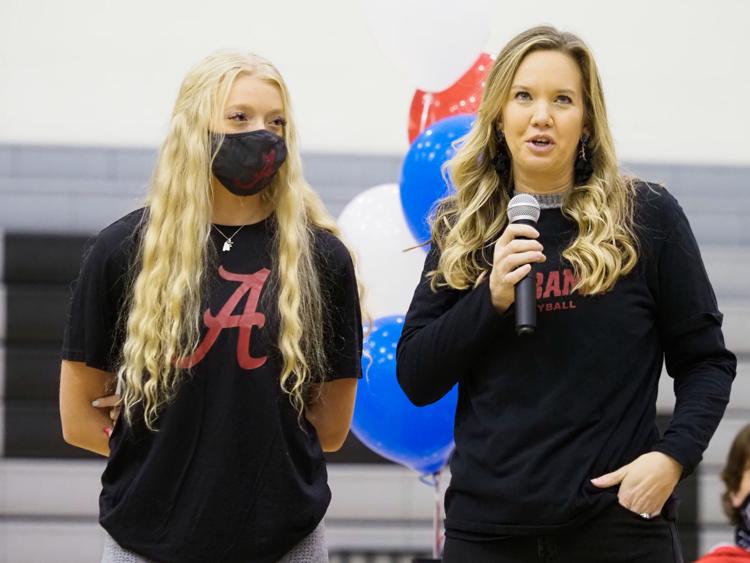 Brooke Slusser, meanwhile, signed with Alabama. Guyer's setter was the Denton Record-Chronicle's All-Area MVP as a junior last season.
Fritsch signed with Georgetown College.
In girls basketball, Evie Goetz, Bella Earle and Eryka Patton inked their letters of intent. Patton signed with Henderson State.
Goetz, a TCU signee, averaged 15.1 points and 5.3 rebounds per game last year. Earle, an Abilene Christian signee, led Guyer in scoring at 15.4 points per game last year en route to earning District 5-6A MVP honors.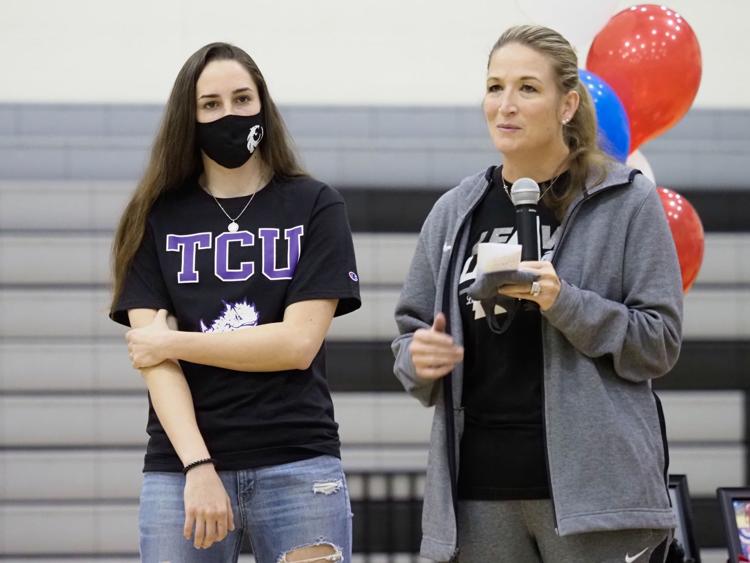 Both Goetz and Earle were named to the 2019-20 Class 6A all-state team.
On Guyer's girls soccer team, Hailey Lander and Gabi Placke signed with the University of Louisiana. Marina Vera signed with UNT.
The Wildcats' baseball team had four college signees.
Garrison Brandt signed with Northern Oklahoma College Tonkawa. Breck Carver signed with Hill Junior College, while Parker Loser signed with Grayson Junior College. Jackson Whitby signed with Oklahoma Wesleyan.
In addition to the 14 Guyer athletes who signed on Wednesday, Denton had two athletes ink letters, while Argyle had five and Aubrey three.
While Denton was unable to conduct a formal ceremony due to its volleyball team being in quarantine, Taylor Thomas and Leah Stolfus were slated to sign with their respective colleges, Liberty and Texas A&M-Corpus Christi.
Both Thomas and Stolfus are key pieces of Denton's team that is 14-1 overall this year and the No. 6-ranked team in Class 5A.
At Argyle, Tyler Abrego signed with Incarnate Word in baseball. Sydney Standifer inked with Clemson in girls basketball.
Caleb Murdock and Regan Ruffner both inked with Texas A&M in track and field.
MacKenzie McCormick signed with Furman in lacrosse.
Three Aubrey athletes rounded out Denton-area signees on Wednesday.
Kaelyn Cash signed with Concordia University in softball. Garrett Graef signed with Lyon College in baseball.
Jaxon Holder inked with Dallas Baptist in baseball, but is still plenty busy with football. The Chaparrals' quarterback led Aubrey to a 9-1 record this season, helping claim the first district title in school history.
Aubrey will play Mineral Wells in the Class 4A Division II Region I bi-district round of the playoffs on Thursday night.
In total, the Denton area sent 24 athletes to the next level. Below is the complete list.
Guyer High School
Cross country/track: Brynn Brown, University of North Carolina
Volleyball: Brooke Slusser, University of Alabama
Volleyball: Jordyn Williams, University of Kentucky
Volleyball: Joley Fritsch, Georgetown College
Girls basketball: Bella Earle, Abilene Christian University
Girls basketball: Evie Goetz, Texas Christian University
Girls basketball: Eryka Patton, Henderson State University
Girls soccer: Marina Vera, University of North Texas
Girls soccer: Hailey Lander, University of Louisiana
Girls soccer: Gabi Placke, University of Louisiana
Baseball: Garrison Brandt, Northern Oklahoma College Tonkawa
Baseball: Breck Carver, Hill JC
Baseball: Parker Loser, Grayson JC
Baseball: Jackson Whitby, Oklahoma Wesleyan
Denton High School
Volleyball: Taylor Thomas, Liberty University
Volleyball: Leah Stolfus, Texas A&M-Corpus Christi
Argyle High School
Baseball: Tyler Abrego, Incarnate Word
Girls basketball: Sydney Standifer, Clemson
Track and field: Caleb Murdock, Texas A&M
Track and field: Regan Ruffner, Texas A&M
Lacrosse: MacKenzie McCormick, Furman
Aubrey High School
Baseball: Jaxon Holder, Dallas Baptist
Baseball: Garret Graef, Lyon College
Softball: Kaelyn Cash, Concordia University