There has been no mistaking that the Denton Broncos have shown signs of being a better football squad than they were last season. Coach Billy Miller said as much earlier this week before the Broncos' meeting with Frisco Reedy.
Unfortunately, there wasn't much Denton could hang its hat on Thursday night in a 63-0 loss to the Lions at C.H. Collins Athletic Complex. In Miller's words, it was fitting that the Denton High marching band played a certain Michael Jackson song to end the game.
"Not what we were looking for and not what we expected to happen," Miller said. "Almost appropriate the last thing they're playing is 'Thriller' right there at the last ticks of the clock. Not anywhere close to what we thought was going to happen tonight."
The Broncos never found their footing during the game, recording just three first downs and 34 total yards of offense. Coco Brown picked up just 38 yards on the ground, while Colton Adler had only 22 passing yards and two turnovers including a pick-six.
"You need to be able to sustain and drive to be able to get those 3- and 4-yard gains that'll make things happen," Miller said. "When we're going in the wrong direction, it makes it a little bit tougher sledding in there for Coco when the rest of it's not really clicking.
"We had some things that we could have benefited from and weren't able to take advantage of it because we didn't really find a rhythm."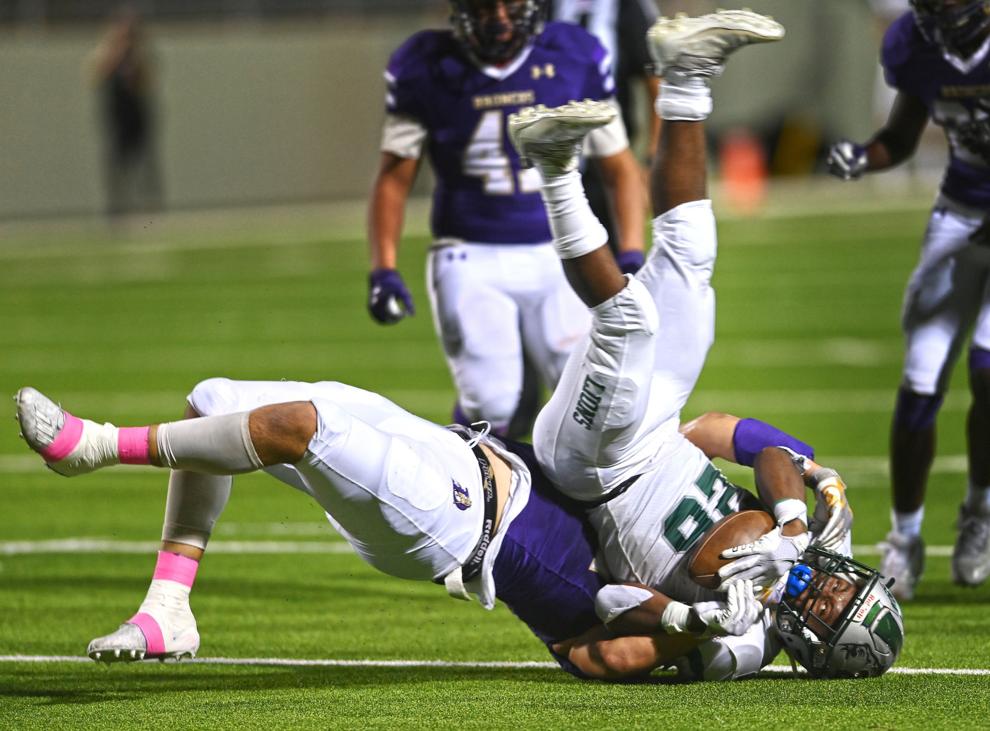 It was a much different-looking game on the opposite side of the field, as Reedy scored on each of its first four drives of the game and recorded nine touchdowns on the night.
That included a 94-yard drive in the first quarter that had the Lions start at their own 6-yard line thanks to a 63-yard punt by Denton's Bryce Ashbaugh.
But it was the first of Aaron Daniels' two touchdown runs that helped Reedy get comfortable early to end that marvelous drive.
Daniels was the driving force behind the Reedy offensive attack especially in the first half, scampering to 161 yards overall and helping push the Lions to a 28-0 lead at the half. Overall, the Lions racked up 438 total yards of offense and 291 on the ground
Things continued to get worse for the Broncos to begin the second half as they muffed the opening kickoff and gave it right to Reedy inside the 10-yard line. It was the second half when Reedy quarterback A.J. Padgett really hit his stride, passing for four touchdowns and 147 yards. A.J. Jayroe, Erik Barr and Devin Hardy all found the end zone for the Lions.
Of course, Denton was eliminated from playoff contention with Thursday's loss being their fifth district loss and seventh overall.
Miller has remained steadfast in his message to his team about the growth they have made this season. However, that doesn't make a shutout loss sting any less.
"As far as these kids, they are strong, tough and resilient right now," Miller said. "And I love them to death. There are so many good things I can say about these kids, and it just breaks my heart to have to see scores go down like that, and then some of the injuries that we endured.
"It's tough when you have to deal with everything like that."