LITTLE ELM — For the first three quarters on Tuesday night, Braswell was in full control.
The Lady Bengals led for the entire first half before taking a 32-28 lead into the final frame. But as the game came down the stretch, Braswell struggled at the free-throw line and with rebounding.
And Allen took advantage.
With 1:46 remaining, the Lady Bengals missed the front end of a one-and-one and then fouled on the rebound. The result gave the Lady Eagles free throws at the other end, which they converted to take a two-point lead.
Ultimately, it was that sequence that proved to be the difference, as Allen escaped with a 41-37 win to deny Braswell a pivotal District 5-6A victory.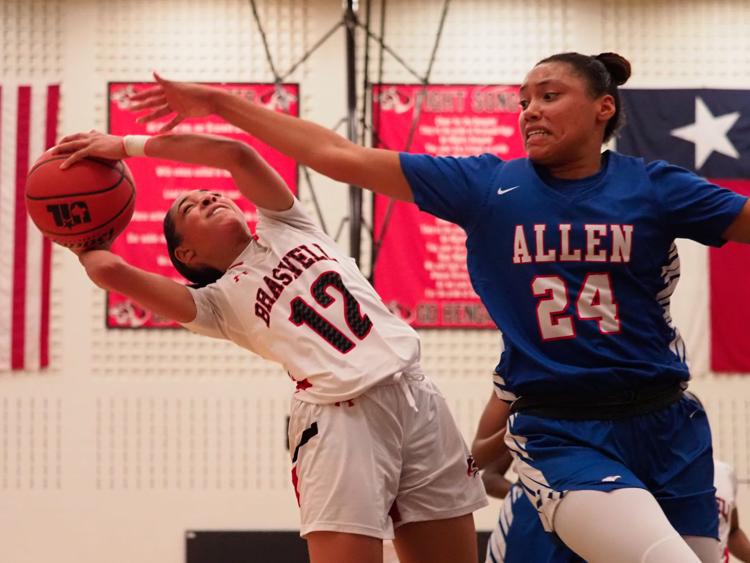 "I'm not going to say we let one slip away, but I will say that was a game for learning and growth," Braswell coach Lisa Williams said. "We were missing the front end of our one-and-ones, and they were coming back down and making their free throws. That was the difference."
The Lady Bengals' defense gave Braswell an opportunity in a game where offense was hard to come by.
Braswell led 6-4 after the first quarter and held Allen to just 14 points in the first half. The Lady Bengals forced several turnovers, wreaking havoc on the Lady Eagles' offense.
"That was the game plan," Williams said. "Make them uncomfortable, get up and play some good, pressure defense. We played the passing lanes and made sure we had help on the back side, and we crashed the boards."
With points at a premium, junior Alisa Williams was Braswell's primary source of offense.
The TCU commit finished with a team-high 19 points, knocking down two 3-pointers in the first half. She also helped get her teammates involved, dishing out a handful of assists.
One of those assists came in the fourth quarter, when Alisa Williams drove and kicked to Jazmyne Jackson, who buried a corner 3-pointer.
"The thing is, not only does she study film, but she knows tendencies," coach Williams said. "She knows if she has a mismatch where she needs to be on the court. We watch those things, too. But a lot of times she will come and say, 'I need to be on the block, or I need to be outside.' She pretty much orchestrates that."
The loss dropped the Lady Bengals to 7-4 overall and 4-2 in district play. Braswell will be back in action on Friday night against McKinney Boyd to start the second half of 5-6A play.
"We just have to go back and look at the things we didn't do well," Williams said. "But also, [we have to] look at the things we did do well and capitalize on those things."