It's Thursday, the day before the biggest rivalry game in the Denton area between Ryan and Guyer. And there's an interesting video making the rounds.
You can thank Guyer safety Marquan Pope for that. And in many ways, you can also thank former Ryan star and now Texas Longhorn Ja'Tavion Sanders.
Sanders is the one who stoked the flames for this year's game when he was seen on video shouting, "This is our city!" as the Raiders wrapped up their 23-20 win over Guyer last October.
Sanders' celebratory outburst prompted a tweet from Pope early Monday morning, simply captioned "This city is ours time to take it back this week," with the video of aforementioned video of Sanders.
By Monday afternoon, Pope's tweet was plastered on several TVs in the Ryan fieldhouse.
That night, Guyer edge Vincent Paige tweeted the same video with a similar caption as Pope.
"I'm pumped up," Pope said after practice on Tuesday. "This is a rivalry. And last year, they got us — barely. This year, we feel like we need to put them in the dirt."
The Wildcats clearly haven't forgotten what happened last year.
And Ryan still thinks this is their city.
The Battle for Denton is upon us.
"It's very big for everyone around here," Ryan defensive end Michael Gee said. "Denton Ryan and Denton Guyer are the top two around here. Winning is very important. They're talking a lot of smack. They think they're going to beat us, so it's important. Knock on wood, they are very good. But I like our chances."
While there is no denying the players are amped for Friday's crosstown showdown, Guyer coach Rodney Webb and Ryan coach Dave Henigan have been trying their best to temper that excitement.
After all, it's just a nondistrict game. Playoff lives aren't at stake. Both coaches want to win, but they are also keeping their end goals in mind.
"I think rivalry games are fun," Webb said. "It's a fun week, and the game ought to be fun. It's kids that know each other. It's parents that know each other. They work together and go to church together, and in some cases, they went to school together. I would just add the caveat of you have to take it all with a grain of salt.
"At the end of the day, and I sound like a broken record on this I know, but it's a nondistrict football game that is not going to get either team any further or closer to their goals than any other game. It cannot be a defining moment for either team, win or lose."
Try telling that to the players and the community, who will undoubtedly pack C.H. Collins Athletic Complex for the ninth meeting between the bitter rivals.
"It's two great teams that have big aspirations, and so it's a big game for sure," Henigan said. "But you also have to keep it in perspective. It's a nondistrict game. Do we want to win? Absolutely. Does it have anything to do with the goals for our season? Not necessarily. That being said, it's a big game. It's going to be a great crowd and a deep playoff test again. We have an immense amount of respect on our end for their program, how they play, and how they coach. It's a testament to Denton ISD, so it should be a great environment."
'South side is the only side'
Guyer came up short in last year's meeting against Ryan, and a main reason why was the Wildcats' inability to handle the Raiders' pressure up front.
Former quarterback Eli Stowers was under constant duress, forcing Guyer to rely heavily on the ground game.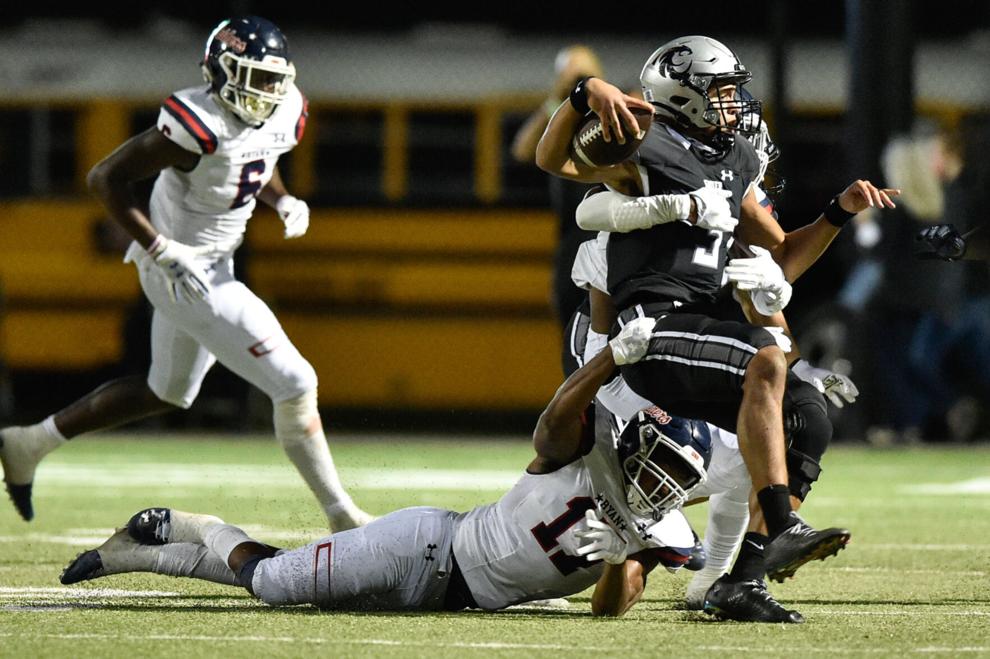 The Raiders again present a challenge defensively heading into Friday's game, especially up front with Gee, Mason Davis (Army) and MarQuice Hill II, to name a few. There's highly touted junior linebacker Anthony Hill Jr., who was all over the field in last year's meeting.
"You better have a plan for blocking those guys up front," Webb said. "If you don't, they're going to make you look bad. It's going to be a tremendous challenge for us up front. There's no doubt about it. We have to block them better than we did last year."
Fortunately for Guyer, the Wildcats looked infinitely more comfortable and in sync in their season opener last week against Hebron than at any point last year.
For the past three years, I have been fortunate enough to watch some incredible football on …
In quarterback Jackson Arnold's first career start, the junior orchestrated Guyer's offense to near perfection. Arnold went 16-for-27 for 167 yards and a touchdown, while adding 58 yards and another score on the ground.
He will have a much bigger test this week against a suffocating Ryan defense, but Arnold looked every bit up to the challenge.
"I was just impressed with his demeanor during the [Hebron] game," Webb said. "He never got rattled. It was never too fast for him. He saw a lot. His arrow is pointing up. He's going to continue to improve, but his best football is still ahead of him."
Defensively, Guyer looked the part of a top-tier Class 6A defense last week, holding Hebron to just 12 yards in the first half.
The Wildcats forced three turnovers and scored a defensive touchdown, which was created by North Texas commit Vincent Paige's sack and forced fumble that was returned for a score.
Pope is also a big part of Guyer's defense, and he is ready for redemption after coming up short against Ryan last year.
"It for sure stuck with me," said Pope of last year's loss. "That puts them what, 5-3 [overall] against us? When in reality, we didn't play to the best of our abilities. We really should have blown them out. This year, we're coming with a different level of attitude and nastiness, at least defensively.
"South side is the only side right now."
'I'm pumped. I can't wait.'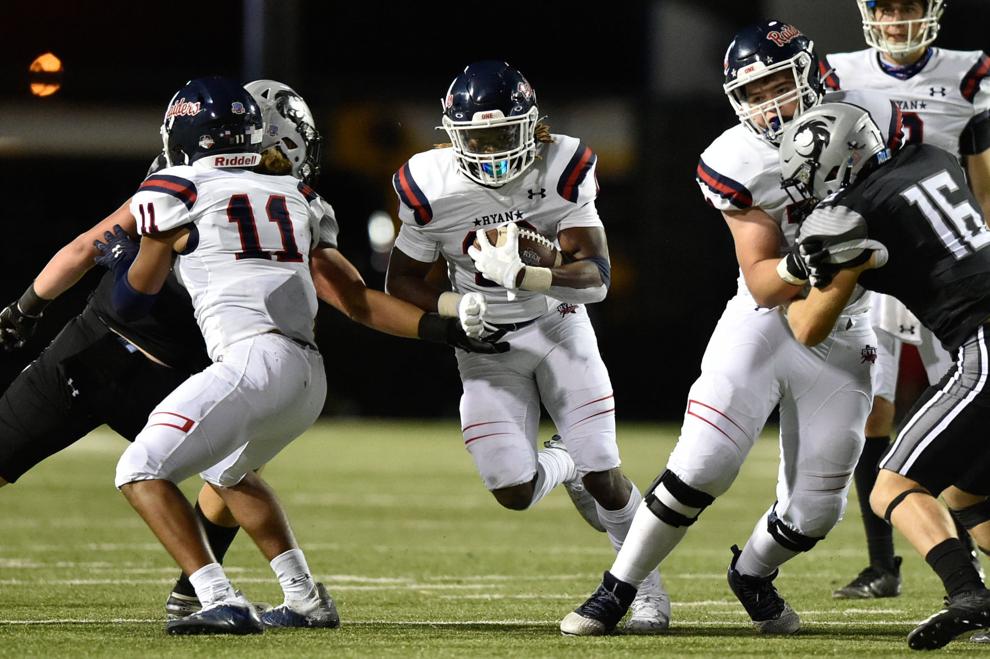 Ryan believes it has enough guys back to win this game, especially on defense.
Fans and media alike can't help but point to what Ryan lost to graduation, including guys like Sanders, a game-changer on both sides of the ball. But the truth of the matter is that Sanders didn't play a ton of defense last year, especially as the season went along. The coaching staff saved him for offense.
They could afford to do that because of athletes like Gee, who stepped in at Sanders' defensive end spot and practically became unblockable. Not to be outdone, Davis led the team in sacks a year ago with nine, and Anthony Hill Jr. led them in tackles with 105.
All three highlight a Ryan defense that is out to prove it is just as suffocating, if not more so, than last year.
In 2015, I was gearing up for what was going to be my third Ryan-Guyer game as a distinguish…
"I'm pumped. I can't wait," Gee said. "I'm going to come out here in practice and work hard to get ready. But I can't wait. It's a big game."
Perhaps the biggest challenge for Guyer is limiting turnovers, something that Ryan is one of the best at creating — and scoring on.
The Raiders enter Friday's game against Guyer having beaten No. 5 Longview handily. The Lobos managed just 45 yards in the second half and turned the ball over three times. Ryan scored on a blocked punt by Gee and a 50-yard interception return by Garyreon Robinson. Ryan also forced a goal-line fumble that resulted in a touchback.
They're also riding a 60-game regular-season winning streak — with the Raiders' last loss coming against none other than Guyer in 2014.
As a result, Ryan will never take the Wildcats for granted.
"They are big up front, and all three receivers and running back are back," Henigan said. "A couple of them are three-year starters. And the quarterback is a difference-maker. I don't see many weaknesses, so it presents a big challenge for us, for sure."
Offensively, Ryan plans to be significantly more balanced than it was last week, when the Raiders piled up 240 of their 324 total yards on the ground with Kalib Hicks, Anthony Hill and Robinson. But most of that was dictated on how Longview defended them. Simply put, they didn't have to throw the ball.
With the run game having already put defenses on notice, quarterback Khalon Davis — who, like Arnold, is making only his second varsity start — will be relied on to keep Guyer's defense honest. He threw for just 84 yards last week, but Ryan coaches are high on their new dual-threat signal caller.
Davis also has plenty of weapons to work with thanks to Michael Davis (Army), Antonio Thomas, Jordyn Bailey, and Austin Jordan (Texas).
Ryan doesn't lack explosive options on either side of the ball, and in typical fashion, the Raiders are only concerned about one thing.
"We have to go out there and worry about us," Henigan said.