With basketball season in full swing, eight Denton-area teams are gaining recognition across the state in the latest Texas Association of Basketball Coaches poll.
In Class 6A, the Guyer boys and girls are both ranked in the top 25.
The Wildcats checked in at No. 22 on the boys side, sporting a 14-4 record. Guyer won its District 5-6A opener last Friday against Keller Timber Creek and hosts Keller on Tuesday night.
The Lady Wildcats, meanwhile, are a perfect 3-0 in 5-6A play and 19-4 overall. They also will play host to Keller on Tuesday night in a battle of two top-20 teams. The Lady Indians are No. 18 in 6A.
Elsewhere across the area, the Argyle boys and girls are both ranked.
The Lady Eagles, who have won five consecutive state championships, checked in at No. 2 in Class 4A.
Argyle is 19-5 overall and has not lost to a team in its own classification this year. The Lady Eagles boast an average margin of victory of 13.04 points and open District 8-4A play at home on Friday against Bridgeport.
On the boys side, Argyle is No. 9 in 4A at 19-1. The Eagles' lone loss of the season came by one point, a 42-41 defeat at the hands of Seminole in the Whataburger Tournament.
Also in 4A, the Krum Bobcats are No. 20 with a 15-6 mark in head coach Doug Boxell's second year at the helm.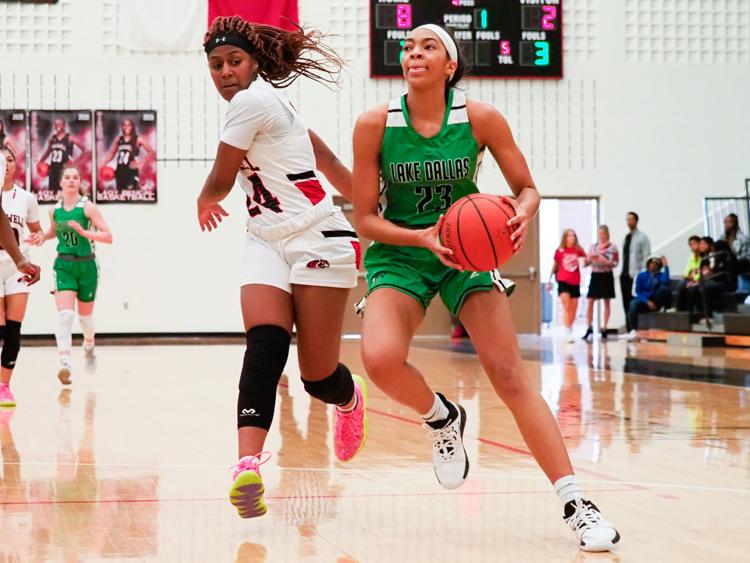 In Class 5A, the Braswell Lady Bengals and Lake Dallas Lady Falcons are both ranked. Braswell is No. 10 with a 17-4 record. Lake Dallas is No. 24 at 15-4. The Lady Bengals beat the Lady Falcons 49-35 last Friday.
The Ponder Lady Lions rounded out local teams ranked in the TABC poll. Ponder is No. 13 in Class 3A with a 14-10 record. The Lady Lions' head coach, Jimmy Avery, won his 800th career game on Dec. 27 against Dodd City.
Texas Association of Basketball Coaches State Poll
3. South Grand Prairie (16-4)
6. Killeen Ellison (20-4)
7. Austin Westlake (20-1)
10. Beaumont United (18-2)
4. Sulphur Springs (16-6)
10. Burleson Centennial (17-4)
13. Frisco Memorial (15-5)
16. South Oak Cliff (14-5)
18. Frisco Independence (15-4)
22. Brownsville Veterans Memorial (15-2)
16. Waxahachie Life (16-8)
17. Fredericksburg (21-0)
5. Arlington Martin (23-4)
6. South Grand Prairie (23-2)
14. Austin Westlake (18-6)
20. Smithson Valley (17-3)
21. Harker Heights (21-5)
22. Beaumont United (18-4)
24. Schertz Clemens (17-7)
25. Austin Lake Travis (16-8)
4. Corpus Christi Carroll (22-4)
5. Fort Bend Hightower (21-4)
7. Boerne Champion (19-4)
11. CC Veterans Memorial (20-6)
12. Wichita Falls Rider (21-1)
13. McKinney North (12-6)
15. SA Veterans Memorial (17-7)
16. Kerrville Tivy (19-4)
18. College Station (18-5)
21. Brownsville Veterans (20-5)
22. Frisco Liberty (10-9)
23. Lubbock Monterey (22-3)
25. El Paso Eastwood (17-3)
3. Hardin-Jefferson (17-8)
23. Midlothian Heritage (16-10)
24. Pleasant Grove (14-3)
2. Mt Pleasant Chapel Hill (19-2)