Aubrey coach Keith Ivy left Monday's morning practice feeling really good about what he saw from the Chaparrals. In fact, he went so far as to tell his wife that it might have been one of their better sessions so far this season. Meanwhile, and just 15 miles up the road, Sanger coach Rocky Smart came away from his practice with similar good vibes.
It'd be crazy to think Friday's District 4-4A Division II showdown didn't have something to do with those great workouts.
For only the second time since 2013, Aubrey and Sanger will square off in an early battle for district supremacy at 7:30 p.m. at Chaparral Stadium. Aubrey (6-1, 0-1 district) is coming off its first loss of the season last week at Celina while Sanger (4-2, 0-0) has been itching to get past its bye week and hit someone else for a change.
"We're playing one of the best teams in the area. That's always exciting," Smart said. "Hopefully, we can come out quick on Friday and get after them. It's an exciting time of year. Everything you've done up to this point is to prepare for district."
Ivy agreed. His team is still off to its best start since 2009 despite last week's loss.
"The kids are excited to get back out there, get the bad taste out of their mouth, and work on Sanger," Ivy said. "We haven't lost a home game in two years, and I reminded them of that. This is big for us."
Both teams are loaded with top-tier talent. For Aubrey, it's a pick-your-poison scenario with a stable of running backs led by the duo of Braylon Colgrove and Martavious Hill. Colgrove rushed for 149 rushing yards and two 62-yard touchdown runs last week. He is only 68 yards shy of reaching 1,000 yards for the season and has scored 14 touchdowns. Hill, who was limited last week with an injury, comes into the game against the Indians with 503 rushing yards and nine scores.
Hill, who also starts at middle linebacker, leads a defense that is only giving up 18.3 points per game.
That brand of hard-nosed football didn't play out too well last year for Sanger, which lost to Aubrey 48-25.
"We were able to get to them last year, and we hope we can do it this year, too," Ivy said.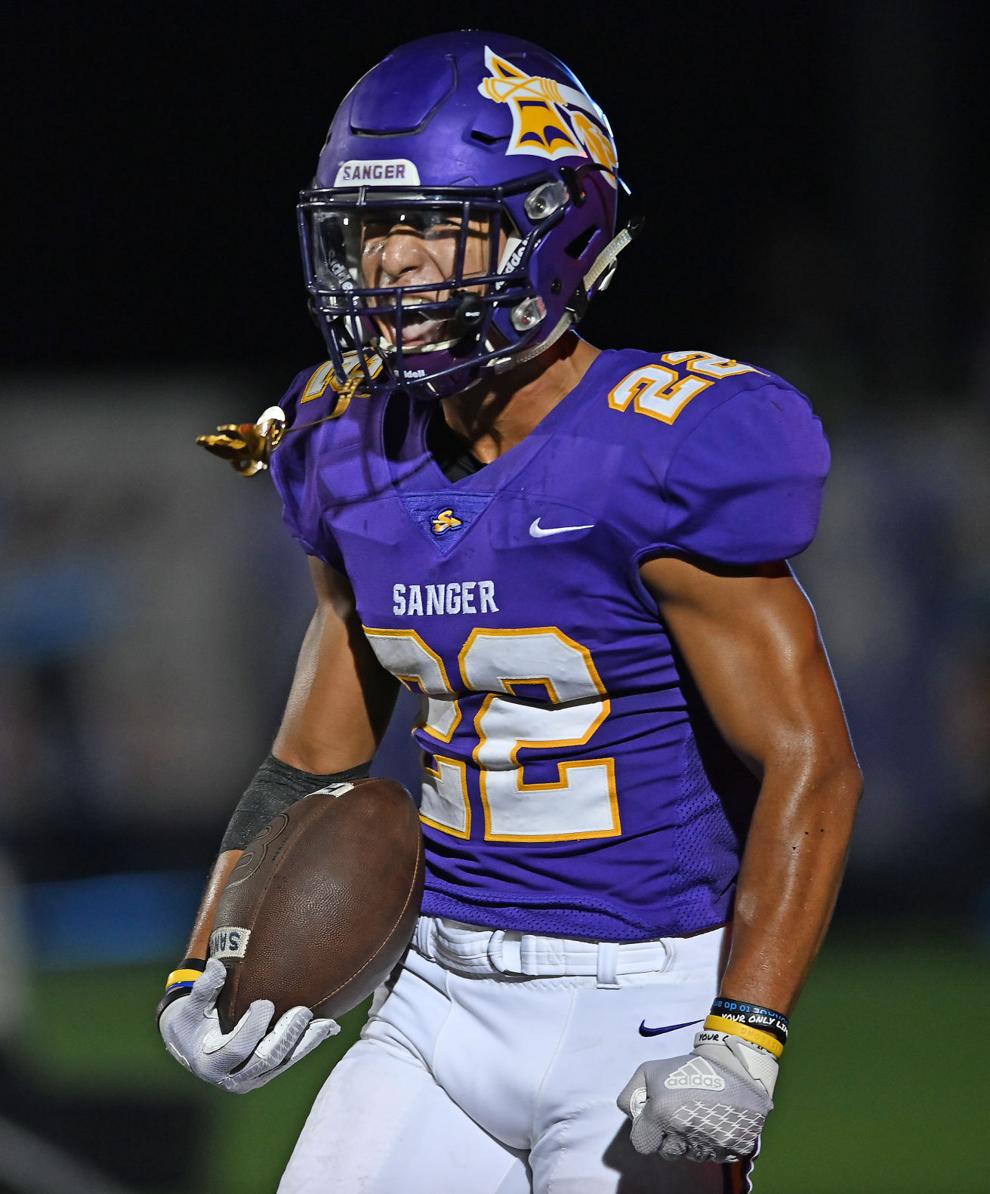 That will be a tall task. The Indians are seemingly throwing the ball around at will this year and come into Friday averaging 511 yards and 49 points per game. Quarterback Rylan Smart has already thrown for 1,836 yards and 26 touchdowns compared to last year, when he had a little more than 1,200 yards and nine touchdowns coming into this game. But it's not entirely Smart shouldering the load for the Indians' attack. Colby Lewis, a do-it-all threat who plays running back and receiver, has rushed for 817 yards and eight scores while adding 481 more yards and four touchdowns as a receiver.
Meanwhile, Steven Bush has piled up 470 receiving yards and eight scores through the first six games. Dewey Terreault has 346 receiving yards and is averaging 17.3 yards per catch.
"I definitely think [Sanger] is still pretty explosive offensively," Ivy said. "It's a little bit different look personnel wise [from last year], but they're still putting a lot of points up. Rylan is throwing the ball with good accuracy right now, and they've got plenty of skill guys who play well in space. It's going to be a challenge for our defense."
Coach Smart said one thing Aubrey knows how to do is get pressure up front and keep pass-happy opponents off kilter. If Sanger can neutralize that attack, Smart thinks Friday's game could become an instant classic.
"Through the first four weeks of the season, we didn't have the same offensive line in each game," Smart said. "But we've become more consistent at that position. The key for us is to not beat ourselves. We've been playing extremely well, and we've got a lot of guys who we can get the ball to."