FLOWER MOUND — As Argyle has become a model of excellence in the high school football world over the last decade, the Eagles have grown accustomed to all eyes being on them.
But this year, there will likely be even more attention for Argyle, which is the defending Class 4A Division I champion.
Argyle coach Todd Rodgers knows it, and he wanted to make sure his team did, too, after the Eagles' first practice of the fall on Monday morning.
Rodgers told the Eagles they would have a target on their back, but was quick to remind them they were still the No. 1-ranked team in the state.
"I think they probably [know about the added attention], but it warrants reminding them about stuff like that," Rodgers said. "They need to know what the expectations are, and I think they need reminding not from an egotistical point of view — don't stick your chest out — but just to say you have to reproduce all the hard work.
"My message for the rest of two-a-days will be, 'You're 0-0. You don't start with 16 wins from last year. You have to earn it and prove yourself.'"
Argyle will certainly look different than it did roughly eight months ago when it claimed the 4A Division I crown. The Eagles graduated several key contributors on each side of the ball, paving the way for new faces to step in.
Here are three observations from Argyle's first day of practice.
Starting quarterback job up for grabs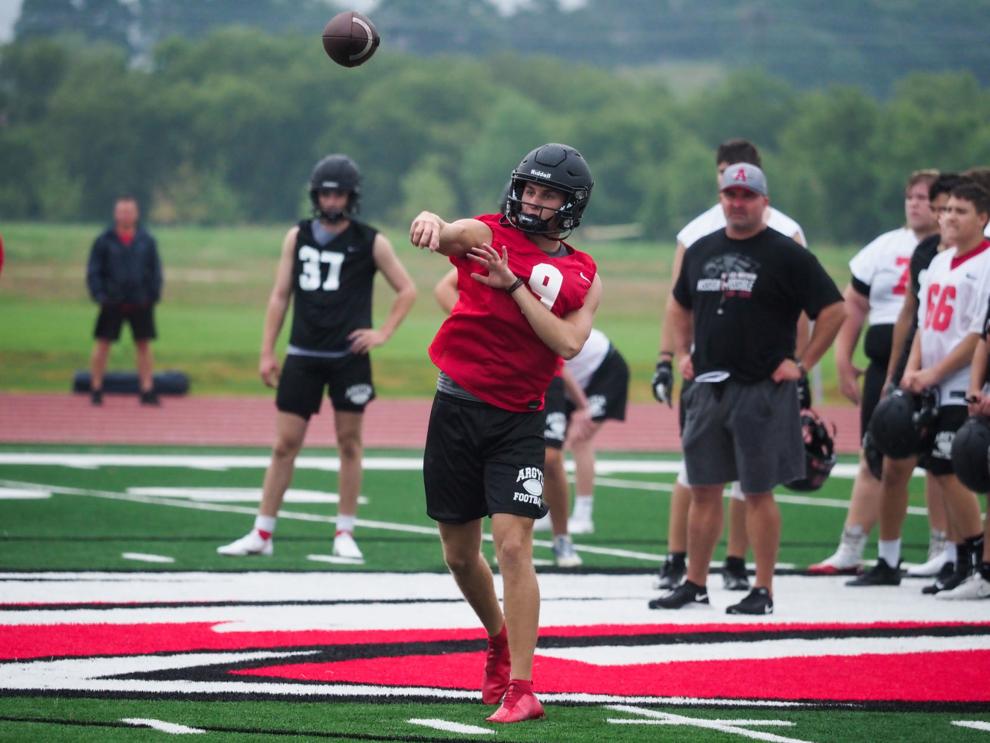 Rodgers has said it is an open competition at quarterback as fall practice gets underway, and the two names to know for Argyle are junior Jacob Robinson and senior Zach Ohlemeier.
Ohlemeier transferred to Argyle after spending last season at Flower Mound Marcus.
Robinson and Ohlemeier will be tasked with replacing CJ Rogers, who was the Denton Record-Chronicle's 2020 Quarterback of the Year. Rogers threw for 3,414 yards and 48 touchdowns, leading the Eagles to a perfect 16-0 season.
"We're looking for completions, consistency and consistent play from a day-to-day basis and from drill to drill," said Rodgers of Robinson and Ohlemeier. "They have the ability to do that, and I saw all of that today. I thought it was a good day for them. Obviously, we're capturing as many things as we can on video, and we're looking at everything possible along those lines with footwork, mechanics and knowledge of the offense."
The two each had moments when they shined individually, as Ohlemeier completed several passes over the middle. Robinson threw a number of deep passes that hit receivers in stride.
Senior receiver Hayden Stewart — who is expected to be one of Argyle's top options on the outside — said he has seen Ohlemeier and Robinson steadily improve, even after sitting out part of the summer with a broken collarbone.
"Zach and Jacob have progressed a lot from the first day of just running routes in the summer before I got hurt," Stewart said. "I saw a lot of good things from them in the beginning. They're really starting to step up, and you can tell. They're throwing good balls."
Stewart poised to assume the role of No. 1 receiver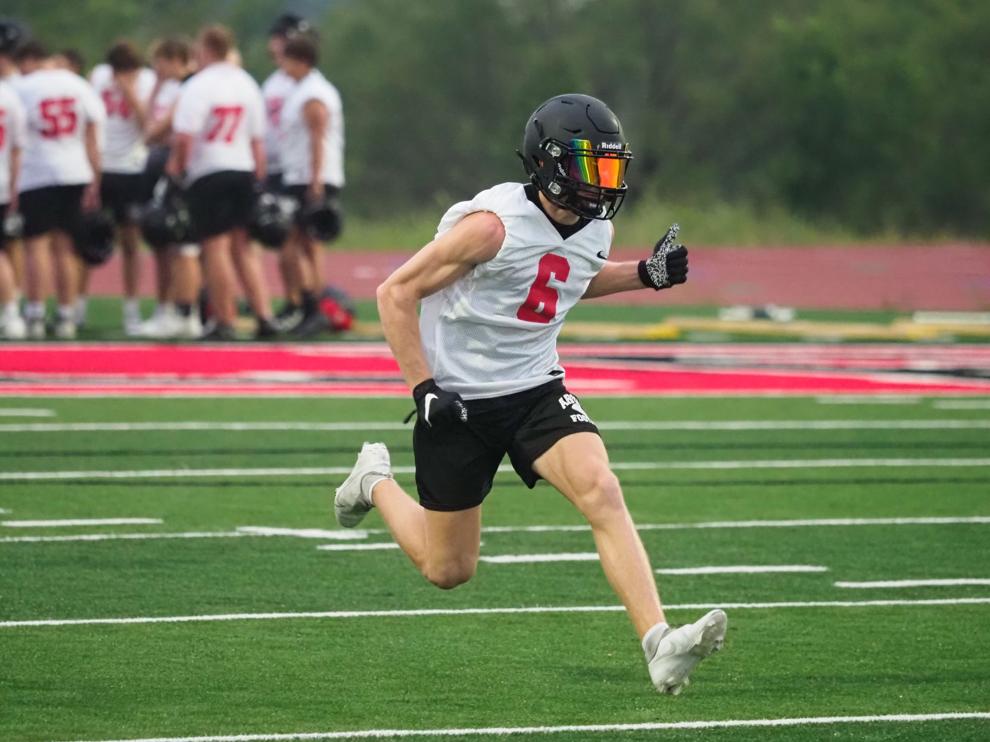 Argyle has never been a program that has been forced to rebuild, and instead, merely reloads each year when key players graduate.
Stewart is a prime example of that, and is an explosive playmaker who has been patiently waiting in the wings for his opportunity.
That chance has finally arrived following the departure of all-state receiver Cole Kirkpatrick and Cash Walker. The pair of Kirkpatrick and Walker combined for over 2,000 yards and 30 touchdowns last season, but Stewart is ready for the challenge of being the Eagles' next man up.
"I'm really looking forward to it," Stewart said. "Me and Ward [McCollum] are the outside [receivers] coming in. We played a lot last year, but those two guys [Kirkpatrick and Walker] were really good players. We have a really big target on our chest, but it's our job to step up."
Rodgers has no doubt about Stewart's abilities, and it was easy to see why.
Despite being sidelined for several weeks over the summer with a broken collarbone, Stewart flashed his crisp route running and speed on multiple occasions on Monday.
"He is a game breaker, he just didn't get a chance to get on the field as much as those other game breakers last year," Rodgers said. "He definitely is that guy."
With Byce gone, Scoggins aims to lead Argyle's backfield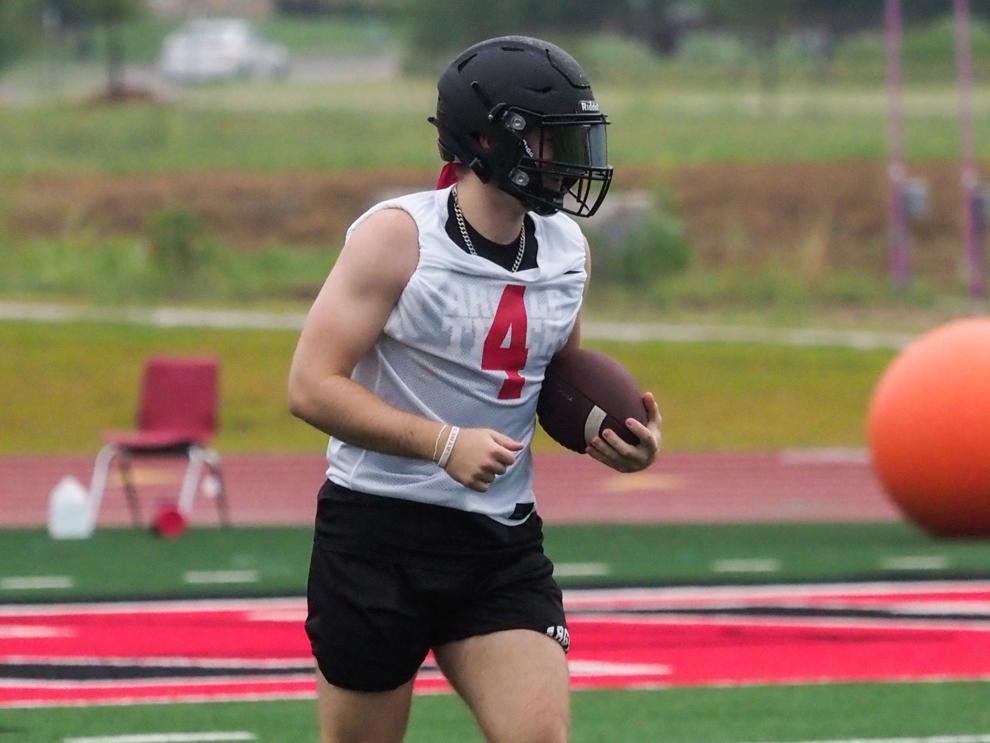 Tito Byce was a workhorse down the stretch for the Eagles last year.
Argyle's starting running back was the Offensive MVP of the state title game, rushing for 153 yards and four touchdowns on 29 carries.
But over the course of the season last year, Rodgers made a diligent effort to conserve Byce, frequently relying on a committee of running backs.
Knox Scoggins was one of them, and as he enters his senior campaign, Scoggins is poised to step into a more prominent role in Argyle's backfield.
"I think as many reps as he got last year, he's going to be a huge asset," said Rodgers of Scoggins. "I want him to be so good that I doubt myself. It's hard for me to take a really good running back off the field. But if we have three or four that can do it, then it will be three or four playing. If we have two that can do it, then it'll be two playing."
Scoggins was a mainstay for Argyle in 2020, making an impact in seemingly every game.
In addition to that valuable playing time, Scoggins said he has gained about 10 pounds in the offseason. His added size was apparent on Monday, and Scoggins hit holes hard while being decisive with his cuts.
"I think last year helped me get comfortable in the position, and I'm going to carry that into this year," Scoggins said. "Tito was always there in my ear giving me advice and whatnot. He really helped me a lot."