Throughout the regular season, Argyle coach Todd Rodgers was intentionally meticulous about managing running back Tito Byce's load.
The senior, who was coming off surgery to repair his ACL, only logged 40 carries in seven regular season games. Nearly all of those contests were lopsided victories for the Eagles, as Argyle cruised to yet another undefeated regular season thanks to a 32.7-point average margin of victory.
Rodgers did all of this with one goal in mind — to have his workhorse fresh when he needed him most.
With the Eagles (13-0) set to take on Paris (9-4) in the Class 4A Division I Region II final at 6 p.m. on Saturday at McKinney ISD Stadium, Argyle has an invaluable weapon that it perhaps did not have the past two years.
A running back with a fresh set of legs.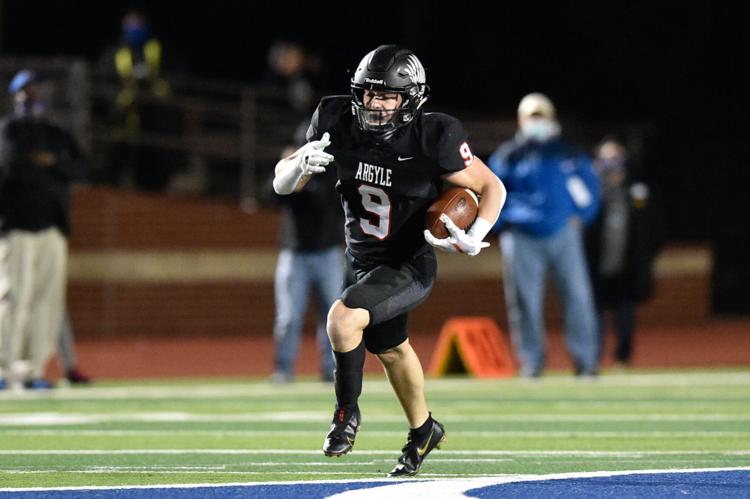 "You have to go back and walk a mile in a man's shoes," Rodgers explained. "We've had running backs around here that if you don't manage their load, they get worn out during the playoffs. If you look at it like a prized fight, back in my day there used to be 15-rounders. And I was always bewildered that they would punch the body as much as they punch the face. And I think body blows are hard to absorb. It wears you down.
"I think running backs are kind of the same way. There are just only so many reps in them."
Despite logging 49 fewer carries than Argyle's leading rusher Braden Baker (124), Byce has scored 13 touchdowns and only trails Baker by 26 yards.
But as Rodgers pointed out, the Eagles have a stable of running backs at their disposal, as Byce, Baker and Knox Scoggins have all run for 450 yards or more. Those three running backs, combined with quarterback CJ Rogers and all-state receiver Cole Kirkpatrick lead what has been a borderline unstoppable offense.
The Eagles are averaging 436 yards and 49.5 points per game.
"We've really tried to build depth over the course of our football team, by the way we sub the kids and train the kids," Rodgers said. "You dedicate reps in practice and in the game to it. Regardless of the scoreboard, kids are subbing in and getting critical reps. We've kind of been committed to that all year."
That commitment has led Argyle to a rematch with District 7-4A bunkmate Paris, a team the Eagles beat 28-7 in the regular season finale.
That victory clinched Argyle's 12th consecutive district title. But it did not come without a fight, as Paris held the Eagles to their lowest offensive output of the year at the time.
"No, I'm not surprised at all," Rodgers said when asked about Paris making it to the region final. "They have very good athletes and a very good program. They always play their best football late in the year. I've been around them a lot, and this is pretty typical Paris."
The Wildcats have picked up impressive victories during their playoff run, beating Midlothian Heritage in the area round before winning a 54-49 shootout over Melissa last week.
Paris is averaging 27 points per game, and defensively, is holding teams to just 18.2 points per night.
"They've got tremendous athletes," Rodgers said. "They can get huge chunks of yardage if you're out of position. Our goal is to get them tackled, huddled up and make them try to snap it and beat you again."
Argyle already cleared one hurdle last week by beating La Vega, the team that knocked the Eagles out of the playoffs the past two seasons.
Now, Argyle will try to clear another roadblock by winning the region for the first time since 2015 — the last time the Eagles played for a state championship.
"I think it's really no different than the La Vega hurdle," Rodgers said. "I think it's something that we don't talk about very much, because in the dark, deep crevices of your brain, it's been talked about a lot in our community, in our school district and at the kitchen table. You've got to get over these mental hurdles. It's nice to get one behind us, but we've got a long road before that state championship game."