MCKINNEY — Over the past three years, the region final had become synonymous with painful endings for Argyle.
In 2018 and 2019, the Eagles were knocked out of the playoffs in the fourth round by Waco La Vega. But, last week, Argyle dispatched La Vega and cleared one of its only postseason hurdles.
The only thing left standing in the Eagles' way of their first region title since 2015 was Paris.
And Argyle did not let the Wildcats play spoiler.
Behind a suffocating defense and 303 yards rushing, Argyle (14-0) finally cleared the region final hurdle on Saturday night, knocking off Paris 41-13 at McKinney ISD Stadium to claim the Class 4A Division I Region II title.
"It's proof that a lot of hard work is paying off," Argyle coach Todd Rodgers said. "Our depth on our football team is being challenged, and they are all responding well. We've got to continue to move kids around and get them in the right spots — all spots they've practiced at some point in the last four or five months.
But I'm proud of them. They are resilient warriors."
The challenge to the Eagles' depth that Rodgers alluded to came by way of injuries to their running backs.
Argyle's starting running back Tito Byce left the game in the first half and did not return. Braden Baker and Knox Scoggins also exited the game due to injury, although Baker was able to return.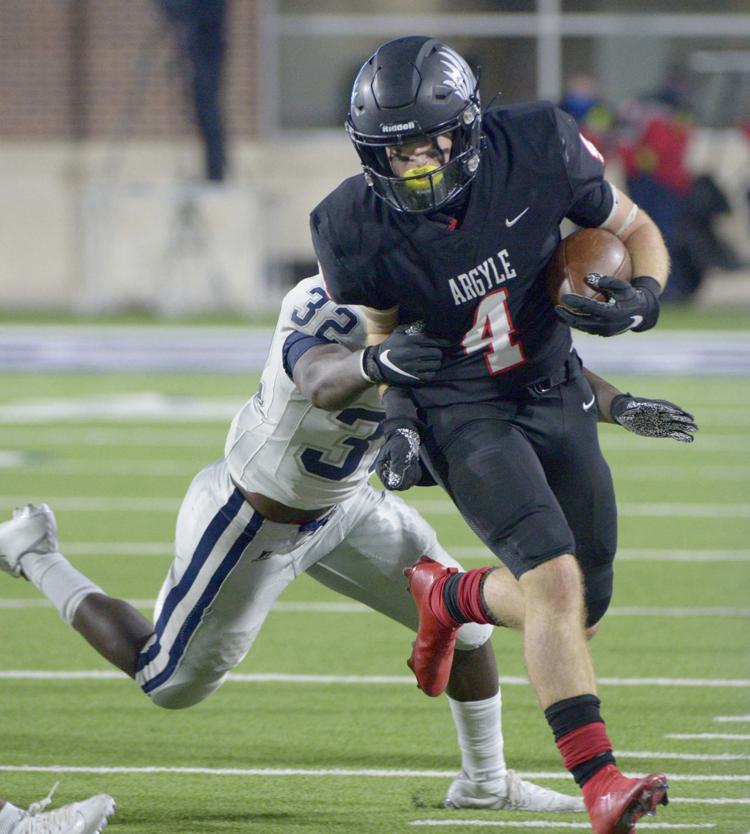 Despite this, the Eagles still managed to eclipse 300 yards rushing, gashing Paris on the ground to build a commanding lead they never relinquished.
Fourth-string running back Peyton Shoemake ran for 71 yards and two touchdowns on 11 carries. Scoggins piled up 91 yards and a touchdown before going down.
"Prior to Tito's return to full-time status, all of those running backs got quality reps, and they've gotten quality reps in practice," Rodgers said. "It's just plug and play. Those kids have tremendous skills and talents."
Rodgers said after the game that Byce will likely be OK and gave no indication he was in jeopardy of missing next week's semifinal game.
Argyle scored on its first play from scrimmage, as CJ Rogers connected with all-state receiver Cole Kirkpatrick for an 83-yard touchdown on a flea flicker. Kirkpatrick got behind Paris' secondary, and Rogers hit him in stride for a walk-in score.
Later in the second quarter, Scoggins barreled into the end zone from two yards out to put the Eagles up 13-0 after the missed extra point.
Kirkpatrick caught another touchdown pass in the third quarter to put Argyle up 19-0. Kirkpatrick finished the game with seven catches for 171 yards and two touchdowns.
All seven of Rogers' completions went to Kirkpatrick, as Rogers ended 7-for-14, throwing for 171 yards and two scores. He also added a touchdown on the ground.
"I'm really proud of this team," Rogers said. "I just think everyone has a different mindset this year. It's really showing, especially on the defensive side of the ball. I'm really proud of those guys for fighting every game and every quarter.
Everybody believes in this team, so we're just going to keep doing what we're doing."
But Rogers wasn't the only one to gush about Argyle's defensive performance.
The Eagles' head coach also praised their efforts, as Argyle held Paris to just seven points for nearly the entire game. The Wildcats scored in the waning moments, but outside of that, their only score came in the third quarter on a 16-yard pass from Luke Hohenberger to Dycurian Douglas.
Argyle held Paris to 312 total yards and also forced two turnovers.
"They have been more physical than I ever dreamed or imagined," Rodgers said of his team's defense. "[They're] a bunch of high-energy kids that love to hit and bring the wood. I love that. I love the nastiness and the attitude the defense is bringing about every inch of yardage they want to deny. I'm very pleased."
Argyle now advances to the 4A Division I semifinal, where it will take on Region I champion Canyon. That game is slated for 7:30 p.m. next Friday at Abilene Christian University.