KRUM — Argyle coach Russell Perkins knew that his squad would be short-handed in their District 7-4A matchup with second place Krum on Tuesday night.
For a moment, it appeared as though that would play a key role in the Eagles' performance against the Bobcats. Argyle hit a 10-2 run to close out the first quarter, and the race was on as they bullied their way to a 65-39 victory.
"I thought we had a good day of preparation yesterday," Perkins said. "We had our first district game [rescheduled] with COVID. So, we had to play Saturday and we only got one day to prepare for Krum. I thought our kids really did a good job of focusing."
Argyle was sluggish out of the chute on both ends of the court and found themselves trailing 9-4 midway through the first quarter.
Then the Eagles went on that 10-2 run headed into second quarter to lead 14-11.
From there, Argyle outscored Krum 51-28 to put the game away.
"I think the most important thing is we played straight," Perkins said. "We got a little better inside-out action and attacked a matchup zone, and that's hard to do. It took us a little while to adjust to that. I thought we passed the ball interiorly really well."
In the second half, Argyle began to attack from beyond the arc with five successful 3-point attempts, including three from Robert Burns, who led the Eagles with 18 points.
"Because we scored so easily inside, it did open some things up in the outside," Perkins said. "We hit some shots, and that always makes you look better when they go in. We've had some nights where they don't go in."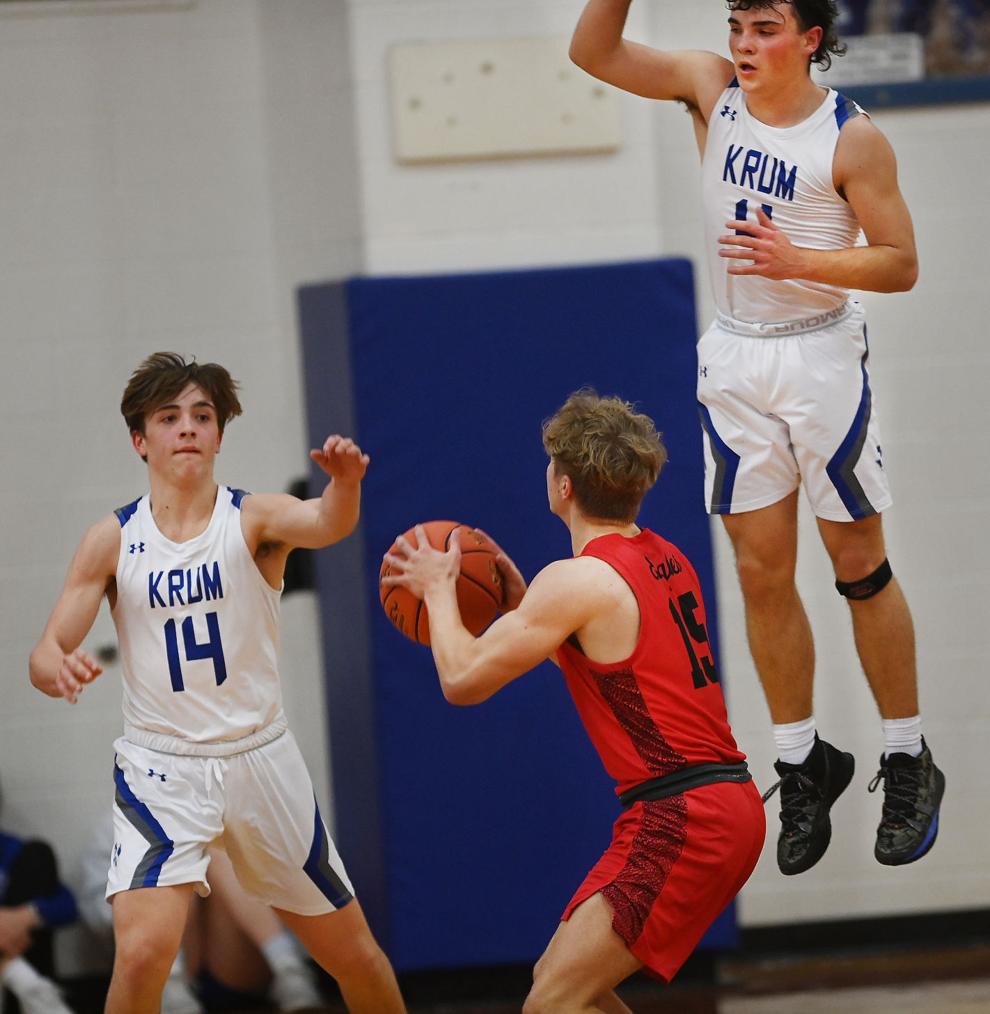 On the flip side for Krum, what looked to be a promising start quickly snowballed into a loss despite 10 points from Isaac Dillion.
"We got in foul trouble, and we had to take our big post-player out," Krum coach Ty Tabor said. "And when we do that, it's very hard for us to match up with a team the size of Argyle.
"We just allowed some defensive mistakes to kind of impact our offense. We started trying to push on offense a little bit too much and took quick shots. And that's just not who we are."
But it was the Argyle defense that changed the pace of the game. That much was evident from the mere 28 points they allowed to Krum from the second quarter on.
"I think eventually our pressure on the gaps made it hard on [Krum] when driving and passing the ball," Perkins said. "We have some trust that guys are going to be there if we get on certain rotations. I thought we did a good job of trusting each other and being in the right spot."
However, the Bobcats remain in solid position with time left on the district schedule. Tabor and Krum can use that to their advantage.
"We're going to watch the film and get better [and] learn from our mistakes," Tabor said. "Championship programs respond by playing better the next game. And that's what we talked about tonight. That was our message to the guys."
After a clunky start to the district season for Argyle, a resounding win like Tuesday's bodes well for the reigning Class 4A state champions.
"I thought our kids did a really good job preparing," Perkins said. "Just to play kind of our first district game in kind of a hostile environment — I'm very proud of their effort."